I hope everyone is well and healthy. It is incredible how quickly the world has been turned upside down by this coronavirus outbreak. There's a lot of uncertainty at the moment, except for one thing: that we will all get through this and reach better days by working together.
On a brighter note, this month marks the one-year anniversary since we launched Indago. Over the past year, we have completed 39 micro-surveys with our community of supply chain and logistics practitioners. The research has not only yielded valuable insights and advice from practitioners on a wide variety of supply chain and logistics topics, it has also resulted in over $5,000 in charitable donations and payments!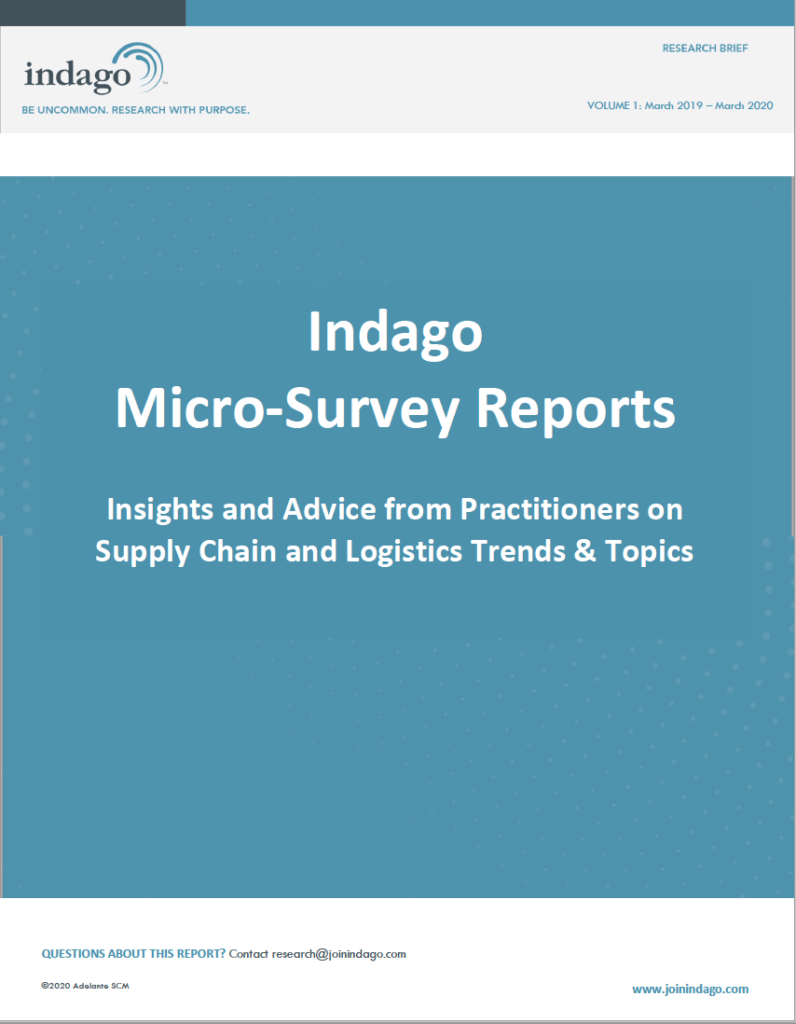 At the request of some of our clients, we have compiled all 39 micro-survey reports into a single volume. Click HERE to download the Table of Contents and Introduction. Supply chain and logistics practitioners from manufacturing and retail companies can receive a free copy of the 88-page report by joining Indago and completing your first survey. Remember, membership is confidential, there is no cost to join, and the time commitment is minimal (2-4 minutes per survey).
If you are a technology company, third-party logistics provider, or other company interested in obtaining the report, please contact us for how to purchase. In keeping with our "Research with Purpose" motto, a portion of the purchase price will be donated to our charity partners (JDRF, American Logistics Aid Network, American Cancer Society, Feeding America, and Make-A-Wish).
Moving on, here's the supply chain and logistics news that caught my attention this week:
Coronavirus Impact on Supply Chain and Logistics
While many people have begun working from home these past couple of weeks in response to the coronavirus outbreak, there are many people where working from home is not an option: doctors, nurses, and firefighters, for example, as well as the truck drivers and warehouse workers that are keeping the food, medical, and other vital supply chains moving.
"Truckers are trying to navigate growing challenges on highways and at loading docks as they seek to keep supply chains running to meet surging coronavirus-driven demand for consumer staples and medical equipment," writes Jennifer Smith in the Wall Street Journal. Here's more from the article:
Truck-stop restaurants in some states have shut dining rooms and switched to takeout service to comply with health orders aimed at controlling the spread of the virus. On Tuesday, Pennsylvania closed its state-run rest stops, cutting back significant parking space along key logistics corridors.

Some customers are asking drivers to stay in their trucks or switch from paper to electronic methods to document pickups and deliveries, trucking companies and freight brokers said. Additionally, some trucking companies said their drivers are facing new restrictions at receiving docks if they have been in states considered coronavirus hot zones.
Figuratively and literally, truck drivers keep supply chains moving. These men and women are at a higher risk of getting sick because they can't work from home. The same goes for everyone working in warehouses and making local deliveries. As reported by Bloomberg:
[Amazon's] delivery network has been overwhelmed by unrelenting demand from shoppers looking to stock up on supplies and heeding government advice to avoid stores and public gatherings. On Monday, it announced it would be hiring 100,000 workers and temporarily boosting pay by $2 per hour to keep up. It is only accepting shipments to its warehouses of essential goods like groceries, medical supplies and pet food from independent merchants selling items on its websites.
Despite all of the technology and automation used in supply chains, people are still the engine that keeps them running. A big thank you to all of the truck drivers, warehouse workers, and others on the frontlines of supply chain and logistics operations for the important work you do every day, but especially in these challenging times.
And with that, have a happy (and safe and healthy) weekend!
Song of the Week: "Out of Control" by Oingo Boingo