In October 2022, Craig Federighi, SVP of software engineering at Apple, said this about Apple's requirement for workers to return to the office:
"We're better, and we're happier, when we're together [in person]. As we were in the pandemic, we'd all talk about depression and the mental health crisis and how our kids were devastated by the lack of connection, and yet, somehow, we thought we weren't affected by this too? That all of us wouldn't benefit from being connected with the people with whom we're doing the most important work of our lives?"
Do you agree with Federighi?
In a October 2022 survey we conducted with members of our Indago supply chain research community — who are supply chain and logistics executives from manufacturing, retail, and distribution companies — most respondents either "Agreed" (45%) or "Strongly Agreed" (17%) with Federighi that "We're better, and we're happier, when we're together [in person]"; only 17% disagreed.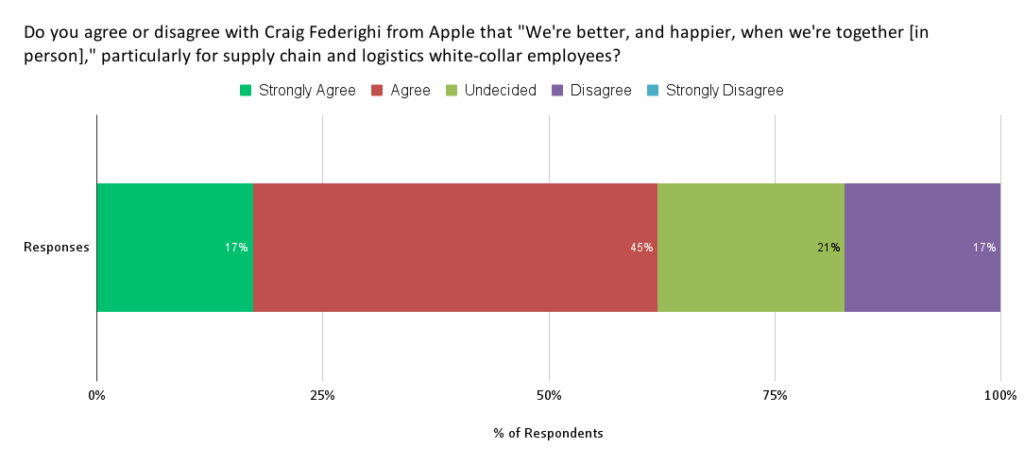 "I do think there should be an element of in-person connection," said one Indago executive. "However, I don't think it is necessary to be [in the office] full time. Productivity is better because you can control disruptions and prioritize appropriately. Plus, sick days have gone down because employees are more willing to work in the comfort of their own home, even if they are sick but are still able to function (not to mention it limits the spread of germs across the company). Members of my team love the work/life balance better."
Other executives had a different perspective, like this one: "Logistics requires a lot of coordination, communication, and collaboration, which is easier, faster, and more effective when we are all together in an office environment."
At the time, more than half of the respondents (55%) said their companies require a minimum number of days in the office, with another 21% saying they are required to be in the office full time. The remaining 24% said it's up to employees and managers to determine in-person vs. remote work schedule.
Here are some other value-added comments from our members:
"We need to be back in the office together, most of the time. More social isolation isn't going to help anyone right now. For those of us in the Supply Chain industry, we have a large portion of our staff, customers, and suppliers who don't have a work-from-home option, so being in the office and where they are also helps support them."

"I believe it's better to be in the office 2 – 3 days a week for collaboration, problem solving and building culture. I believe the work environment has permanently changed and it will vary by company depending on the views of the executives —that is, some companies will remain remote first while others will slowly require employees to return to the office a minimum number of days a week."

"I'm currently full-time remote working with a group that's full time in-person and it's awful. So much happens outside of my awareness via in-person conversations that it's difficult [for me] to keep up with the changes in the business and strategy being remote."

"I feel the work environment has permanently changed. Employees appreciate not having to commute to an office five days a week. 2-3 days a week allows us to collaborate in person, gain some of the office comradery back, and formally meet and get to know new associates. Not having to commute every day allows some additional flexibility to hours worked. Also, I feel we get more out of employees as they seem more engaged not having to stress about commuting, picking up the kids, starting dinner, etc."
For the full results of the research, Indago members can download the report from our website.
Considering all the ongoing supply chain challenges, do you believe having supply chain team members communicating and collaborating in-person vs. remotely would be more effective and productive? Has the work environment permanently changed? Post a comment and share your perspective.
Join Indago
There are many reasons to join Indago, but here is the biggest one that differentiates us from other research organizations: your participation helps to make a difference in people's lives.
To date, we have donated over $17,500 to various charities, including JDRF, American Logistics Aid Network, American Cancer Society, Feeding America, and Make-A-Wish.
That is the meaning behind our tagline: "Be Uncommon. Research with Purpose."
If you're a supply chain or logistics practitioner from a manufacturing, retail, or distribution company — and you're interested in learning from your peers — I encourage you to learn more about Indago and join our research community. It is confidential, there is no cost to join and the time commitment is minimal (2-4 minutes per week) — plus your participation will help support charitable causes that make a difference in people's lives.