Even before the pandemic, businesses have struggled to keep pace with rising customer demand and provide on-time, in-full (OTIF) deliveries faster and at lower costs. As consumers and B2B customers increasingly expect more for less, businesses are challenged with offering faster shipping options, broader product assortments, and lower prices.
If keeping pace consistently and profitably was a tall order on a good day, the ambition had only been compounded by the pandemic, which exposed many vulnerabilities in the global supply chain. Businesses were woefully underprepared to meet drastic changes in demand, unexpected labor and material shortages, and the sudden need to swiftly switch suppliers when formerly reliable partners were no longer viable options.
The core of the struggle is a lack of supply chain visibility. Trying to adapt and act fast without a clear view of what's going on at each node of the supply chain is like attempting to move nimbly through a dark and cluttered room.
Transportation Visibility vs. Supply Chain Visibility
Transportation visibility is often referred to as 'supply chain visibility.' However, transportation management is one small piece of the puzzle – one activity in the greater supply chain.
What's excluded is order management, production, warehousing, cross-docking, and administration – a multi-enterprise and multi-tier endeavor, involving various stakeholders and multiple systems, such as ERPs and WMSs, which contain and process order data, such as customer requirements and service levels. Efficient customer order and shipment order planning requires visibility across all internal and external warehouses and WMSs. This enables companies to optimally allocate orders based on service levels and constraints, choose the best routes and carriers, notify warehouses, and schedule loading.
The critical distinction is that supply chain visibility is a holistic, comprehensive approach that unifies all systems and processes beyond transport into one single source of truth, or supply chain control tower. A unified view allows stakeholders to see upstream and downstream, across all flows, take advantage of opportunities to consolidate orders, sense risk, and better understand how decisions impact all orders.
Moving Beyond Passive Visibility with a Supply Chain Control Tower
Uniting a disparate systems landscape is only the first step. Once you've established true end-to-end supply chain visibility it's equally critical to be able to immediately act on those insights. Visibility across multi-tier suppliers presents stakeholders with options, but intelligent control over order allocation helps teams make the best use of those options to reduce lead times and minimize stock shortages. Real-time tracking alerts teams to disruptions, while smart exceptions management enables them to pivot fast and minimize impact.
A supply chain control tower augments visibility with automation, artificial intelligence, and machine learning for active control of each order flow. Intelligent and configurable business rules leverage the data visibility to drive order flow optimization and dynamic business network partnering and orchestration. Machine learning further leverages data to continuously improve through processes such as finding hidden patterns in order anomalies and to proactively suggest better alternatives.
From Theory to Practice
Achieving supply chain visibility and control needn't be daunting; you can start with manageable goals before scaling up. Run an audit to find visibility and control gaps in your organization. For instance, do you currently have visibility and control across all stages of an order journey, including commercial, administrative, and physical steps? Do you have supply chain visibility over all order types – such as sales orders, purchase orders, stock transfer orders, and returns?
Next, audit your level of multi-enterprise visibility and control. What is the breadth and depth of visibility across all logistics processes, including warehouse operations, customs management, and handling? If you manage multiple legs of transport, does your control cover all modes (air, ocean, rail, road, parcel) on a single platform, or does your team regularly log in and out of multiple systems? Do stakeholders have granular views into products at the item level for each shipment, including articles, order quantities, lot numbers, serial numbers, and so on?
A templated approach to a flexible supply chain visibility and control tower solution allows businesses to hit the ground running with fast, iterative business releases – which, depending on the scope of the project, could be as quick as every few weeks. With time, you can scale up visibility and control over more applications, such as global order flows, spare parts management, or reverse logistics. Having laid the groundwork for multi-enterprise visibility and control, all business growth and expansion can be handled with the resilience and agility necessary to be competitive and profitable in the global market.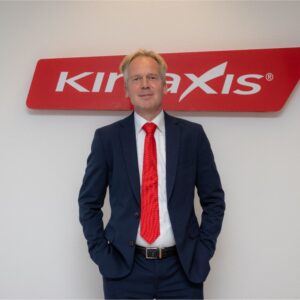 Martin Verwijmeren, Managing Director, Industry Practices at Kinaxis.