Happy Friday from Saratoga Springs, NY! As you read this, I'll be at a meeting with my Logistics Leaders for T1D Cure teammates and over 500 other people in preparation for tomorrow's 100-mile JDRF Ride. The weather forecast for tomorrow looks very good — partly sunny and 82F (a little warmer than I'd like, but better than rain).
Here's a picture from last night with some of the team members (from left to right): James Coon (BluJay Solutions), me, Steve Wallace (Elemica), and James' wife Lisa.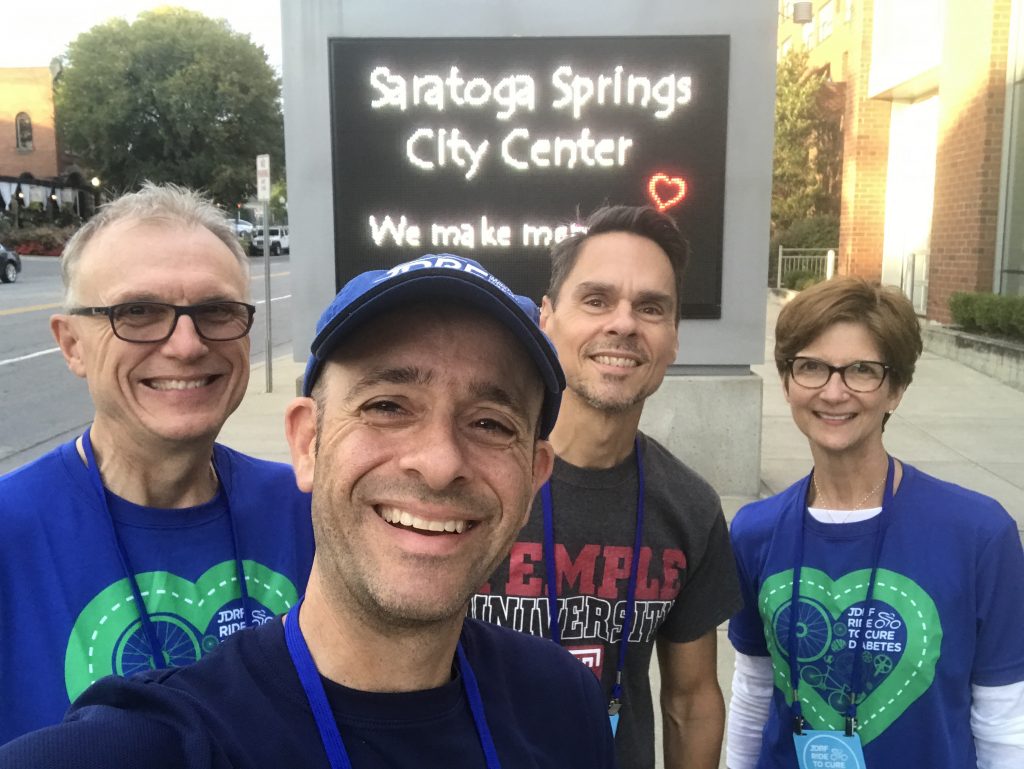 I'll share more pics and recap the ride next week, but in the meantime, here's the supply chain and logistics news that caught my attention this week, which was dominated by several notable acquisitions and product introductions.
Well, that didn't take long. When Descartes acquired MacroPoint last month (both are Talking Logistics sponsors), I made the following statement:
This acquisition raises the question: will real-time freight visibility solutions survive as standalone offerings or will they become features of broader solutions, particularly supply chain operating networks? Now that Descartes has pulled the trigger on this deal, it wouldn't surprise me if other network-based solution providers like BluJay Solutions (which just raised up to $500 million in new financing to drive growth, particularly via acquisitions) or GT Nexus set their sights on acquiring FourKites, 10-4 Systems, or other players in this space.
It wasn't BluJay Solutions nor GT Nexus that made the next move, but Trimble, which announced this week that it has acquired 10-4 Systems. Here are some excerpts from the press release:
10-4 Systems offers a comprehensive, highly configurable information platform that provides visibility at the individual shipment level, driving collaboration between shippers and carriers for increased efficiency, improved compliance and reduced transportation costs. The solution includes SKU-level detail, dynamic ETAs and other capabilities needed to provide the detailed shipment visibility that is becoming a standard expectation of shippers and consignees.

"With the addition of 10-4 Systems, Trimble will significantly enhance its ability to help the transportation industry optimize demand and capacity management and improve utilization of long-haul trucking assets," said David W. Wangler, president of Trimble Transportation Enterprise.
I'll just repeat what I said a couple of weeks ago: The real-time freight visibility space has been heating up in recent years. Why? Because shippers want this visibility, and more importantly, they want to do something with it — that is, they want to identify and implement better ways to plan and execute their transportation and logistics operations, which is what ultimately delivers value.
Meanwhile, in the transportation management system (TMS) realm, MercuryGate (a Talking Logistics sponsor) announced the launch of MercuryFleet, a new product that combines fleet and freight management for all modes of transportation in one platform. According to the press release, "the technology makes it easy to proactively manage drivers, equipment, and operations with one tool, enabling more informed decisions, streamlining processes, and ensuring compliance with regulatory requirements."
This is yet another example of how some TMS vendors continue to expand the scope and features of their solutions (multi-mode, multi-geography, complex optimization). What factors are driving this trend? As I wrote over a year ago in The Transportation Management System Barbell:
In a nutshell, many shippers and 3PLs are currently using multiple applications to manage their transportation operations, which not only includes truckload and less-than-truckload (LTL) carriers, but also parcel, ocean, air, and rail carriers, as well as private and dedicated fleets. These multiple applications are typically poorly integrated (or not integrated at all), which results in fragmented workflows and optimization, fragmented visibility and analysis, and fragmented user experiences.

I'm working with a client, for example, that is currently operating in such a fragmented way, and what they're looking for in a next-generation TMS, to put it simply, is having a unified transportation management user experience across planning, execution, and analytics.
There's still no single TMS solution that does it all, but the market has certainly come a long way over the past decade in pursuing that goal.
And with that, I'm out of space and time. Have a happy weekend!
Song of the Week: "Bicycle Race" by Queen