We were hit with our third nor'easter in 10 days this week, dumping close to two feet of snow in our city. Schools were closed, so my kids and their friends went to work: they built a 12 ft. 9 in. snowman on our front lawn.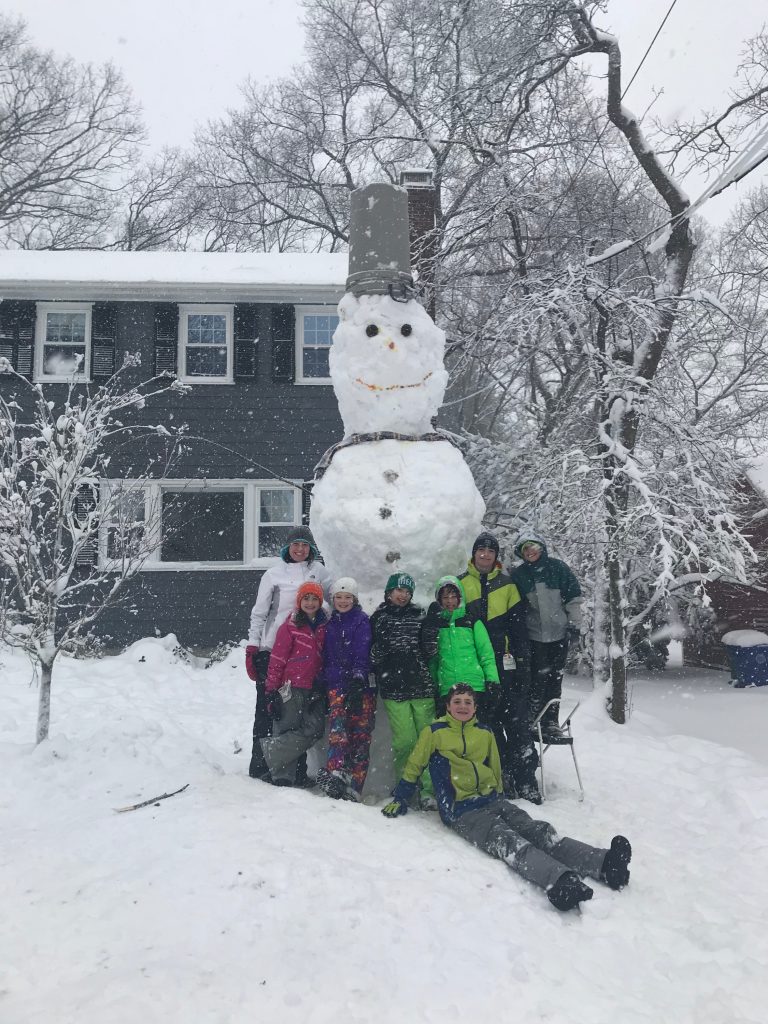 Even the mayor came by to take a photo with Billy Bob IV.
I was in sunny and warm Arizona during the storm, so I missed out on all the action, and by the time I got home yesterday evening, Billy Bob's head had toppled. Maybe the kids will build him a new one next week when another storm is forecasted to arrive.
Unlike the snowman, I will keep this week's supply chain and logistics news short:
DHL: Looking for Piece of American E-Commerce Delivery Pie
E-commerce delivery in the U.S. is too big of an opportunity to pass up, which is why DHL is taking another shot at the market after pulling out years ago. As reported by Reuters:
Deutsche Post AG's DHL said on Thursday it was launching a delivery service for online retailers in eight U.S. cities.

DHL has been testing Parcel Metro in Chicago, Los Angeles, and New York for the last two years, the company said. It will roll out in Dallas, Atlanta, San Francisco, and Washington, D.C. by end-2018 and look to add other global cities in the years ahead, it said.

Parcel Metro relies on third-party contract couriers and app-based driver pools to pick up products like books, shoes, shampoo, and electronics from retailers or warehouses and deliver the items directly to households, [DHL eCommerce Americas Chief Executive Officer Lee Spratt] said.

Parcel Metro will offer delivery windows ranging from two hours, to same-day, and next day, and could add a Saturday delivery option, Spratt said.
It's interesting that DHL is relying on "third-party contract couriers and app-based driver pools" for this service. In other words, instead of taking the traditional parcel delivery approach (and leveraging its own assets and fulfillment network), Parcel Metro is mimicking the model of delivery startups.
The bottom line is that demand for e-commerce delivery is outstripping supply. It's part of the reason why retailers like Walmart (with its acquisition of Parcel) and Target (with its acquisitions of Grand Junction and Shipt) are investing to increase their capabilities and control of last-mile delivery, and why DHL is coming back to get its slice of the American delivery pie too.
Drones for Package Delivery: Closer than Skeptics Think?
Andy Pasztor from the Wall Street Journal reported this week that "After lagging behind other countries for years, commercial drones in the U.S. are expected to begin limited package deliveries within months, according to federal regulators and industry officials." Here are some additional details from the article:
At least 10 FAA-approved pilot programs for various drone initiatives—some likely including package delivery—are slated to start by May. Separately, industry and government officials have indicated that Amazon, widely considered one the most aggressive and furthest advanced applicants, is pushing for safety approval of detailed drone designs, as well as precise operating rules.

Earl Lawrence, who runs the FAA's drone-integration office, had a similar upbeat message. Airborne deliveries may be "a lot closer than many of the skeptics think," he told last week's gathering [at an unmanned-aircraft conference in Baltimore]. Some experimental efforts already are under way and "they're getting ready for full-blown operations," he said in an interview. "We're processing their applications," and "I would like to move as quickly as I can."
Based on my conversations with logistics executives, those that are skeptical about using drones for package deliveries aren't so because of technological challenges (which still remain), but because of legal and regulatory challenges. As Pasztor reports:
Before any of that becomes reality, FAA and industry leaders face an uphill battle convincing local governments that noise, privacy and security fears can be alleviated. Late last year, an industry-government task force failed to reach consensus on the notion that "state and local governments, through their police powers, are the exclusive regulators of land use, zoning, privacy and trespass" protections for their citizens.
So while Amazon, Walmart, and others continue to file patents related to drones (see links above), the future of drone delivery in this country, especially in urban areas, will ultimately be decided in City Halls and courtrooms across America.
And with that, have a happy weekend!
Song of the Week: "Giver" by K.Flay