I'm driving around with one headlight.

The driver-side one burned out, so I brought my car to the local garage and they replaced it.

The next day, it burned out again. So I brought it back to the garage, and they replaced it again, at no cost, of course.

Two weeks, I drove around with both headlights. Until last night. It burned out again.

I should have known. The moment a car goes over 100,00 miles, it only goes downhill.

So, while I plot my next move, here's the supply chain and logistics news that caught my attention this week.

Tariffs on China Goods Staying at 10% — For Now
Good news on the global trade front this week. Based on progress made between the U.S. and China in trade negotiations, the U.S. is not raising tariffs to 25% on $200 billion of Chinese goods today; they will remain at 10% — at least for now. As reported by the Wall Street Journal:

The threat of higher tariffs had shaken world markets and forced U.S. businesses to consider moving operations out of China — while also pressuring Beijing to negotiate a cease-fire. Now, U.S. and Chinese officials suggest the two countries are poised to finish a deal over the next month following a likely summit between Mr. Trump and Chinese President Xi Jinping at Mr. Trump's Mar-a-Lago estate in Florida.

The bad news is that no deal has been reached yet, and who knows what monkey wrenches Congress and/or President Trump may toss into the process, so the risk and uncertainty continues — probably for several more months.

For related commentary, see U.S. Tariffs on Chinese Goods: Understanding the Updates and Navigating Tariff Changes and the Global Trade Environment.
FedEx Unveils Delivery Robot: Where Are We Going to Walk?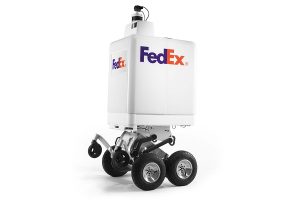 Last month, Amazon introduced Amazon Scout, a delivery robot the size of a small cooler that will "roll along sidewalks at a walking pace." There are several startups, like Starship Technologies, that are working on similar delivery robots. And now comes FedEx, which introduced the FedEx SameDay Bot this week.

(With all of these robots crowding the sidewalks, along with Millenials and Gen Z'ers zipping along on rented scooters, where the heck are we supposed to walk?!)

Here are some details from the press release:

With the bot, retailers will be able to accept orders from nearby customers and deliver them by bot directly to customers' homes or businesses the same day. FedEx is collaborating with companies such as AutoZone, Lowe's, Pizza Hut, Target, Walgreens and Walmart to help assess retailers' autonomous delivery needs. On average, more than 60 percent of merchants' customers live within three miles of a store location, demonstrating the opportunity for on-demand, hyper-local delivery.


The FedEx bot is designed to travel on sidewalks and along roadsides, safely delivering smaller shipments to customers' homes and businesses. Bot features include pedestrian-safe technology from the iBot, plus advanced technology such as LiDAR and multiple cameras, allowing the zero-emission, battery-powered bot to be aware of its surroundings […] FedEx plans to test the bot this summer in select markets, including Memphis, Tenn., pending final city approvals.

What happens when one of these delivery robots crosses paths with a group of rowdy high school kids? Or tries to navigate the crowds in downtown Manhattan? Or turns onto a sidewalk all covered with snow and ice?

I'm just thinking back to my days growing up in Brooklyn, and maybe times have changed, but none of these bots would have survived a day in my old neighborhood.

Yeah, you can say I'm skeptical about these delivery robots — especially in high-density, urban neighborhoods where the sidewalks are crowded enough.
Transplace, 3Gtms, Kuebix, FourKites: Innovating Transportation
While we wait for the bots to take over, there's plenty of innovation going on with traditional transportation. Here are some highlights from Transplace, 3Gtms, Kuebix, and Fourkites:

Transplace: The company announced a partnership with Noodle.ai, a provider of Enterprise AI® applications. Transplace CTO Jim French stated, "Enhancing our use of data science through AI and machine learning will enable our customers to make more strategic, data-driven decisions, and allow Transplace to further leverage its large network of shippers and carriers, to increase efficiency, reduce costs and improve service. These technologies will become an increasingly important part of our technology strategy as we explore additional applications to improve process automation and service predictions."

3Gtms: The company announced the release of its 3G-TM transportation management system (TMS) version 18.0, which includes a Load Management Workspace and a stop interleaving feature. According to the press release, "the Load Management Workspace significantly reduces manual work, such as phone calls and emails, by allowing users to get work done with fewer screens, fewer clicks, and more confidence that they're making a profitable decision." The new stop interleaving feature "is a planning enhancement particularly suited for organizations that execute local pickup and delivery operations, or that have access to assets for performing backhaul or continuous move-type routes that they wish to treat as a single load."

Kuebix: The company introduced FleetMAX, a program designed to fill the empty backhauls of private fleets. According to the press release, "fleet owners can now eliminate empty miles and generate additional profit by making backhaul fleet capacity available to Kuebix's vast community of shippers and brokers […] FleetMAX leverages a unique relationship with Estes Truckload Management LLC, [which will manage] all of the financials and settlements, relieving private fleets of these administrative challenges."

FourKites: The company announced a new DynamicETA (SM) algorithm that predicts freight times with greater accuracy in narrow time windows. According to the press release, "the enhanced algorithm uses more than 150 data points associated with a single load, and learns continuously from millions of monthly shipments, providing shippers and carriers with more precise arrival times than ever before possible…For example, one top food and grocery wholesaler with greater than 30,000 weekly deliveries achieved 91 percent accuracy in predicting arrival times within a one-hour window, and 97 percent accuracy predicting arrivals within six hours. This allowed the user to confidently communicate with customers and coordinate delivery operations and staffing plans to improve efficiency."

Just four examples of why transportation is a cool industry to be in these days.

And with that, have a happy weekend!

Song of the Week: "Gut Feeling" by Peter Bjorn and John