Last week FedEx introduced its FedEx SameDay Bot. Here are some details from the press release: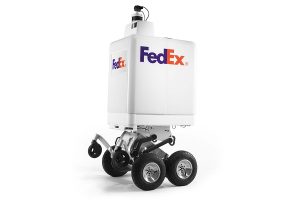 With the bot, retailers will be able to accept orders from nearby customers and deliver them by bot directly to customers' homes or businesses the same day. FedEx is collaborating with companies such as AutoZone, Lowe's, Pizza Hut, Target, Walgreens and Walmart to help assess retailers' autonomous delivery needs.


The FedEx bot is designed to travel on sidewalks and along roadsides, safely delivering smaller shipments to customers' homes and businesses. Bot features include pedestrian-safe technology from the iBot, plus advanced technology such as LiDAR and multiple cameras, allowing the zero-emission, battery-powered bot to be aware of its surroundings […] FedEx plans to test the bot this summer in select markets, including Memphis, Tenn., pending final city approvals.
Last month, Amazon introduced Amazon Scout, a delivery robot the size of a small cooler that will "roll along sidewalks at a walking pace." And there are several startups, like Starship Technologies, that are working on similar delivery robots.

Will these types of small delivery robots, designed to travel on sidewalks, gain traction or will they ultimately end up in the trash heap of ideas?

Watch the short commentary then post your perspective!