There's no question that the retail industry is evolving at a rapid pace. With the explosive growth of online retailers, consumers can now shop anytime and anywhere for everything from clothing and cosmetics to food, furniture, and even cars. And, as consumers have come to expect the 24/7 shopping experience in today's digital age, they are demanding fast and low-cost shipping, delivery and returns.
For shippers and third-party logistics providers (3PLs), keeping up with these growing demands is requiring new strategies for managing their transportation networks. The surge in online shopping has retailers seeing increased parcel volumes, the need for more regional warehouses, and the addition of a returns process within the distribution network. What's more, globalization is increasing, and we continue to see fluctuations in freight capacity. Companies are struggling to manage these growing supply chain complexities with the same internal resources, while still working to meet customer expectations, maintain visibility, and reduce transportation costs.
All Modes, Single Platform
For organizations still managing their transportation network using spreadsheets and manual processes, the challenges are the greatest. Even with technology, many retailers may still be finding it difficult to keep up with the industry's growing complexities. Transportation Management Systems (TMS) have seen greater adoption as more and more companies realize that technology is key in helping to improve the customer experience, increase efficiencies, and reduce costs in their transportation network. A TMS is especially critical for managing the global, complex freight movements that are becoming a necessary component of doing business in the retail industry.
For retail shippers and 3PLs, there is increased pressure for supply chain cost containment and improved network efficiency, which typically requires optimizing every aspect of an operation beginning with sourcing and procurement. A TMS solution can help manage and track end-to-end movement of goods – from inbound shipments from suppliers, all the way through to delivery to the customer. Shipment consolidation and mode shifting are key in gaining the greatest efficiencies across an organization's transportation network. A TMS that covers all modes through a single platform allows a company to support multiple flexible delivery options, including store replenishment for in-store pick up via less-than-truckload (LTL) or truckload (TL) providers and home delivery handled by parcel providers.
The Rise of Parcel Shipping
When considering today's consumer-driven shipping and delivery models, it's nearly impossible to ignore parcel. While many shippers and 3PLs have recognized the benefits a TMS can provide to their transportation strategies, some are still failing to take advantage of their TMS for parcel shipments. Traditionally, parcel capabilities have been an add-on to transportation software, but today some TMS solutions also have the ability to analyze, manage, and optimize parcel. This holistic view of all modes – including parcel – enables transportation managers to assess the most efficient means of getting shipments to the end-customer. By combining multiple parcel shipments into one LTL load or several LTL shipments into a single truckload, a retailer can reduce its overall transportation spend significantly.
It's important to recognize that tools that are only focused on parcel shipping and traditional TMS systems that only include trucking aren't able to consolidate parcels into larger shipments. A TMS that's designed for multiple modes, can provide zone-skipping: identifying pool points for consolidating parcels into LTL or truckload shipments. Ultimately this can provide the least expensive option while still considering required service expectations.
Improving Customer Service
While efficiencies and reduced costs are important for any shipper or 3PL, improving customer service is another key benefit that many companies are realizing by successfully managing their transportation network. In the competitive retail industry service is often the key differentiator between loyal customers and lost business. Increasingly, as many retailers evaluate a TMS, a key factor in the decision process is to improve service levels, as measured by on-time deliveries – to distribution centers, physical stores, and directly to the end-customer.
For retailers, using a TMS to meet the needs of its customers may begin with choosing the best carriers to deliver products to multiple distribution centers on time for outbound delivery to physical stores. While most carriers publish on-time performance, without a TMS it can require searching multiple websites to review and evaluate each carrier's performance. A TMS enables a company to quickly and easily identify the best carriers based on both timeliness and cost-effectiveness. This ultimately ensures that deliveries are running on schedule, while also providing the visibility to proactively address any delays or issues.
Even as the retail industry has seen drastic changes in recent years, it's likely that it will continue to evolve with new processes and technologies shaping its landscape. And, it promises to be an exciting time for shippers and 3PLs as they continually embrace those changes and look for improved strategies to remain competitive.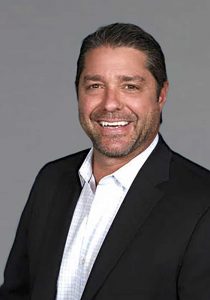 As Chief Strategy Officer, Jeffrey Varon leads MercuryGate's overall company strategy, customer success teams, and channel and global strategic alliance programs. A visionary senior executive with more than 20 years of leadership experience, Varon is responsible for the development and execution of the company's strategic vision, business development and transformation, and organizational change.
Prior to joining MercuryGate Jeffrey was the Chief Strategy Officer at IQNavigator where he propelled the company to be the leading provider of non-employee workforce management solutions for Global 2000 companies. Earlier, Jeffrey served as Senior Vice President and General Manager of Global Business Development at RedPrairie Corporation, a supply chain SaaS and software firm. Jeffrey's experience in the technology and services sector also includes positions at JDA Software Group, i2 Technologies and Wolters Kluwer. He holds an MBA and a Master of Science from Arizona State University along with a BS in Information Systems from Long Beach State University.