Which risks do you believe supply chain professionals need to plan for more effectively moving forward?

We asked members of our Indago research community that question back in May. Twenty high-level leaders from a diverse set of companies and industries responded to the survey (45% Director-level and above, 60% from $1B+ companies in Food & Beverage, Retail, Consumer Goods, Automotive, etc.)

Here are the results from the survey: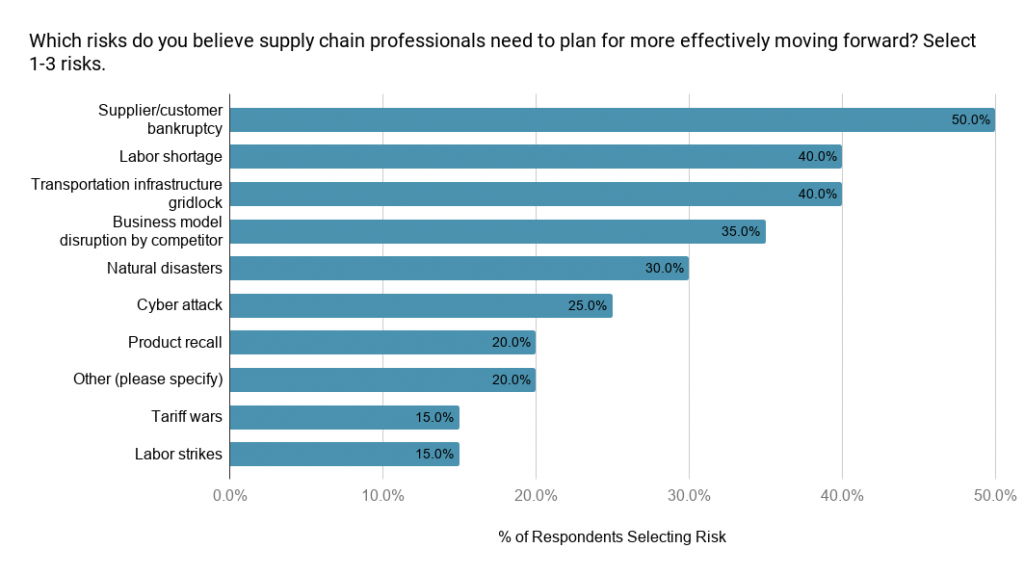 While cyber attacks and natural disasters tend to grab the headlines, a more run-of-the-mill risk topped the list for our Indago members: supplier or customer bankruptcy.

Here are some of the comments submitted by the respondents:

"Supply chain risk management isn't seen as a problem, until it is. Companies should undertake a robust portfolio analysis of vendors, as well as assessment of transportation modes to identify potential sources of concerns and then [develop a] mitigation strategy. The goal should not be to eliminate supply chain risk entirely, but rather make meaningful progress in readiness and advance planning for disruption."


"Partnerships (in the truest sense) help mitigate the risks associated with SCM. Working together with the same end goal will ensure that most channels in the [supply chain] will be aware of challenges and/or pitfalls in the operations. This will create a significant reduction in [risk]."

Another interesting finding from the survey: only 40 percent of the respondents "almost always" consider risk when making supply chain decisions. Another 30 percent "often" take risk into consideration, while 20 percent "seldom" take it into consideration.

In short, it appears that within supply chain management, talking and thinking about risk is still not as common and instinctual as talking and thinking about cost and service.

(For related commentaries, see "Doing Nothing On Supply Chain Risk Management" and "Rethinking Supply Chain Risk Management" and "Time To Survive And Nexus Supplier Index: New Measures Of Supply Chain Risk Management")

Do you agree with the survey results? Which supply chain risks top your list? Post a comment and share your perspective!

Note: If you are a supply chain and logistics practitioner from a manufacturing, retail, or distribution company, I invite you to learn more about Indago and join our research community. It is confidential, there is no cost to join and the time commitment is minimal (2-5 minutes per week) — plus your participation will help support charitable causes like JDRF, American Logistics Aid Network, American Cancer Society, Feeding America, and Make-A-Wish.