This past February we asked members of our Indago supply chain research community — who are all supply chain and logistics executives from manufacturing, retail, and distribution companies — "Is your company using Artificial Intelligence in its supply chain or logistics operations?" More than two-thirds of the respondents (68%) said they weren't using AI and had no plans to do so in the next 12 months. (Indago members can download the report from our website.)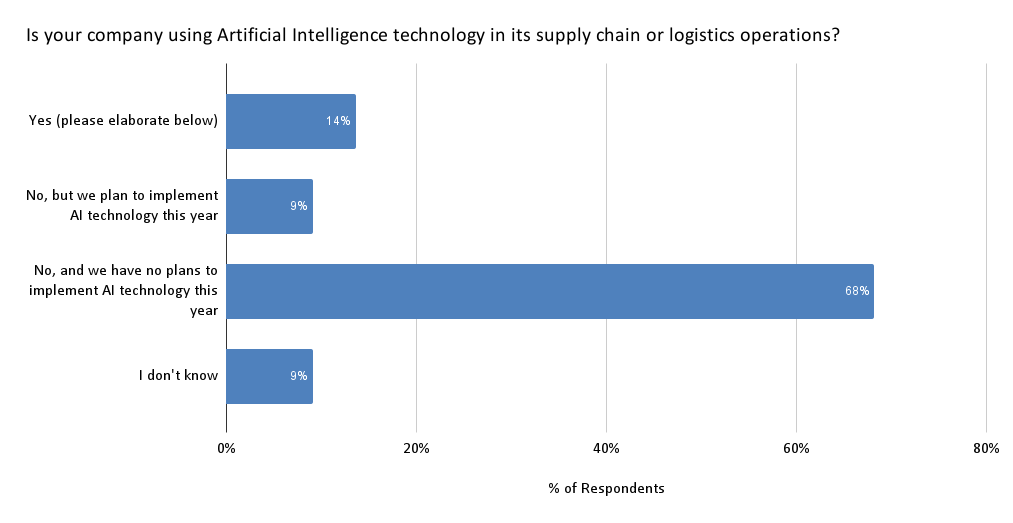 As one Indago supply chain executive put it, "I look forward to utilizing AI in the future for more agile decision making with the understanding that it is a 'crawl, walk, run' journey, as AI further evolves."
Software vendors, of course, are investing heavily in this area — both in research and development and in marketing (no press release is complete these days without AI and machine learning being mentioned). As Liz Young wrote in a recent Wall Street Journal article, "Big software providers including Blue Yonder Group Inc., SAP SE and Manhattan Associates Inc. have research programs underway looking at how the tech known as generative AI can improve forecasting, procurement, inventory management and even the nuts and bolts of shipping decisions."
As is always the case with emerging technologies, the hype around AI far exceeds current reality. But this gap will close over time, and probably faster than many of us expect.
An early case study of how AI (and chatbots in particular) can be used in supply chain management is Walmart's use of the technology in procurement, as detailed in a November 2022 Harvard Business Review article ("How Walmart Automated Supplier Negotiations"). Here's an excerpt of the summary:
It's an age-old problem in procurement: Corporate buyers lack the time to negotiate fully with all suppliers. Historically this has left untapped value on the table for both buyers and suppliers. To address this challenge, Walmart deployed AI-powered negotiations software with a text-based interface (i.e., a chatbot) to connect with suppliers. So far, the chatbot is negotiating and closing agreements with 68% of suppliers approached, with each side gaining something it values.
According to the article, Walmart conducted a pilot, "which lasted three months, included a variety of stakeholders — 89 suppliers, five buyers, and representatives from Walmart Canada's finance, treasury, and legal departments — and Pactum, the company that had created the underlying AI technology." Walmart focused the pilot on "tail-end suppliers" and "goods not for resale" — that is, on products not sold to consumers (e.g., fleet services, carts, and other equipment used in retail stores) procured from the tail end of its supplier base that "have signed agreements with cookie-cutter terms that are often not negotiated."
You can read the article for all the details, but here are the net results:
The chatbot was successful in reaching an agreement with 64% of [the 100 tail-end suppliers invited to participate] — well above the 20% target — and with an average negotiation turnaround of 11 days. Walmart gained, on average, 1.5% in savings on the spend negotiated and an extension of payment terms to an average of 35 days.
Since this pilot was completed, Walmart has expanded its use of the solution to other categories such as "route rate negotiations for transportation and some goods for resale. Some mid-tier suppliers now use the system, and the chatbot is multilingual."
Where is this leading to? Here's how the authors of the HBR paper see it:
One can see the trajectory: As terms and conditions become more algorithmic, fewer suppliers and parts of spend pools will go unmanaged. Procurement professionals will focus less on negotiating agreements and more on strategic relationships, exceptions, and continuous improvement.
Will this technology ultimately be used beyond "tail-end suppliers" — that is, used with more strategic suppliers down the road too? It's not out of the question considering that Walmart has already expanded the scope to mid-tier suppliers. What happens when suppliers start using chatbots too, resulting in bot-to-bot negotiations?
We already have a trust problem in supply chain management. Will this technology improve trust between trading partners or erode it further? If the latter, will the negative consequences outweigh the benefits?
Do these chatbots have names? Families? Hobbies?
I fear that we focus too much on what we gain when we remove humans from a process and not enough on what we lose.