The construction industry is growing thanks to a strong economy, forecasted to reach $1.2 trillion in the US by 2020, according to Tradesmen International, and the global construction output is forecast to rise to $12.7 trillion in 2022, up from $10.6 trillion in 2017 per Orbis Research. However, most analysts believe that growth has plateaued with GDP the same in 2019 as 2018. Still other visionaries see sustained growth and are confident about the demand for new construction in 2020, even up to 2025.
Dodge Data & Analytics says that six of the top ten US metropolitan markets have had an increase in activity in the first half of this year. New York, one of the top two markets, has seen a construction start decrease of 8 percent, while the other top market, Washington, DC, has seen an increase in construction starts of 50 percent.
Whichever analyst firm's prediction is correct, the biggest concerns about growth in the construction industry are related to the challenges in maintaining the necessary labor to deliver on the demand. According to the Associated General Contractors of America, "seventy-nine percent of construction firms have added headcount this year, but seventy-eight percent of construction firms are having a hard time filling positions. Construction unemployment now remains below 10% nationwide, while the national unemployment rate is at 3.8%. The solution to the labor shortage in construction could be technology, however, productivity gains have remained elusive while value-added output per man hour has sky-rocketed for almost every other major industry to date."
The construction industry has lagged behind other industries over the last few decades in deploying technology solutions. The reasons include the uniqueness of most building projects (said differently, minimal standardization) and that the various stakeholders are disconnected and often dealing with delayed and incomplete data from the job site. A lack of visibility into supply chain processes and inadequate collaboration between suppliers, haulers, and contractors has lowered productivity and created inefficiencies within companies.
While the technologies below will not contribute to the standardization challenge, they will provide greater real-time visibility to all the connected parties and improve collaboration and efficiencies.
Cloud-based collaboration tools allow connected participants to capture important data in real time and share it with other connected project constituencies. 
Wearables & Mobility devices that allow job site participants to share their perspectives into the Cloud-based collaboration tools.
The Internet of Things (IoT) devices feed the same networks with machine-captured data. 
Cloud-Based Collaboration Tools
Cloud-based collaboration tools bring together, bind, and link groups within a community so that the different stakeholders involved can easily exchange information and conduct business with each other. In the heavy building materials industry, these stakeholders are producers, haulers, contractors, and suppliers. Using a cloud-based collaboration tool helps these businesses make better decisions faster with heightened visibility into what is happening within their supply chains.
The collaboration tool collects data from a variety of sources including IoT devices, telematics, production automation, business process transactions, and more, giving all stakeholders access in real-time to actionable information they need to perform their job with excellence. With better, more accurate information, all stakeholders will make better business decisions, operate more efficiently, and gain higher profits.
Planning becomes easier when demand, orders, material inventories, schedules, and movements are tightly orchestrated. Everyone involved in the job site knows exactly where orders stand and when products will be delivered to the site, minimizing risk. Supply chain stakeholders see the same information so the location and condition of an order in real-time brings transparency to all trading partners. With better, real-time information, everyone in the supply chain understands their role and their responsibility.
Wearables & Mobility
Wearable technology involves everything from smart watches to smart glasses and more. It is used in the construction industry to improve safety and communications, while streamlining data collection. With smart technology, companies can reduce human participation in dangerous tasks on the job site, such as building inspections and other tasks.
Effective safety clothing and wearables can play a significant role in the safety of a worker, making them as visible and protected as possible. By incorporating GPS systems into clothing, managers can react quicker to find and remove an employee from a dangerous situation. Wearable tags added to high visibility vests or hard harts can be linked to machinery so that drivers in the yard can be alerted that a worker is nearby.
Mobile technology has made construction communication and record-keeping much simpler by automating paperwork. Mobile apps are available that help managers keep track of their workers, assets, invoices, hours, budgets, etc. Mobile sales solutions allow workers to perform work while in the field, such as generating a quote, tracking bids, and managing sales activities, all while sharing this information in real-time with team members back in the office. Customers can access real-time truck information or request new orders. With a solution that digitizes paper tickets, haulers can eliminate 10 minutes per load by not having to wait around on paper processes.
Internet of Things (IoT)
Construction firms are using the IoT to keep better track of assets by attaching or embedding sensors into expensive equipment or tools. With the IoT, devices can be tracked for usage, helping keep scheduled maintenance programs on time. It also helps to reduce the time spent looking for lost or misplaced equipment and tools by easily locating them. The IoT can also monitor how long a worker has used a piece of equipment and can alert management that the worker is nearing fatigue and needs to take a break.
At the job site, lighting can be monitored to determine how much energy is being used and then can be adjusted for more savings, especially at night when workers are not there. Machines can send information on idling times so that on and off periods can be adjusted to reduce fuel usage and emissions. Pallets of materials can have IoT-embedded sensors that can be used to track the location of the materials at the job site. 
Data collected from IoT devices can be shared among stakeholders, making for more-informed decisions.
Digital Transformation
The move towards digital transformation within the heavy building materials industry is inevitable with economic uncertainty, labor shortages, and insufficient communication and productivity putting a dent in bottom line profits. By using a cloud-based collaboration platform, all steps in the workflow from initial orders to the final bill will be visible to all stakeholders.
Using technology within the construction industry brings benefits by removing paper-based processes, reducing admin time and errors. The many participants in the supply chain have the ability to share important notifications uniformly in real-time. The learning and improvements that will be made by leveraging the insights gleaned from the sharing of information will manifest themselves as more data is captured and shared.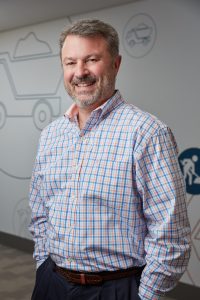 Steve Cox is VP of Business Development, Command Alkon. Steve joined Command Alkon 3 years ago after 20+ years with Grace Construction Products.  He is currently working with internal and external partners to co-create digital collaboration value within the heavy building materials ecosystem.  Steve has held many commercial roles in his career all focused on understanding the leverage within the construction supply chain and utilizing that knowledge to create successful commercial ventures. Steve holds a Bachelor's degree in Civil Engineering from Auburn University and sits on several industry advisory boards including the RMC Research & Education Foundation, the Concrete Industry Management National Steering Committee Board and the Carbon Cure Industry Advisory Board.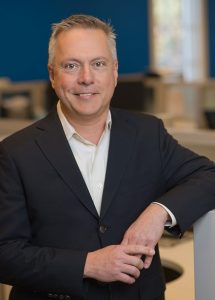 Doug Moore is VP of Cloud Platform, Command Alkon. Doug Moore has over 30 years of proven success in software development and cloud computing. As Vice President of Cloud Platform at Command Alkon, Doug leverages his knowledge and implementation expertise to accelerate platform development and cloud adoption; including the creation of powerful business process applications and data-driven insights to assist clients in increasing productivity. Prior to joining Command Alkon, Doug served in a number of roles at several software and technology companies. Most recently, he was VP, Applied Research at Guidewire Software. At Guidewire, Doug led a team that solved pervasive technical and business challenges in the Property & Casualty insurance space by developing new and innovative solutions that significantly improved the way the industry conducts business.  Doug holds a B.S. in Electrical and Computer Engineering from the University of Alabama (UA). He currently serves on UA's Engineering Leadership Board and is recognized as a Distinguished Engineering Fellow.