"When you stop learning, you stop leading," says leadership expert Kenneth Blanchard. This is particularly true for supply chain professionals considering the rapid and ongoing changes in the field.
If you were to go back to school (or have already) to improve your skills/knowledge in areas you view as important for continuing your growth as a supply chain leader, what classes would you take?
We asked members of our Indago supply chain research community — who are all supply chain and logistics executives from manufacturing, retail, and distribution companies — that question in an August 2023 survey.
Half our member respondents (50%) said they would take a "Data Analytics" class to continue their growth as supply chain leaders. Second on the list was taking a "Finance" class (33%).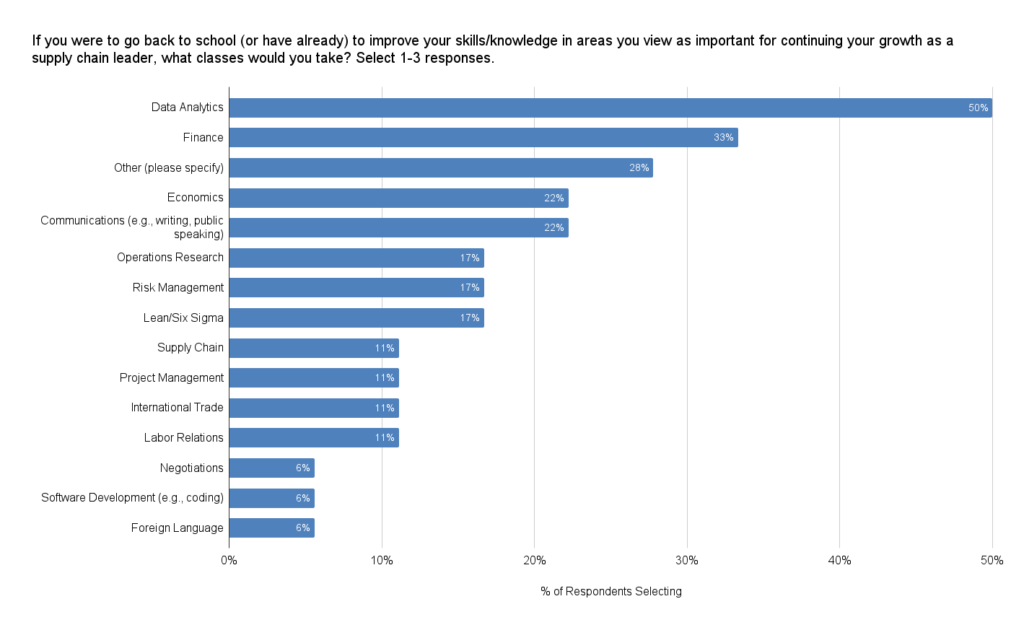 "I think Data Analytics is probably the most important [class to take] given we live in a data heavy world, especially within supply chain and logistics operations," said one Indago executive member. "There is so much to learn and improve upon within our business utilizing data. Also, as AI and machine learning take hold in larger ways within supply chain and logistics, it will be important for supply chain professionals to use their knowledge and experience to ensure AI is producing the expected results."
Here are some other comments posted by our members:
"I've found finance to be very useful when communicating investment requests and metrics with the CFO and CEO. Sustainability is a key new area, and most supply chain professionals should know the basics."

"Risk management and execution are very important. This will provide a better approach to managing supply chain disruptions and changing customer preferences, which are more prevalent after COVID pandemic."

"Supply chain technology is rapidly advancing [and] this will not slow down. As such, I think continuing education in the technology space is critical to being a successful supply chain leader, especially if you are developing strategy for your company."

"In my opinion, Communications should top the list given the different generations in the workplace (e.g., Boomers, Gen X, Millennials, Gen Z). Each group has a unique way of communicating. Outside of MBA or higher learning, I would recommend ASCM or CSCMP certificates."

"Non-supply chain skills are becoming more important in gaining alignment across the organization. Of special importance is ability to bring all team members to the same understanding, hence the need for communication and finance that share a 'common language.' Economics is a close second as it helps frame up the external factors that impact your supply chain."
For additional insights from the research, Indago members can download the report from our website.
What about you? Which classes do you view as the most important and why? Does your company make it easy to pursue continuing education opportunities (e.g., reimburse tuition, flexible work schedule)? Post a comment and share your perspective!
Be Uncommon. Research with Purpose.
If you're a supply chain or logistics practitioner from a manufacturing, retail, or distribution company — and you're interested in learning from your peers — I encourage you to learn more about Indago and join our research community. It is confidential, there is no cost to join and the time commitment is minimal (2-4 minutes per week) — plus your participation will help support charitable causes like JDRF, American Logistics Aid Network, American Cancer Society, Feeding America, and Make-A-Wish.