A big opportunity to reduce the number of trucks required to ship products is by developing smarter packaging (see "Bubble Wrap Loses Its Pop For Logistics Cost Savings"). How often does your transportation team collaborate with your product and packaging designers to factor in transportation considerations into their designs?
We asked our Indago research community that question a few weeks ago. Less than a quarter of our member respondents (22%) said that their transportation team "Always" or "Very Often" collaborates with their product and packaging designers to factor in transportation considerations into their designs. Almost 40% said that they "Rarely" or "Never" collaborate.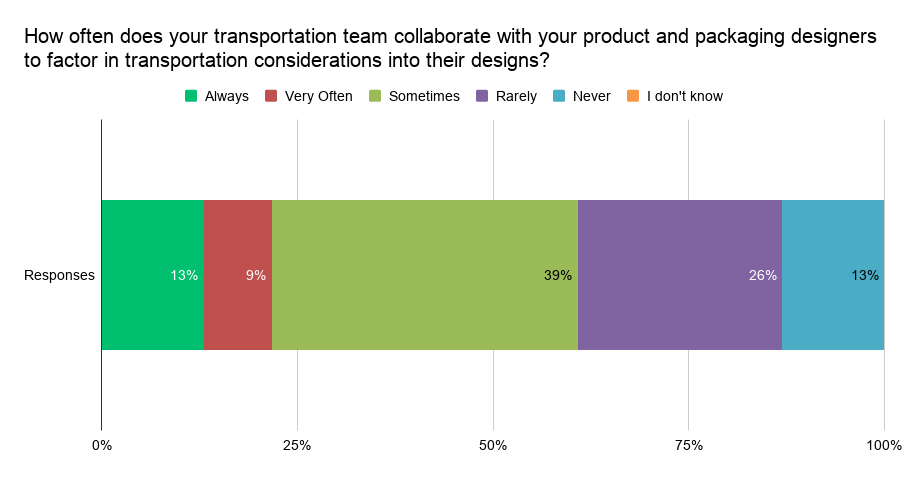 Yet, more than half of the respondents (52%) said that a "Very Large" or "Large" opportunity exists to realize transportation benefits if changes were made to product and/or packaging designs.
The findings suggest that many companies are leaving significant transportation benefits on the table due to a lack of collaboration between their transportation and product/packaging design teams.
As one respondent commented, "I believe the hurdle is that one is a creative/design functional group whereas transportation is operational. Typically, these two groups do not collaborate. I've seen no collaboration between the two groups."
Or as this respondent commented: "Our company has a number of high priority issues, which means improving packaging for better utilization is way down on the list of projects."
Here are some other value-added comments from our Indago members, who are all supply chain and logistics professionals from manufacturing, retail, and distribution companies:
"Understanding your product type and your packaging's dim ratio is extremely important for parcel heavy shippers in e-commerce. A pretty box can very easily end up costing more than it's worth, especially as most parcel [carriers] give discounts based on weight and dim averages."

"When we used less resin/plastic in our PET bottles, we incurred millions in savings. It also generated savings in machine load and truck load requirements because of the lighter packaging."

"We have added additional resources, a product/packaging design department, that is reviewing current products and new products to determine the best design. We have reconfigured some of the current products and are capturing six-figure savings for the organization in freight and warehousing."

"Our greatest opportunity related to packaging revolves around product damage and waste. [There] needs to be a holistic view of the costs of packaging vs. other costs, such as damage, storage, freight, and customer satisfaction."

"We are a cube-driven business. We are always looking at the best cube and the most efficient way to maximize [space] in a trailer. Unfortunately, we are also held back by our customers. If our best pack out is 12 per case, and their shelf holding capacity is 4, they might only want a case of 8 so they do not violate their internal rules of no more than a case and a half of product. We see this all the time with initiatives to reduce packaging. In most cases, we end up with inefficient packaging due to internal, customer-specific rule sets."
Have you had any success in enabling transportation benefits via smarter product/packaging design? What are the hurdles to driving better collaboration between these functions? Post a comment and share your perspective!
Also, If you're a supply chain or logistics practitioner from a manufacturing, retail, or distribution company, I encourage you to learn more about Indago and join our research community. It is confidential, there is no cost to join and the time commitment is minimal (2-5 minutes per week) — plus your participation will help support charitable causes like JDRF, American Logistics Aid Network, American Cancer Society, Feeding America, and Make-A-Wish.
You can also follow us on LinkedIn to stay informed of our latest research results and news.