eCommerce and omnichannel shopping are commonplace not only for consumers, but business-to-business buyers as well. This trend has accelerated even more so during the COVID-19 pandemic since online purchases have become a necessity.
To succeed in this new normal, shippers must respond with efficiency and speed, while maintaining affordability and transparency to the last mile. To support digital transactions, those of us in the logistics industry need to adjust operations, upgrade our technologies and processes, and offer more options to customers for transporting our products.
Our recent acquisition of a Parcel Transportation Management Solution (PTMS) is a direct response to the digital transformations accelerating supply chains across retail, consumer packaged goods, manufacturing, automotive, and more industries. While many shippers have functioned satisfactorily in the past with unintegrated transportation systems, the value of a PTMS integrated with the broader transportation infrastructure has amplified for the following reasons:   
eCommerce Growth Engine
The "Amazon Effect" has reshaped expectations for delivery times and costs. Due to the pandemic and stay-at-home orders, online sales were up nearly 40 percent from late February to late April, according to Signifyd's eCommerce Pulse data. Many consumers and businesses who had never purchased online or were not regular eCommerce shoppers prior to the pandemic, are likely to continue the new buying behavior.
Direct-to-Consumer (DTC) sales have also been fueled by the COVID-19 shelter-in-place mandates. eMarketer is forecasting that DTC sales will account for $17.75 billion of total eCommerce sales in 2020, up 24.3% from the previous year.
Although the economic outlook for the remainder of 2020 is clouded by the ongoing effects of the pandemic and tumultuous current events, Signifyd predicts a 20% eCommerce growth through year end.
Customer Experience
The increase in digital transactions provides opportunities to elevate the customer experience. From 24/7 self-service with ability to track the parcel shipment progress to more personalized communications, robust eCommerce engines allow for heightened responsiveness to shoppers' needs.
Benefits of Parcel Shipping
While at times overlooked, parcel shipping can be a cost-effective option for freight weighing 150 pounds or less. With increased digital transactions, the higher volumes offer even more parcel shipping cost advantages. In addition, the ease of tracking and checkpoints is another benefit. Since parcel packages go through several checkpoints, parcel carriers are updated with shipment location more frequently than LTL shipments. Finally, parcel shipping offers expedited service performance when working with partners certified with UPS, FedEx, USPS, and regional carriers. There are also options for hundreds of couriers and integration with LTL carriers.
Emerging Parcel Shipment Sources
Recently, crowdsourced, on-demand drivers have begun surfacing. The freelance delivery services are being enabled by high-speed wireless technologies, robust mobile apps, and an emerging class of "delivery network managers." With these Uber-like drivers, third-party logistics (3PL) providers can have more flexibility in pick and pack, selecting, and notifying carriers.
Drones are also being evaluated as the next wave of delivery options. With the ability to travel 80 miles per hour while avoiding traffic, they could be a viable option for local deliveries. In several examples around the world, drones are already being used for delivering time-sensitive items, such as pharmaceuticals.
Parcel Optimization
By optimizing parcel shipments with a robust PTMS, supply chain professionals can better support retailers in meeting their customers' higher service expectations and maintaining control of rising shipping costs – while also competing with and leveraging Amazon.
eCommerce also tends to be seasonally volatile. Combining parcel carrier systems with larger networks, offers stability and economies of scale. Other shippers can now confidently shift freight into parcel if that mode is more efficient and cost-effective.
During these volatile times that are causing disruptions in the supply chain, the logistics industry must continue to add technologies, services, and transportation experts to our teams to give shippers a competitive advantage.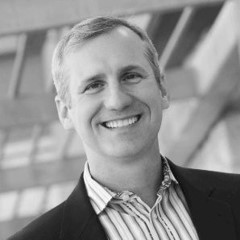 Wes Breyfogle is currently Transplace's SVP of Parcel Solutions responsible for product development, customer delivery and go-to-market.  Prior to Transplace's acquisition of ScanData, Wes served as the CEO of ScanData.  Before joining ScanData, Wes has held a variety of leadership roles in eCommerce, Software Development, Manufacturing and Logistics at organizations like Sapient, Razorfish, Momentum Software and Accenture.