Earlier this month, C.H. Robinson announced a partnership with SAS to "unlock a new era of dynamic business planning for Retail and CPG companies." Here are some excerpts from the press release:
Until now, supply chain demand planning and shipping execution often worked in autonomous siloes without connection, digital integration, or real-time visibility. This partnership will solve that problem by creating a first-of-its-kind offering: an end-to-end supply chain solution that integrates inventory and demand signal data with real-time transportation data. Steering a supply chain from a centralized operation like this will allow companies more fluid adjustments in scheduling, carriers, and responses to changing consumer demand while inventory is still moving on the ground.

Within an integrated data loop, SAS triggers a demand plan which feeds into C.H. Robinson's dynamic transportation procurement tool. In turn, that connects into the world's largest supply chain management platform, Navisphere, to provide real time visibility of inventory, which then links back and informs SAS' Intelligent Planning suite. This means a retailer or maker of packaged goods, for example, can connect its corporate demand plans to products and freight on the move. They then can better react to real-time changes in demand, such as surge in consumer interest, and real-time changes in transportation factors, such as inclement weather.
Virtually all large Retail and CPG companies have some sort of demand planning application in place; almost all of them are also using transportation management, warehouse management, and other logistics solutions. So, why haven't they been able to break down these silos before?
Yes, integrating disparate software applications and creating a unified, intelligent workflow has been one of the challenges. Bridging the gap between supply chain planning and execution has been the driving force between many software vendor acquisitions over the years (see E2open's various acquisitions, for example) and it's also the driving force between this C.H. Robinson – SAS partnership. Although integrating applications is arguably easier today than it was a decade ago, it is still far from easy (and don't forget about the ever-present data quality problem).
Reaching the promised land of perfectly synchronized supply chain planning and execution, however, goes beyond breaking down technology silos; you also have to transform the processes themselves, the metrics used to measure performance, and how people in these various functions are incentivized to work together.
Integrated Business Planning: Many Companies Still in Crawl/Walk Stage
Last October, we asked our Indago supply chain research community, "Do you agree or disagree that demand sensing is going to play a much bigger role in integrated business planning moving forward?"
The vast majority of our member respondents — who are all supply chain and logistics executives from manufacturing, retail, and distribution companies — either Agree (47%) or Strongly Agree (47%) that demand sensing will play a much bigger role in integrated business planning moving forward.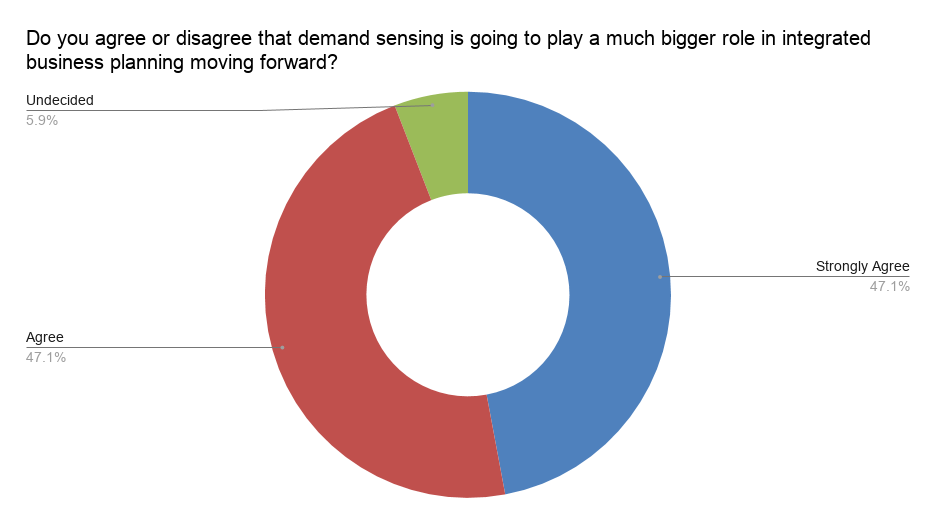 However, comments from our members like the two below suggest that even though companies may recognize the importance of demand sensing, many are still in the "crawl/walk" stage when it comes to Sales & Operations Planning (S&OP) and integrated business planning:
"Demand sensing is certainly needed from my perspective, but my organization just hasn't gotten to where we need to be. Currently we're working to implement a 'S&OP lite' program to at least start laying the foundation of a more robust S&OP process."

"My current company has a very rudimentary forecasting process. Based on the annual sales budget, monthly volumes are distributed equally in weeks. This kind of setup makes production planning harder as there is an imaginary target that is not sensitive to actual demand."
We often talk about the three-legged stool of People, Process, and Technology. The technology leg is way longer (ahead) than the other two, which is why most companies will stumble and fall if they don't also invest in bringing their people and processes to the same level of maturity and capability.
Third-party logistics providers (3PLs) have been providing a bundled value proposition of people, process, and technology on the execution side for decades. They have tried in the past to break into the supply chain planning side, but with limited success. Are manufacturers and retailers finally ready and willing to let their 3PL partners help them reach the promised land of synchronized planning and execution? Post a comment and share your perspective!
Join Indago
Also, If you're a supply chain or logistics practitioner from a manufacturing, retail, or distribution company, I encourage you to learn more about Indago and join our research community. It is confidential, there is no cost to join and the time commitment is minimal (2-5 minutes per week) — plus your participation will help support charitable causes like JDRF, American Logistics Aid Network, American Cancer Society, Feeding America, and Make-A-Wish.
You can also follow us on LinkedIn to stay informed of our latest research results and news.