After writing about it since January on Talking Logistics, I'm sure you're all wondering: How did the JDRF Death Valley Ride go last weekend?
I'll let these photos speak for themselves.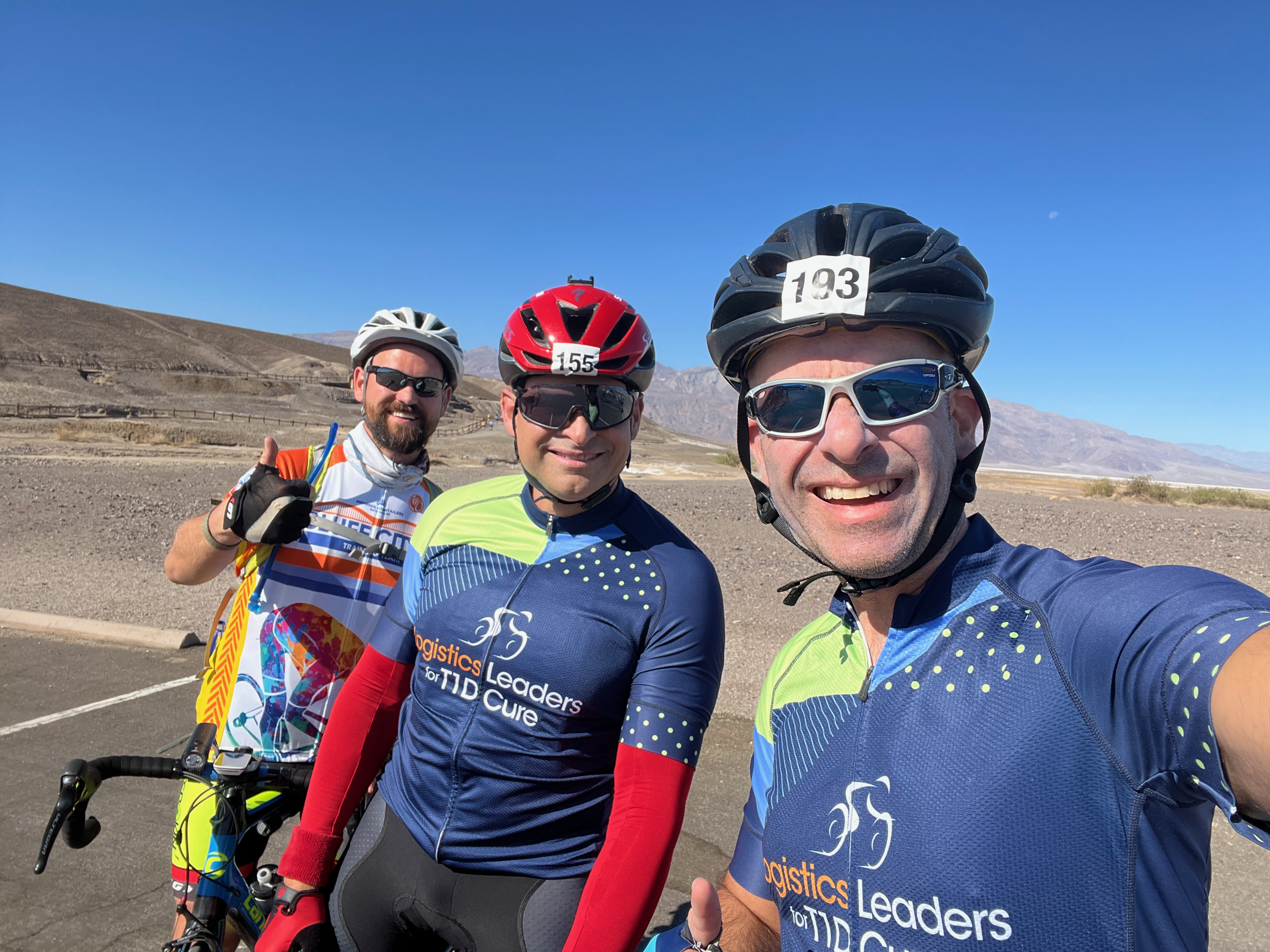 Overall, it was a fun and inspiring event! Due to floods in Death Valley several weeks ago, the course was changed to avoid closed roads, so the max distance possible was 85 miles. The first 50 miles were nice: minimal winds, not too hot. However, miles 50-67 were grueling: rolling hills and headwinds (plus temps were over 100F by then). Fortunately, the final 18 miles had a nice tailwind. Joe Tillman, Ralph Cisneros, and I crossed the finish line safely and smiling — the definition of a great ride.
However, as JDRF likes to say, the real goal is not getting to the finish line; it's getting to the starting line! That is, reaching our fundraising goals, which will help us get closer to creating a world without type 1 diabetes (T1D). Thanks to the support of our team sponsors e2open and TranzAct Technologies, and donations from many friends and family, our Logistics Leaders for T1D Cure Team has raised over $43,300 for JDRF so far this year. We were honored as the Top Corporate Team for fundraising at the Saratoga Springs Ride and we were the runner up at the Death Valley Ride. Again, a big thank you to everyone who made this possible!
Our ride season (and fundraising) is not over yet. Kelly McCauslin from e2open will be riding November 19th at the Tucson Ride, so we look forward to cheering her on and hearing about her experience afterwards. You can donate to Kelly via her page, and you can still donate to our other team members too (links available on our team website). While $43K is a great accomplishment, it's still short of our $75K goal, so you can still help us get there!
Finally, do you enjoy cycling? Are you looking to explore new roads? Want to have fun with friends while supporting a great cause? Then join our LL4T1DCure team! Cyclists of all abilities are welcomed. Please contact me for details. Also, please contact me if you're interested in sponsoring our team in 2023.
Moving on, here's the supply chain and logistics news that caught my attention this week:
At Death Valley, I was 282 feet below sea level. Today, I'm a mile above it, attending e2open's Leaders Forum 2022 in Denver. Since I'm short on time this morning, I'll share my commentary next week.
Have a happy weekend!
Song of the Week: "Alive" by Empire of the Sun