It's been a very long week for me, but a relatively short one for supply chain and logistics news.
Without delay, here's what caught my attention this week:
Flexport Buying Convoy's Tech: Going the "One-Stop-Shop" 3PL Route
A couple of weeks ago, the news broke that Convoy was shutting down its operations (see my commentary "Convoy: A Logistics Unicorn Dies"). Well, it seems like at least it's technology will live on, with Flexport announcing that "we've acquired Convoy's technology stack and are planning to retain a small group of team members from their core product and engineering team…Although we are not acquiring the business, we will be looking to restore their full-truckload service in the coming weeks and have already received positive intent from some of their largest customers to come back."
Flexport founder and CEO Ryan Peterson added:
We made today's acquisition not just because of the incredible tech stack that Convoy built. We have heard from our customers that they want Flexport to be a one-stop shop for all their logistics needs…

Flexport's strategy will be to offer a full range of trucking services to our customers who value us as a one-stop-shop for global logistics. We'll offer expanded trucking services, including FTL, LTL, drayage (ocean) trucking, cartage (airport) trucking, and eventually intermodal (rail) trucking services to customers of our international freight forwarding services. Every container that comes in eventually gets trucked onward to its final destination. Thanks to this deal, we're now in a great position to complete our product vision as a true one-stop-shop to ship any product, in any quantity, between any two places in the world.
When looking for a 3PL partner, do you prefer a Best-of-Breed or a One-Stop-Shop provider?
As I highlighted this past March in "3PLs: Best-Of-Breed Or One-Stop-Shop?", we asked members of our Indago supply chain research community — who are all supply chain and logistics executives from manufacturing, retail, and distribution companies — that question in March 2022.
In contrast to what Flexport has heard from its customers, almost three-quarters of our member respondents (72%) said they would prefer to work with a Best-of-Breed provider (one that specializes in a specific logistics function) instead of a One-Stop-Shop.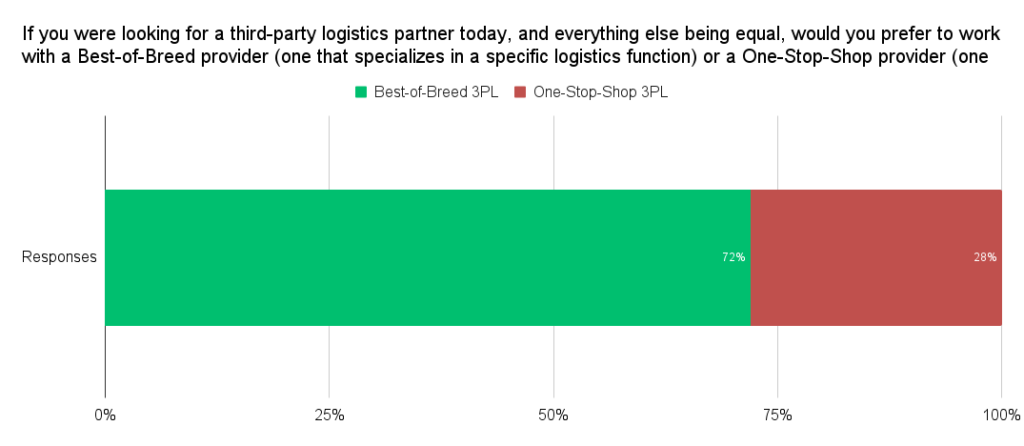 "I always lean towards providers who excel at having focus," said one Indago supply chain executive. "Be great at one thing and I'll give you my business. If you try to do too much, you'll lose out on quality."
(Read the March post for additional executive comments).
XPO Logistics originally went the One-Stop-Shop route too, then reversed course in March 2022 when it announced its plans to "separate its brokered transportation services from its less-than-truckload (LTL) business in North America [and] divest its European business and North American intermodal operation." As Brad Jacobs, CEO of XPO at the time said, "Our experience is that customers want high levels of service and they want pure-plays…When you have a [3PL] management team doing one thing and being an inch wide and a mile deep in one line of business, they're more focused and fit for purpose to drive growth."
So, which is the best strategy for Flexport? Well, if the company's customers are indeed saying they want a One-Stop-Shop logistics service provider, then you have to listen to your customers, right? But if the strategy is really driven by financial considerations and positioning the company for an IPO or acquisition, then maybe our Indago members and XPO are right.
What do you think?
Uber Freight Unveils Emissions Dashboard
Earlier this month in "Factoring CO2 Emissions In Transportation" — an excerpt of an e-book I wrote published by Manhattan Associates — I highlighted an Indago survey we conducted where most of the respondents (60%) believe it will be either "Extremely Important" (22%) or "Very Important" (38%) for transportation management systems (TMS) to have sustainability related capabilities in the next few years; only 6% said it will be "Not important at all."
We're already seeing progress on this front. At its user conference this year, for example, Manhattan Associates highlighted how its TMS uses emissions data from EPA SmartWay as a factor in mode, carrier, and equipment selection.
The latest example is Uber Freight, which this week unveiled "the next generation of emissions visibility with a new Emissions Dashboard." Here are some excerpts from the press release:
Shippers looking to decarbonize can instantly unlock valuable, comprehensive insight into their network's emissions across all modes quantified using the Global Logistics Emissions Council (GLEC) framework. Leveraging this data empowers sustainability-related decision making with an accessible, measurable impact, propelling decarbonization into a new era.

The Emissions Dashboard equips Uber Freight customers with a holistic view over their operations. Accessible in both the Uber Freight TMS and as a standalone tool, shippers can effectively monitor total emissions across the entirety of their logistics network, accounting for all modes of transportation across the globe – road to sea to sky. Customers can even port over freight managed outside of the Uber Freight network to ensure all transportation is accounted for within a single view.
The bottom line is that sustainability is moving from being something companies do voluntarily to something that is becoming mandatory.
For example, the legislature in California passed Senate Bill 253 in September 2023, which was signed by Governor Newsom in October, that will require companies with over $1 billion in revenues that do business in the state to disclose all greenhouse-gas emissions associated with their operations, including Scope 3 emissions. Disclosure of Scope 1 and Scope 2 emissions will begin in 2026, and Scope 3 emissions will begin in 2027. A second bill (Senate Bill 261) will require businesses with revenues over $500 million to publicly disclose their climate-related financial risks and countermeasures. Simply put, these bills will effectively make carbon emissions disclosures a national requirement for large companies in the United States.
So, we'll certainly see more TMS providers add sustainability capabilities to their solutions moving forward. This capability will move from being a "nice to have" to a "must have" too.
And with that, have a happy weekend!
Song of the Week: "Behind The Wall Of Sleep" by The Smithereens