The cops showed up at my house this morning at 8:05 am — a squad car and a motorcycle escort. I knew this was going to happen, sooner or later. My kids were a little nervous, but I wasn't. I was ready, and so was my wife.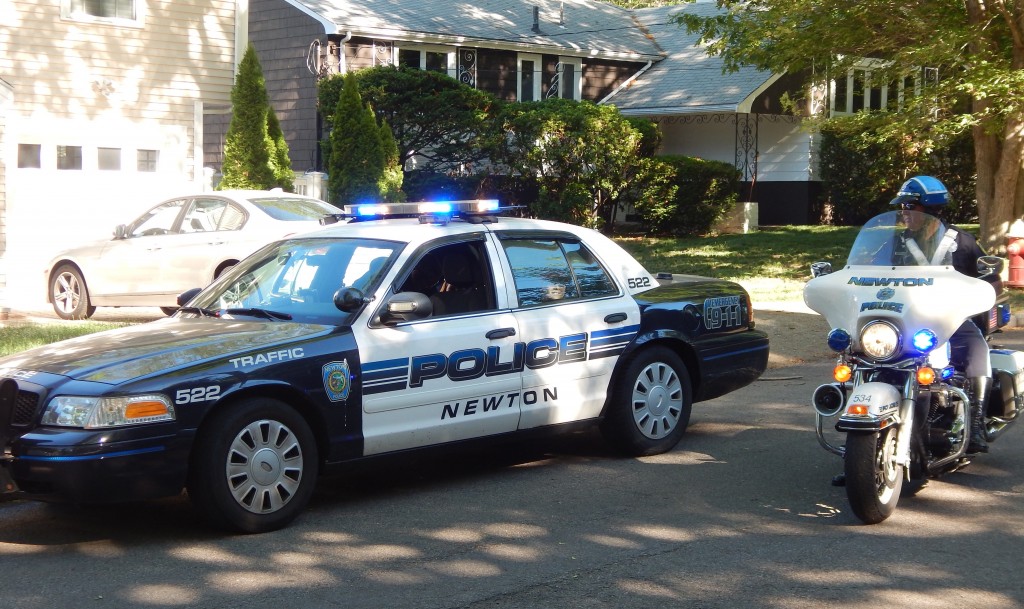 A few neighbors peeked from their windows when they heard the sirens and saw the flashing lights. And what they saw was my first grade daughter and fourth grade son being led into the back of the police car. They were getting a police escort to school — a prize my kids had won in the school raffle.
With the sirens going, the police car and motorcycle drove around the neighborhood, and then to the school, where a group of kids, parents, and teachers gathered outside the school watched as my kids emerged from the car, all smiles and proud, with their police badge sticker on their shirts.
My guess is that we're going to buy a lot of raffle tickets again next year.
Now, for this week's supply chain and logistics news…
Over the past year, solution providers have been strengthening the link between the front-end of e-commerce (order capture/management) and the back-end (order fulfillment). We've seen new entrants like Enspire Commerce (an enVista company) offering "Omni-Channel Order Management, Point-of-Sale, e-Commerce, and Trading Partner Management all in one platform." Last November, JDA Software and IBM announced a "new integrated offering [that] will provide retailers, wholesalers and manufacturers with intelligent sourcing, fulfillment and order management capabilities." And this week, HighJump acquired Nexternal, a cloud-based eCommerce platform provider based in California. Here are some excerpts from the press release:
Nexternal provides an omni-channel commerce platform that serves manufacturers, distributors and retailers. Nexternal's platform includes a functionally rich order management system that captures both business-to-business and business-to-consumer orders, via standard and mobile web browsers…Companies use Nexternal's commerce platform to run call centers, generate and manage subscription orders, retrieve Amazon marketplace orders, create club orders and receive orders from other systems via its API. The system acts as the single hub for all pricing, promotions, status and customer care related to the order management lifecycle.
Of course, the poster child for bringing order management and order fulfillment together is Amazon. When the company acquired Kiva Systems (now called Amazon Robotics) in March 2012, I said the following:
This acquisition was driven by Amazon's desire to own and control the innovation cycle — from the front end of its operations (website) to its back end (order fulfillment and DC automation systems) — in a holistic and integrated manner…Here is what I envision Amazon saying: "By bringing together our frontend and backend systems and innovating them in a holistic and integrated manner, we'll achieve even greater levels of productivity and profitability, and provide even better and more differentiated service to our customers."
What we're seeing today is solution providers following Amazon's lead — that is, they're aiming to provide customers with a more integrated and holistic ecommerce/omni-channel platform that links the entire order capture to fulfillment process.
Speaking of Amazon, the company is raising the bar again on delivery in response to Walmart testing a free, three-day shipping service. According to the Wall Street Journal:
Amazon is making same-day delivery free for its Prime members…The online retailer said its same-day delivery option — available in 14 metropolitan areas — will now come at no extra fee to those who pay $99 a year for an Amazon Prime membership. But an even speedier service, Prime Now, is already free in three overlapping cities for customers who need their merchandise in about two hours.

Amazon said Prime members wanting same-day delivery will no longer pay the $5.99 per-order fee for goods purchased by noon, provided their order size is at least $35. In return, the Seattle company pledges to get users their merchandise by 9 pm that night.
I would love to see the pricing and financial model Amazon uses to justify these decisions. Analysts estimate that Prime members spend double what non-Prime members spend, so the assumption is that the $99 annual fee plus the increased spending offsets a large percentage of the delivery costs. Then again, maybe not. What's clear, however, is that delivery remains a competitive weapon for Amazon and the company continues to add more ammo to it.
According to the Bureau of Transportation Statistics, "U.S.-NAFTA freight totaled $96.1 billion in March 2015…Year-over-year, the value of U.S.-NAFTA freight flows by all modes decreased by 5.3 percent," with the decline driven mostly by the reduced unit price of mineral fuel shipments via pipeline and vessels. Some more details from the press release:
U.S.-Mexico freight totaled $45.2 billion in March 2015 as three out of five transportation modes – air, rail, and truck – carried more U.S.-Mexico freight than in March 2014. Year-over-year, the value of U.S.-Mexico air freight rose 15.7 percent, the largest percentage increase of any mode. Freight carried by rail increased by 7.5 percent and truck freight increased by 5.3 percent.
As I highlighted in a post last October, all signs point to Mexico playing a greater role in supply chains. From a transportation standpoint, the primary focus has been on cross-border trucking, but rail is also a critical component of Mexico's transportation network. If you missed my conversation yesterday with Carlos Godinez, Intermodal Director, Mexico for Transplace/Celtic International on Growth and Improvements in Mexico's Rail Network, watch it now on demand. I'll be sharing some takeaways from our conversation in a future post.
Speaking of Mexico, C.H. Robinson announced that it is celebrating 25 years of business in the country. "Throughout the years, trade between the United States and Mexico has become increasingly important," states the press release. "Mexico continues to play a vital role across global supply chains due to the country's business culture, educated workforce, and proximity to the United States." C.H. Robinson has over 200 bilingual employees in 10 offices in Mexico and along the border between the United States and Mexico.
I'll repeat what I've said before: For most 3PLs, their customers — across a variety of industries — are growing their presence in Mexico, either manufacturing there or growing their supplier base there, so 3PLs need to align their services and capabilities accordingly to the changing supply chain networks of their customers.
And with that, have a great weekend!
Song of the Week: "E=MC2" by Big Audio Dynamite
Note: C.H. Robinson, enVista, Descartes, and Transplace are Talking Logistics sponsors.