Athletes are in vogue at supply chain and logistics conferences this year. Last week it was Michael Phelps at the JDA FOCUS conference. This week it was Mia Hamm at the BluJay Solutions SOAR 2017 conference. And next week, it'll be Sugar Ray Leonard at the Manhattan Associates Momentum 2017 conference.
If you had to pick one of these athletes to have dinner with, who would it be?
It's a toss up for me, but I know what I would ask them. Both Phelps and Hamm said the same thing during their interviews — "I hate to lose" — which is what drove them to train and compete so intensely. So my question is, How did you deal with losing, when you didn't perform as well as you expected? As the father of a boy who also hates to lose, and as a coach, knowing how these elite athletes dealt with "failure" in their sport would be very insightful.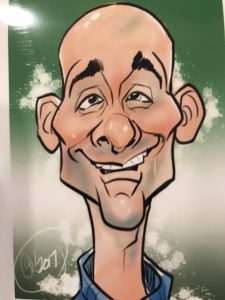 And then after dinner, while we're waiting for coffee and dessert, I would take out this caricature of me done at the BluJay conference and I would ask them, Does this really look like me?!
(BTW, the SOAR 2017 conference was very well attended — almost 500 attendees from 10 countries — with a lot of great keynotes and breakout sessions. I will share my takeaways from the conference in a future post.)
I'm still catching up from my week on the road, and getting ready to head out again next week to speak at the Manhattan Associates conference (I'll be speaking on "A Brave New World: Transport to the Future"), so I'll just share some of the supply chain and logistics news that caught my attention this week without commentary.
And with that, have a happy weekend!
Song of the Week: "Move" by Saint Motel