While the changing atmosphere of ocean carrier alliances for containerized cargo isn't something new, it's certainly top of mind for many shippers and carriers alike thanks to a tumultuous last few years. This is especially true today, as what used to be four primary ocean carrier alliances transformed into three different ocean carrier alliances – taking effect on April 1, 2017. But what does this realignment mean for the industry?
To understand these partnerships, it's important to know the three ways that ocean carriers (i.e. container carriers) can partner in our industry:
Slot Charter Agreements:

When a shipping company buys a certain number of slots from another carrier.

Vessel-Sharing Agreements (VSAs):

VSAs are normally dedicated to a certain trade route for pooling fleets. Partners within a shipping consortium agree to operate liner services along a specified route using a specified number of vessels.

Carrier Alliances:

Alliances cover multiple VSAs and carrier members jointly operate and decide on major service routes, new services being introduced, transit/service levels and capacity controls. Each carrier member agrees to contribute a certain amount of resources. Alliances let carriers offer more sailings with fewer vessels.
The three large alliances that kicked off in 2017 are considered formal carrier alliances, and were a dramatic display of the vast changes being made in the industry – as they now cover 95% of global container trade. These alliances are: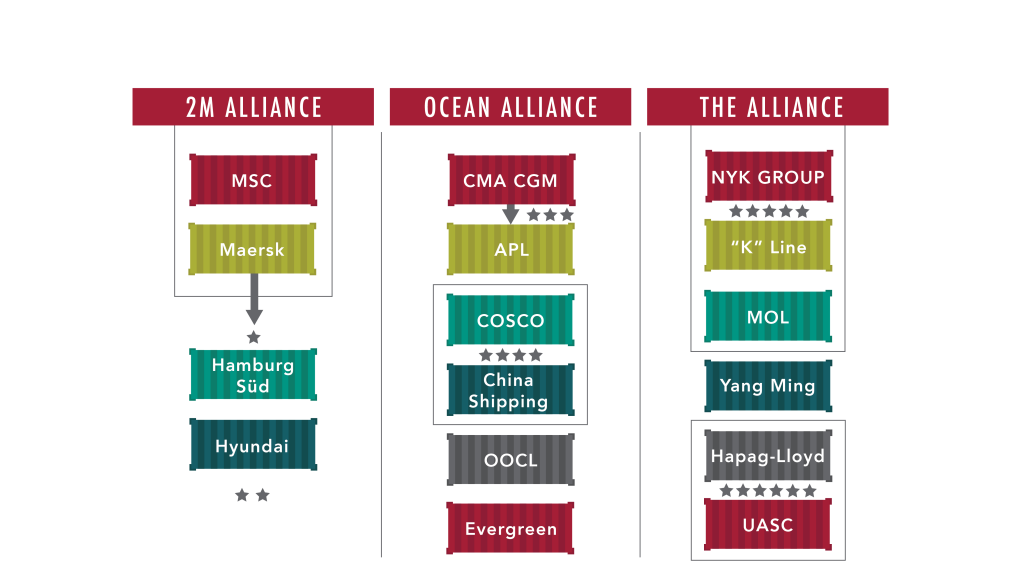 But why the need for alliances at all? The answer lies in the state of the ocean container shipping industry over the past ten years.
Industry Woes: The Supply and Demand Imbalance
Over the past ten years, this industry has seen the persistent challenge of an imbalance of global supply and demand throughout the market – and this affects both carriers and shippers. During the Great Recession of 2007-2009, demand decreased rapidly for container shipping, causing a chain reaction for carriers. They had to try and stop the bleeding and ensure that freight rates didn't tumble too far, and some of the methods they used to do so included:
Slow Steaming:

Carriers tried to conserve fuel that they were burning and take a longer time on export routes (for example, from the U.S. back to Asia)

Vessel Idling:

Carriers chose to take vessels out of operating streams during strategic times when demand may have slowed (after peak season, late winter)

Organizational Cost Cutting:

As they had limited ability to control overall rate market pricing, carriers cut back within their organization and spent a lot of time and energy trying to trim costs

IT Modernization:

Carriers made large investments in information technology infrastructure, creating e-shipment sites where bookings could be made online, documentation could be reviewed, etc.
The industry is also still seeing the fallout from the recent Hanjin bankruptcy, driving the need for carriers to reassess their structural alignment and evaluate who they are partnering with. No one in the industry wants to see another major bankruptcy with another large carrier like Hanjin.
Many carriers are now "rebooting" in 2017, and alliances are collectively designing loop services in order to provide competitive networks. There is a concerted effort on the part of the carriers to collectively examine how different trade lines should be serviced, how they can provide these services in the most competitive way and how their overall costs can be managed most effectively. In light of the rocky path of continued supply and demand imbalance and challenges with overcapacity, the goal is for ocean carriers to truly get in better financial shape for the future.
Alliances Strengths, Weaknesses and Potential Impacts
Overall, carriers are pleased with the three recent alliances for a number of reasons, and there are some great benefits that have resulted from the partnerships, including:
Fewer competitors controlling more vessels

More effective management of existing capacity

Greater alignment of future vessel orders with demand forecasts

A reduction in operating costs and cleaner negotiation with service providers such as tugboat operators, container lessors, terminal operators and stevedores

An expanded scope, allowing alliance members to call on new ports or take advantage of new route opportunities
However, there are also weaknesses in these alliances and some things to be aware of. For example, there are certainly concerns that one or more members of these alliances may be in debt, and the impact of any one member's financial challenges could be passed off to the rest of the alliance, similar to what the industry saw during the Hanjin bankruptcy.
Other concerns within the industry include:
Terminal congestion:

In Asia and Europe especially, ship bunching has become a larger problem due to redrawn vessel rotations – leading multiple vessels to call on a terminal too quickly and causing increased challenges loading and unloading those vessels within the terminals

Chassis dislocations:

Container ships are calling different terminals and ports, changing where many chassis need to be – causing concerns that the shipper or importer may be bearing the brunt of that impact and paying any associated dislocation fees

Delays in spotting and releasing intermodal trains:

Some scheduled intermodal trains have been delayed or had other challenges due to increased congestion and ship bunching in a number of key ports
Other critical impacts of the carrier alliances have included an overall industry shift to a "hub-and-spoke" network, similar to how airlines deploy their fleets. And this type of network leads to greater demand being placed on vessels and yard and gate operations. Many ports can't handle the large vessels used by some of the carriers in these alliances, and the continued investment that is being poured into building such large vessels that can only be handled by the minority of ports is cause for concern.
What Do These Alliances Mean for You?
Shippers can certainly adapt to the changes brought on by these carrier alliances and thrive in the industry with a few key best practices.
What can shippers do as more and more ocean carriers are partnering together?
Contract across alliances – not just carriers – to manage risk. Make sure that you partner with diverse service providers that are represented in all three alliances. This will ensure that containers are being carried on different vessels, and it will help to manage your risk if one alliance member runs into financial issues.

Contractually require ocean carriers to carry a certain percentage of your cargo on their own vessels, and ensure that a certain percentage is on specific vessels within an alliance.

Reserve the right to reduce your quantity commitment (MQC) based on specific declining carrier metrics such as on time performance, services scope, transit requirements and direct ports of call.

Review your carriers' financial results frequently. A carrier's "Z-Score" can tell you a great deal about their current financial health.

Stay up-to-date on shipping industry headlines and ask your 3PL provider for the latest shipping news and industry trends. These partners should be filling you in on what is happening within the industry on a regular basis.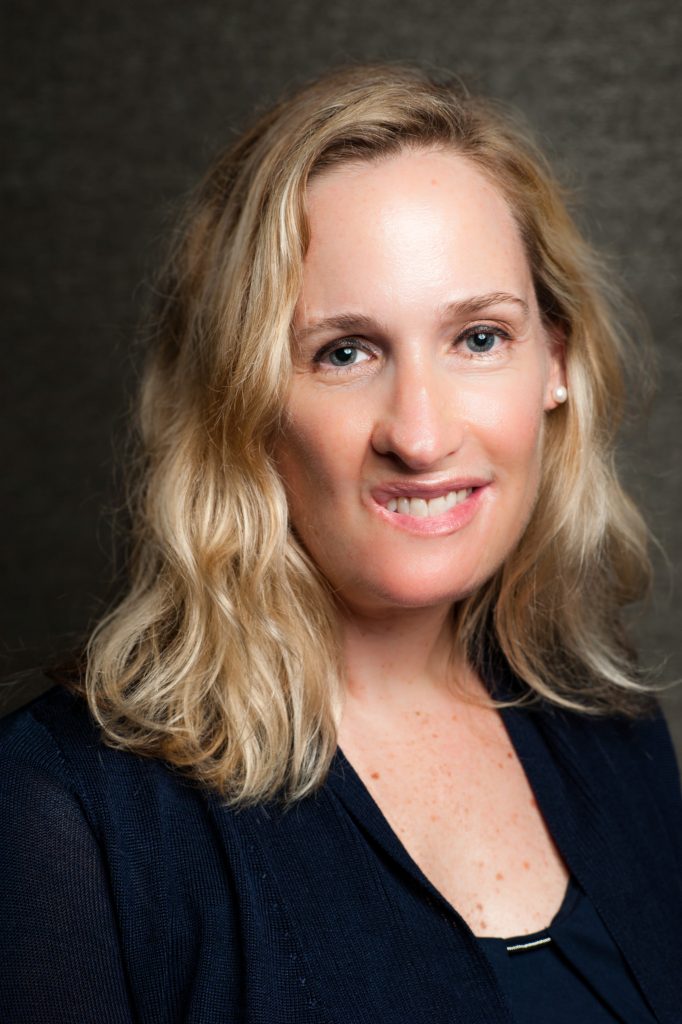 Mollie Bailey, LCB Director, International, Transplace, has more than 20 years of international transportation experience. She is responsible for operations and regulatory compliance for Transplace's ocean and air forwarding business. Prior to joining Transplace, Ms. Bailey worked for CH Robinson International for 14 years in all facets of the global operations division. She served as General Manager of the DFW International office prior to joining Transplace International. Ms. Bailey is a Licensed Customs Broker.