From demand shifts and evolving customer preferences, to new product introductions and sales strategies, volatility creates a continuously moving target for supply chain managers. But most enterprise planning systems weren't designed to rapidly adapt to these changes—they were designed for problems that have already been solved! Supply chain professionals are left trying to patch together point solutions with a mass of spreadsheets and are unable to effectively collaborate with other business users on a better plan.
Analytics Platforms to the Rescue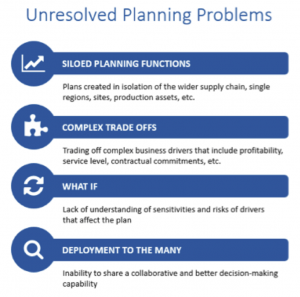 As Gartner emphasizes, today's rapidly changing business environment requires bimodal supply chains — combining both efficiency and agility. That's why we see supply chain leaders leveraging a class of technology known as "Analytics Platforms" which are emerging as the bridge between enterprise planning systems and advanced analytics tools.
Even in top performing supply chains analytics platforms can have a measurable impact. There's a huge opportunity to optimize more frequently, compensate for gaps in existing planning solutions, and put the power of supply chain optimization directly in the hands of the business users. Large businesses around the globe are getting the best of both worlds and bridging the gap between design and planning. By doing so, they are better able to address those unresolved planning problems using the power of optimization. What was once only available to a small group of people in the business, can now be deployed with a simplified apps-based approach, as an ideal way to transfer knowledge to the new generation of supply chain planners. After all, they will be the ones to develop the plans that bring today's innovative product and delivery ideas into reality for tomorrow's competitive advantage.
Case Example: Profitable Production Capacity Planning
So how does this work? Here's how one of our customers is bridging the gap between planning and design to tackle a common business problem: capacity planning.
Problem: Previously, the plan was built to obey capacity constraints but was not truly optimized, meaning it was not designed to target profitability/low cost. There were too many decisions for spreadsheets, and no way to run scenarios to compare trade-offs. As the business constraints changed, their planning system couldn't keep up. So, a spreadsheet solution was built which relied on one person's expertise and lacked collaboration. This was a significant risk!
The Solution: The company built an app that allows users to dynamically change inputs, approve/accept plans, and run their own scenarios across different organizations to come up with the optimal low cost/high profit production plan.
What was the Result? With this apps-based approach to their planning problem, the business experienced increased profit and order fulfillment, and they now have confidence that they can achieve a truly "optimal,"low cost/high profit solution. They can assign prioritization and weights to varying objectives like production cost vs. fixed cost vs. inventory cost vs. customer profitability, and build in custom business constraints so they know the plan can be executed. Finally, the new solution enables business users to collaborate so they know they are incorporating the latest inputs and feedback on outputs.
This is just one example—imagine being able to rapidly build an app to address virtually any unresolved planning problem? To collaborate across the business to affect KPIs in a targeted way, instead of everyone throwing their own darts, hoping to hit the right spots? Isn't it time there was an innovative approach to supply chain planning?
Editor's Note: Ms. Fowler will be sharing more insights and advice on bridging the gap between supply chain design and planning in an upcoming episode of Talking Logistics. Stay tuned!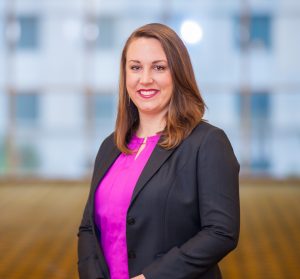 Allison Fowler is the Senior Director of Planning at LLamasoft. Prior to stepping into this role, Allison has previously served as Director of Solution Design for Latin America and as a consultant working with customers demonstrating the value of the LLamasoft suite of supply chain design products across many industries, including food & beverage, tires, chemicals, manufacturing, agriculture, and retail. Prior to joining LLamasoft, she worked in supply chain at Pepsico. She holds an MS in Operations Research, a BS in Management Science and a BA in Spanish from Southern Methodist University.