With the 2018 General Rate Increase (GRI), FedEx and UPS are further "tightening the vise" for oversize packages.
What Has Changed?
Below is a comparison of 2017 vs. 2018 parameters for oversize shipments:

Overall, not only are fees increasing to $80 list for both carriers, but the definitions are tightening, and the minimum billable weight is changing (FDX).
FedEx is shaving 12" off package length qualification for oversize, and UPS is adding this condition. Additionally, and probably of higher impact, FedEx is changing the minimum billable weight for oversize packages to 90 lbs; this has been the case for UPS for a few years, but it is a new, somewhat hidden, change for FedEx this year.
For example, if a package qualifies for oversize according to FedEx's definition, it will receive an $80 charge (list rate). In addition to that, the package will be billed automatically at no less than 90 lbs. That means that even at the agreed upon custom dim factors, shippers may still see an increase with this clause.
Who is Most Affected?
Shippers of specialized goods that meet the first and any of the other following conditions will be most affected:
Have long or large packages

Have no waiver for the 90-lb. minimum term in their agreement (which is nearly EVERYONE who ships FedEx)

Have lightweight/low density freight (e.g., couch cushions, cardboard retail displays)

Ship to residences (where LTL isn't generally an option)

Need guaranteed delivery time / using Express services
Determining the impact of this clause will require looking at your 2017 package dimensions and assessing what packages fit into the new definition of oversize. Additionally, examine packages that are less than 90 lbs. in billed weight.
As with other changes in the GRI, there is a compounding effect of this change with the dimensional weight factor that was changed to 139 last year. It's clear that FedEx and UPS continue to increase prices for larger boxes. We'll eventually see an inflection point of more shippers utilizing LTL for these shipments. However, until there are better, more available home delivery services for LTL shipments, shippers will pay a premium to deliver these via parcel. The consumer will ultimately pay for these changes in higher shipping costs at checkout.
Steps for Minimizing the Effects of the 2018 Oversize Changes
1. Evaluate your potential impact. Use the table shown below to help quantify the number of packages you have in each of the indicated categories: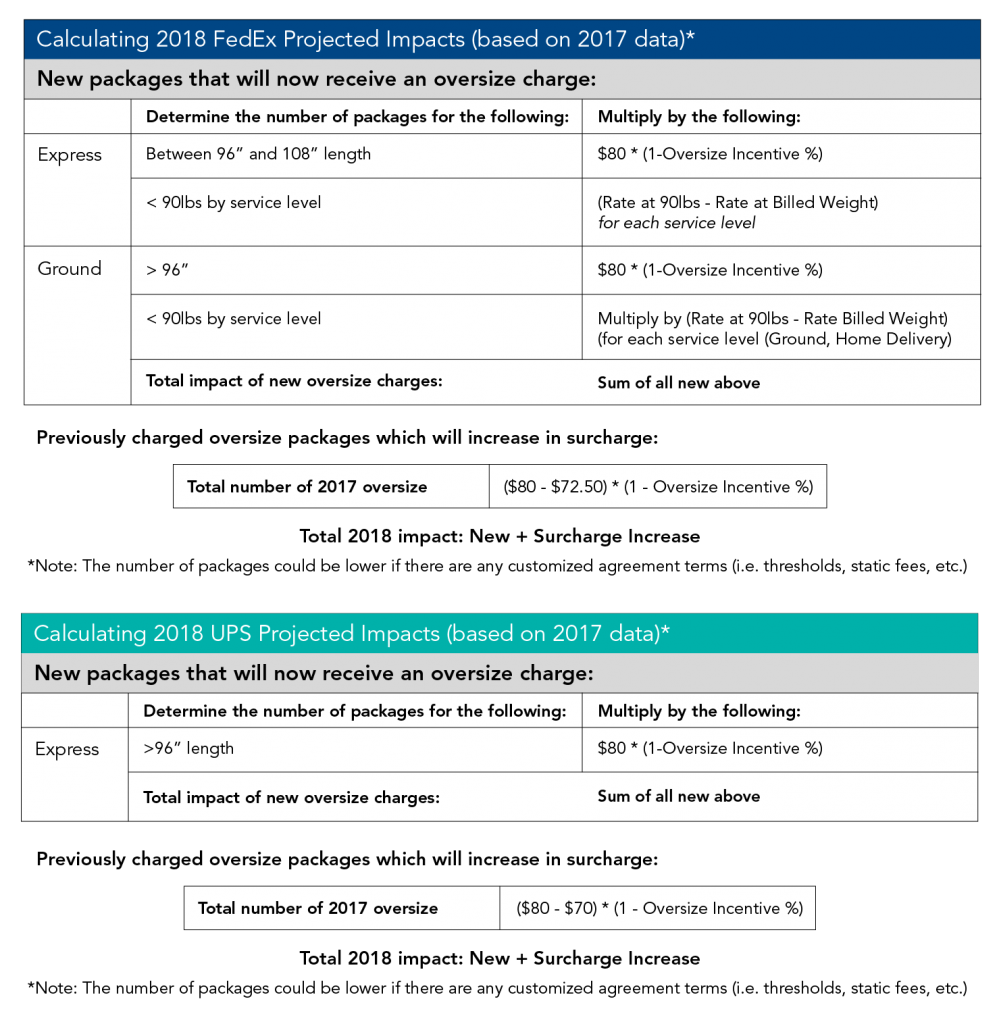 2. Negotiate
After evaluating the estimated impact of the new charges, negotiate better terms on one or more of the following:
Increased incentive on Oversize / Large Package Surcharge

Custom dim threshold to add +/-2" to length requirement

Better terms on other charges that are perhaps of higher impact
3. Improve Your Operations
Repackage your shipments

Trim your packages where at all possible.  1 inch can make the difference between regular and oversize.

Use the optimal materials for filling and cushioning.  Remember that void/empty space is the enemy.

Train and retrain operations on proper box size for product shipped.

Enhance your intel. Where possible, weigh and get dimensions on every box that leaves your DCs. You can use this intelligence in future negotiations and inevitable future carrier fee changes.

Analyze each box size in your inventory, and know what weight is expected for each box size stocked in your facilities with your dim factor.

Ensure your shipments are in the right mode. Are there shipments that you could switch to palletized LTL shipments?
4. Seek Help: Partner with a Consultant to Minimize Costs
Industry consultants have visibility to many different shippers and help to decrease costs on multiple facets of shipping large packages.  Increasingly, shippers are using consultants to mitigate costs and improve operations.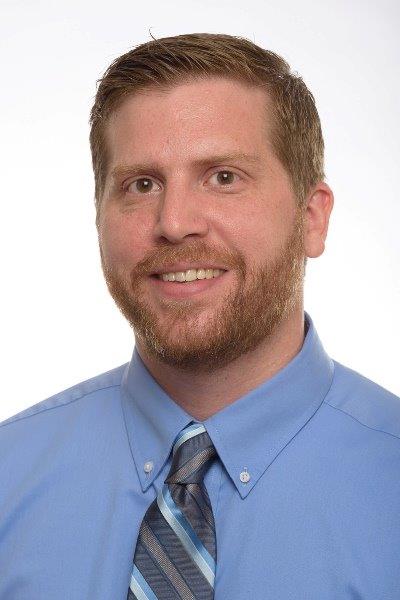 Mark Taylor is a Senior Project Manager at enVista with over 16 years of experience in the parcel industry. Formerly, Mark worked for Lowe's and Fedex and his background includes operations, transportation network engineering, new service development, and parcel spend management. Mark also holds a unique perspective of managing parcel programs. Mark's tenure at enVista brings three key perspectives in parcel analysis: carrier, shipper, and 3rd party consultant. He has worked with many clients, including Sephora, Brighton, Vera Bradley, and Vitamin Shoppe. Mark also has a Lean Six Sigma Green Belt certification.