Today, collaboration is an essential step in the digital transformation of your company, and has become vital if you expect to compete with increasingly more dynamic and connected competitors. Through this transformation, it's no longer an option to work separate from your collaborators. Instead, a real convergence must be created by merging the processes with increased productivity, agility, efficiency, and a new customer experience in mind.

As digital technologies embed themselves across supply chains, they will inevitably rewire existing business models into industry platforms. The question is not "if" or "when," but "how" best to anticipate and get ahead of supply chain platform disruptions. Understanding the benefits of collaboration platforms allow businesses to better prepare themselves for the process changes on the horizon.

The Role and Benefits of Supply Chain Platforms
So, why a platform? A platform is a business model that creates value by facilitating exchanges between two or more interdependent groups. To make these exchanges happen, platforms harness and create large, scalable networks of users and resources that can be accessed on demand. Platforms create communities and markets with network effects that allow users to interact and transact.

Platforms are mighty tools that can solve integration and data management challenges, provide data visibility for all parties, and drive new business insights that you never dreamed possible. Stick with me. I'll be your guide in the quest to being a platform guru.

Let's be real, most companies are running more than one software application, and the annoyances that correlate with that can be great. The last thing you want to do is spend time and resources collecting data and business intelligence, only to lose or misplace that information. In that case, you would then have to spend time and resources again to get that same business intelligence you already had. The data integration capabilities of a platform helps to consolidate, analyze, and manage immense amounts of data streaming through from any number of divergent sources – providing one version of the truth for all parties and ensuring a seamless customer experience.

When disparate systems don't talk to each other, you have a big problem – duplicate data entry. Tedious, time-consuming, and extremely costly. Do the math. How many employees are being paid to enter the same data in multiple databases? How many times have orders not been fulfilled or customer satisfaction been compromised because this information wasn't communicated to all your systems in a timely fashion?

In the Construction industry, as an example, the speed at which materials can be delivered is important to complete a job. Collaborative tools possess the ability to help supply chains quickly react to demand and provide visibility from end-to-end across the supply chain, helping managers to deter risks from missed deliveries and speeding fulfillment.

The Collaborative Platform Era
The supply chain has stepped into the collaborative platform era: an era that connects different stakeholders and applications mobilized throughout the distribution chain to create smooth-running operations, and physical and information flows.

Information sharing has a primary impact on improving the level of trust that business partners have with one another – and collaboration gives each constituent the power to limit the number of financial, business, and operational risks and keeps jobs on track. When everyone is working together, operational transparency and efficiencies can drive results to new levels.

The main reason businesses even consider making the leap of faith to implement new processes is with the hope of performing smarter, faster, and more productively. To achieve that goal, collaborative technologies must be embedded into processes to transform the way business partners work together to turn knowledge into action and create new ways to culminate productivity. These collaborative technologies create a platform to gather and archive quality data to identify new market opportunities, improve efficiency, and gain a competitive advantage.

What's Essential for Success?
Now that there's a clear understanding of what the platform model is and how it can help your business, there's one simple step that is essential in the success of this model – engagement! The platform has the ability to yield strong network effects, but it will not be enough to just remove friction. Engaging is essential to keep participants coming back to the platform, and having participants that rarely interact with the system is not sufficient to achieve network effects. Challenge your company to stay involved to reap the most benefits from these collaborative technologies.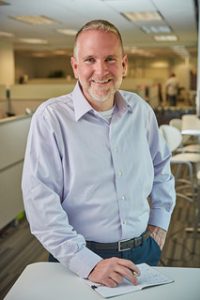 Ed Rusch is the VP of Marketing on Command Alkon's Executive Team, where he serves as the steward of a world-class brand, growing demand for Command Alkon solutions in the market, and executing and analyzing digital marketing strategies. Ed has nearly 20 years of experience leading business-to-business marketing programs that strengthen brands, drive growth, and create positive momentum in complex, global industries. He graduated from John Carroll University with a BA in Communications.