I was there at the beginning of MercuryGate 1.0 and I was there at the beginning of MercuryGate 2.0.

I was a relatively new supply chain industry analyst when MercuryGate (a Talking Logistics sponsor) was founded in 2000, and I have attended (often as a speaker) most of their user conferences throughout the years. Last month's Velocity 2019 User Conference was the company's largest to date (more than 450 attendees) and it marked the beginning of MercuryGate 2.0, as new CEO and President Joe Juliano commented in his keynote address.

The real beginning was August 2018, when MercuryGate was acquired by growth equity investor Summit Partners. Juliano was appointed CEO and President at that time, taking over for co-founder Monica Wooden (who remains at the company along with co-founder Steve Blough). In the weeks and months that followed, the company announced several new executive appointments, including:

MercuryGate 2.0: Scale and Growth
Why the new team? "MercuryGate is at an inflection point," said Juliano. "The company is transitioning from its beginnings as a founder-led startup to one built for scalable growth."

MercuryGate has grown significantly over the past 19 years, as these stats highlighted by Juliano reflect:

19 years of double-digit growth
More than 500 customer deployments
More than $70 billion of annual freight spend (about 82 million loads) processed by its transportation management system (TMS)
Over 400,000 daily logins from 80 countries in 10 languages
Over 35,000 carrier connections
275 employees
What's impressive is that all of this growth has been organic. Unlike many other TMS vendors, MercuryGate has not acquired a single company in its history.

So, what is MercuryGate 2.0? The executive team is still working on the vision, but Juliano emphasized that the company is going to remain focused on TMS for the third-party logistics (3PL), carrier, broker, freight forwarding, and shipper markets. There is plenty of growth opportunity in these markets, especially from a global perspective.

MercuryGate 2.0 is also about putting the systems and processes in place to scale the company. "Our technology is great," said Juliano, "it's these other things that we have to work on. 2019 is the year we lay down the foundation to scale."

Two key areas of focus will be professional services and research and development (R&D). Dan Willmer provided an overview of some of the changes and enhancements they are making to professional services, including a new subscription-based support model and a new set of microlearning module training courses "that enable users to quickly learn the TMS on a user-story level in micro-bite pieces."

On the R&D front, MercuryGate is developing a multi-year roadmap, which is new for the company. Historically, MercuryGate had more of a just-in-time (JIT) model, developing functionality in response to individual customer requests. While this model worked well in the past, now that the company has hundreds of customers, it is no longer scalable.

"We are transitioning from customer-specific to roadmap-driven in order to ensure we provide the best-in-class TMS solution," said Beth Hendriks in her keynote presentation. Customer input, however, will still be one of the four themes guiding the roadmap:

Business Agility / Personalization: enable the ability for customers to maintain their unique differentiation and the need to accelerate their business forward at their own pace through extensible functionality.
Optimization: increased efficiency for highly utilized business workflows (less time to do a task = increased ROI).
Customer Influenced: to ensure we continue to value customer input to ensure delivery of the most value for the most customers.
Best In Class: focus on building enterprise best-of-breed TMS platform.
The product roadmap for the second half of 2019 is 75 percent planned, which includes completing some customer-driven development still in the pipeline. The roadmap for 2020 is about 50 percent planned, while the plans for 2021/2022 are less defined at the moment.

"We are committed to investing in innovation to ensure we leverage technology trends to provide an industry-leading TMS," said Hendriks and she highlighted blockchain, machine learning, and data visualization and analytics as examples.

The Competitive Landscape in TMS
In short, while there were plenty of product sessions and demos at the conference, the main attraction was really the new leadership team and the details behind MercuryGate 2.0. It's a timely change for the company because the competitive landscape in TMS is quickly evolving.
There have been many mergers and acquisitions in the TMS market over the past few years, driven in part by customer demands to replace multiple siloed applications with a single platform that can address multiple modes (including parcel and private fleet) and multiple geographies.

Startups also continue to enter the market, leveraging their newer architectures as a differentiator, as well as new business models and pricing strategies (such as freemium offerings) that combine technology with managed services.

The current TMS landscape includes vendors that offer a wide variety of supply chain applications (including Warehouse Management Systems) to vendors that offer broad TMS suites (multi-mode, multi-geography) to vendors that offer specialized solutions (a single mode or transportation process). Several third-party logistics providers also offer their own, internally-developed TMS solutions.

How do you differentiate and continue to grow in this competitive market?

"At MercuryGate, TMS is all we do," Juliano and others emphasized at the conference, and they highlighted these differentiating attributes:

Focused and committed to provide a TMS for all modes across all geographies for 3PLs, carriers, brokers and shippers.
Provide a rich platform that enables strong customization and personalization.
Deliver a configurable best-of-breed TMS driving cost savings, innovation, decision management, and financial opportunities for our customers.
This focus continues to deliver results. Last November, for example, MercuryGate announced "a record-breaking third quarter for global sales, driven by the addition of new customers [Coda Group, Goodman Manufacturing Company, OpenRoad Transportation, Vets First Choice] and expanded business" with existing customers Evans Transportation Services, InTek Freight & Logistics, and Ryder.

If there is a MercuryGate 3.0 twenty years from now, I don't expect to be there (I'll be 69 years old and I hope to be retired by then). However, one thing is for sure: TMS technology will continue to evolve in response to market demands, and the winners will be those that are able to keep pace with those demands and continue to deliver value.
Transportation Innovation
The theme of this year's conference was "Innovate Today, Own Tomorrow." My keynote presentation was on innovation, and prior to the conference, I surveyed the attendees to get their perspective on the topic. One of the questions was, "Which transportation processes are in most need of innovation?" Here are the overall results: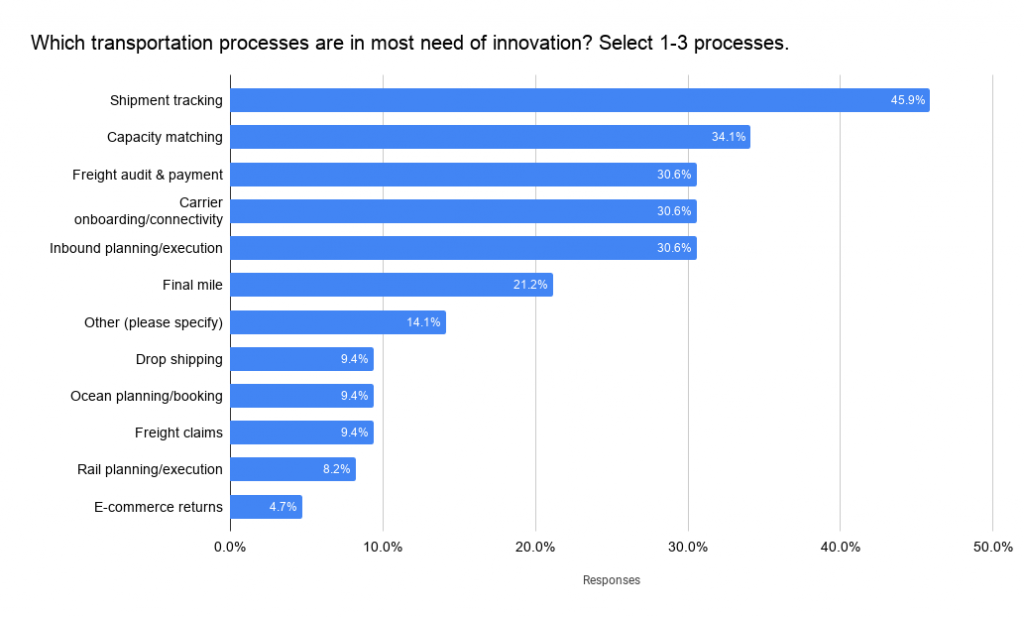 Shipment tracking was the top choice for both shippers and logistics service providers. This is not too surprising considering all of the demand for real-time freight visibility solutions in the market today. However, if you look at what ranked second, there is a clear difference between shippers and LSPs.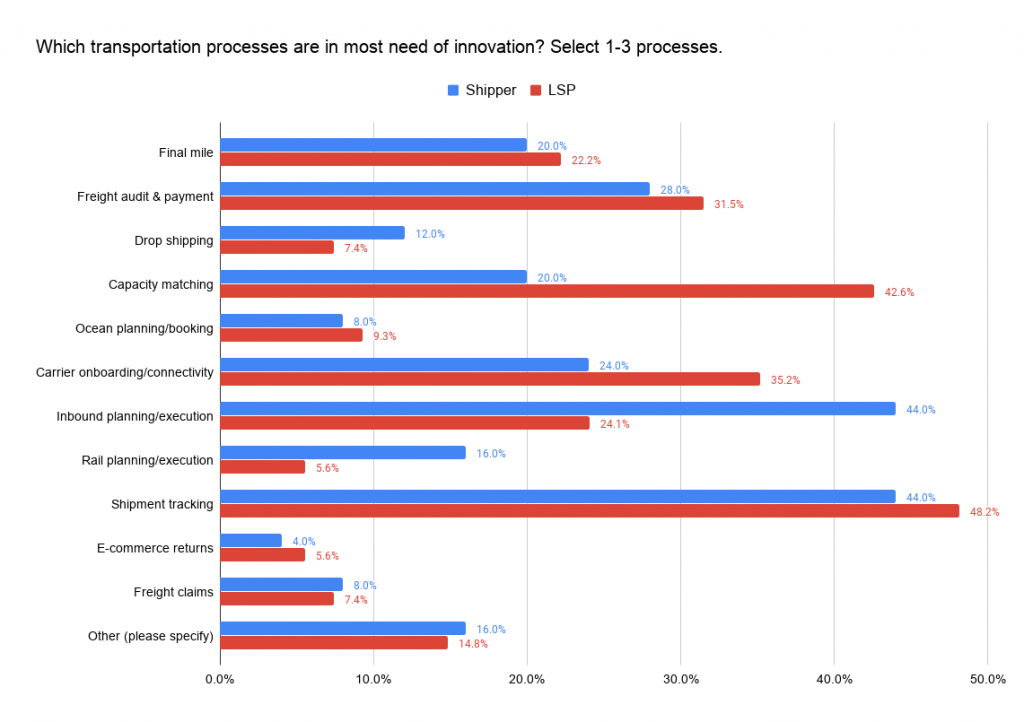 For shippers, "Inbound Planning/Execution" came in second (actually, it tied for first with shipment tracking). This points to the fact that most shippers have historically prioritized outbound transportation management over inbound, especially since outbound is more tightly linked with customer satisfaction (see On-Time In-Full). Inbound presents various challenges, like electronically connecting with suppliers, purchase order confirmation, tracking discrepancies between ordered quantities and shipped quantities, and shipment planning and tracking, especially if suppliers control the freight.

Meanwhile, "Capacity Matching" ranked second for logistics service providers. This is not too surprising considering the tight capacity environment everyone faced in 2018.

Capacity matching is actually linked to real-time freight visibility. The ability to answer "Where's my truck or order and when will it arrive?" is what drove the first wave of demand for real-time freight visibility solutions. The second wave of demand, which is starting to gain momentum now, is being driven by a different question: Where and when will capacity be available a few days from now?

For brokers in particular, who are facing margin compression and increased competition from digital freight startups, the ability to have forward visibility to capacity and book loads faster and more efficiently will be critical for success moving forward.
Talking Logistics Live: Interview with Shelli Austin
While at the conference, I conducted a Talking Logistics interview with Shelli Austin, president of InTek Freight and Logistics, Inc. Austin delivered a presentation at the conference titled, "How to Be Creative with Capacity as a 3PL." I began the conversation by asking Shelli about the current state of the transportation market. Is it getting easier or harder to find capacity?
"Yes, it's a softer market, but it's definitely not easier," says Shelli. "Capacity has different facets to it. Last year, it was very hard to find capacity. This year brings different challenges — you have to be smart and have the right capacity because when the market shifts, do you have the capacity you need at the right price at this point in time?
"It's really about being strategic and understanding the market. In previous years, transportation had some norms, you could bank on certain things [like peak season]. The new norm is that there is no norm."
I encourage you to watch my full conversation with Shelli for her insights and advice on this timely and important topic.