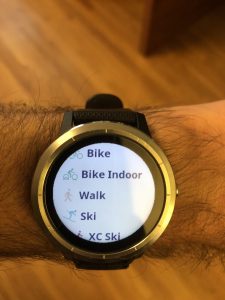 I have a Garmin watch where I can measure my heart rate and other metrics across a variety of different sports and activities, such as cycling, running, and skiing. And when I'm done exercising, it automatically uploads the details to Strava.
But there is one activity that is missing from my watch: leaf raking.
My front and back yards are covered with leaves, which means I'll be spending hours this weekend raking them into piles and then scooping them into bags. It may not be a sport, but leaf raking is certainly a workout. Yet, it doesn't appear on my watch and there's no category for it on Strava.
Not a big deal, I know. But if folks from Garmin and Strava are reading this, if leaf raking doesn't merit being added to your products, then how about snow shoveling?
Moving on to more important things, here's the supply chain and logistics news that caught my attention this week: 
Convoy: Investors Keep Betting on Digital Freight 
I have to admit, as a small business owner with bills to pay every month, I don't understand how companies can lose hundreds of millions of dollars (or billions of dollars, in the case of WeWork) every quarter and stay in business. Yes, as a new entrant to a market, you have to invest heavily to drive growth and take market share from competitors, but at some point you have to make money, right?
Uber recently reported its Q3 2019 results and its Uber Freight division reported $223 million in gross bookings, an 81% increase from Q3 2018. The ugly side of the coin, however, is that Uber Freight's EBITDA was negative $81 million in the quarter, a 161% increase from Q3 2018. Losses growing at twice the rate of bookings. How sustainable is this model?
It's not stopping investors, however, from betting on "digital freight" providers like Convoy, which raised $400 million in a Series D funding round that values the business at $2.75 billion "and backs its expansion in a growing array of technology-focused upstarts making inroads in the freight transportation sector," as Jennifer Smith reported in the Wall Street Journal. According to the article:
The company, whose customers include Anheuser-Busch InBev SA and Procter & Gamble Co., plans to use the money to hire more product engineers and other staff as the company looks to more than double its head count, now more than 800, over the next couple of years, Chief Executive Dan Lewis said in an interview.

Mr. Lewis said Convoy had a "clear path to profitability" with "better than industry economics in many of our top lanes" but declined to provide a timeline for when the business will turn a profit.
Is the timeline for digital freight brokers to turn a profit measured in months? Years? Decades? Lightyears?
The market will ultimately decide, or investors if they lose their patience and enthusiasm for the industry and turn off the money spigot.
For related commentary, see What Digital Freight Isn't
C.H. Robinson and Schneider: Keeping Pace with Technology
Digital freight brokers have certainly elevated the role and importance of technology in the industry, and they have spurred incumbent players to elevate their capabilities to keep pace with competitors and changing customer expectations. 
This week, for example, C.H. Robinson (a Talking Logistics sponsor) introduced Freightquote by C.H. Robinson, "the first and only self-service technology offering that guides small business customers to the best multimodal shipping options for improved savings, reliability and visibility." Here are some details from the press release:
The web-based, mobile-responsive offering is specifically designed to streamline the shipping process and allow small business customers to book freight without any shipping knowledge or expertise — without even having to sign up.

Small business customers enter a few details and can instantly compare competitive rates from high quality carriers 24 hours a day, seven days a week. They can go online with their phone, tablet or computer to book their LTL or Truckload freight, track shipments, get proactive notifications and pay with a credit card.

The technology was built by supply chain experts collaborating with small business owners on the features, design and user experience. Its foundation is the C.H. Robinson Navisphere global technology platform, which connects the company's entire network of 200,000 companies to provide customers with greater supply chain efficiency, real-time insights and visibility.
This is another step in the evolution of software-as-a-self-service, which I first wrote about almost a decade ago.
Meanwhile, Trucker Tools (a Talking Logistics sponsor) announced this week that Schneider Transportation Management, a division of Schneider, has launched Trucker Tools Book-it-Now, "a cloud-based software solution that fully automates the process of carriers booking truckload shipments with brokers." Here are some excerpts from the press release:
Applying powerful algorithms and analytics dramatically streamlines the process by which carriers find the ideal load at precisely the right time. Book-it-Now takes it a step further — letting the carrier book sequential loads at the same time – hence the term "better reloads," notes Prasad Gollapalli, founder and chief executive of Trucker Tools.

"We see a future where Book-it-Now tools are the preferred option for the carrier because they can see the load details and rate in real time, book it, get a rate confirmation and complete the transaction – simply and instantly," Gollapalli says. "And for the broker, the variable cost of covering a load goes to near zero. That's a tremendous productivity advantage since the broker's time is freed-up to book more loads for more customers with better accuracy and quality in less time."
One thing is clear: profitable growth in the logistics industry moving forward will be powered by technologies like APIs, mobile apps and devices, and machine learning algorithms, not emails, phone calls, and fax machines.
And with that, have a happy weekend!
Song of the Week: "Love is Stronger than Death" by The The