On a cold morning in December 2012, while cross country skiing through the woods in Vermont, an idea popped into my head: How crazy would it be to launch an online video talk show about supply chain and logistics?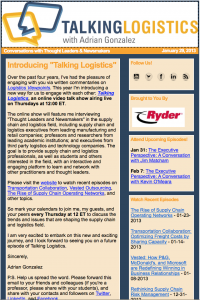 A month later, seven years ago today, Talking Logistics was officially born. Nearby is a screenshot of our first newsletter.
The very first episode was just me sharing my supply chain and logistics predictions for 2013. I called it a "pre-season" episode because it was recorded in late December 2012 before we actually launched the program. It was my way of testing out the video platform (Spreecast, a startup that eventually went under) and testing myself out as a talk show host and commentator.
My very first guest on Talking Logistics was Yossi Sheffi from MIT. We had a great conversation about logistics clusters, which he had just written a book about. Unfortunately, a few days after we did the episode, Spreecast inadvertently deleted all of the videos on its platform, so the episode only exists in my memory (and I hope Yossi's too).
Seven years and almost 300 episodes later, having a talk show about supply chain and logistics still sounds like a crazy idea. But I'm not the only crazy one any more; others have come along with their own shows, adding their voices and perspectives to the conversation. You can probably launch a network with all the shows available today.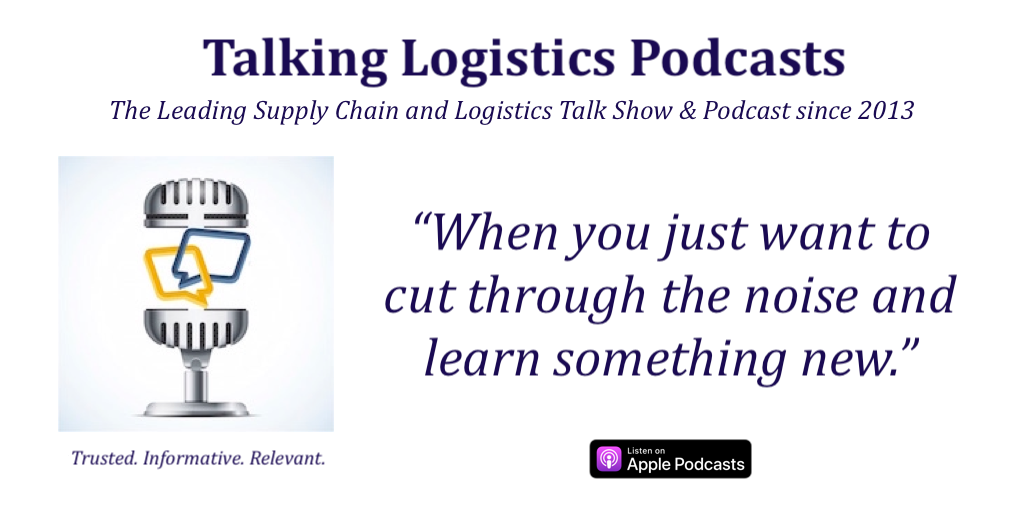 Without sponsors taking a leap of faith and trusting me, Talking Logistics would not exist, so I am very grateful for their support. I am also grateful to all of you, our listeners and followers, for watching our episodes, listening to our podcasts, and spreading the word.
Last month, while cross country skiing through those same woods in Vermont, another idea popped into my head: Café con Logística. How crazy would it be to start doing Talking Logistics episodes in Spanish?
I actually did two Spanish episodes last year, with Michelle McBride from Transplace and Victor Garza from Command Alkon. But I formally announced "Café con Logística" yesterday on LinkedIn. It will be another exciting (and somewhat scary) venture into the unknown.
I was asked recently, "What has been the most valuable thing you've learned from your guests on Talking Logistics?" Having interviewed hundreds of guests on so many different supply chain and logistics topics, I've learned so much over the years that it's impossible for me to boil it down to just one thing. 
However, I find it interesting that so many of my guests, like me, fell into supply chain and logistics. That is, we didn't study it in school or started our careers in it, but through various twists and turns, ended up in the field and have never looked back.
I assume their reason is the same as mine: there's never a dull moment in this industry — so much change, so much innovation, so many great people, always something new to learn. 
And always something new to talk about.