Why is transportation management more critical than ever for chemical companies?
That was one of the key questions Cindi Hane (Vice President, Product Management & General Manager, Elemica Eyefreight) and I addressed in a recent webcast produced by Chemical Week.
"Chemical companies are looking for new channels, new products, and new solutions, which are changing the order patterns they're seeing or expecting," said Cindi. She highlighted other important factors:
"What is happening in the B2C environment [with regards to customer expectations] has also increased the expectations of B2B customers in the chemical industry. I have not seen a single request for a transportation management system (TMS) from our chemical clients that does not include something about customer service. So being able to put some discipline and planning around order delivery is very important."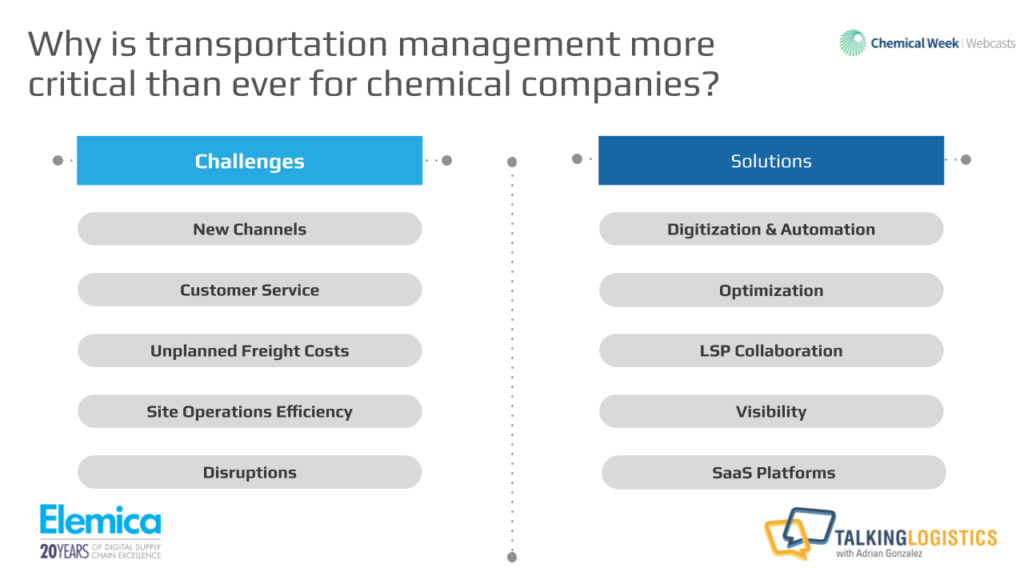 Unplanned freight costs and site operations efficiency are two other factors that are particularly important for chemical manufacturers. "Unplanned accessorial fees tend to be a higher percentage of overall freight costs for chemical companies compared to other industries," says Cindi. "They have a lack of discipline in understanding how and when those unplanned costs occur. Similarly, chemical plants are a resource-constrained operation, so having better planning and collaboration around [shipping and receiving] activities can improve efficiency."
Cindi also discussed the current disruptions caused by the COVID-19 pandemic, which is creating some shortages in asset capacity and uncertainties around customer orders and expectations.
"All of these challenges that our customers are facing lend themselves to a network-TMS solution," said Cindi, pointing to optimization, process automation, visibility, and enhanced collaboration with logistics service providers as important capabilities.
Simply put, having a TMS is more critical than ever because managing your transportation operations with spreadsheets or in other manual, labor-intensive ways (with limited visibility and analytics) is no longer sustainable.
I encourage you to watch the full webcast, where Cindi and I share our perspectives on the following questions:
How do you develop the business case for a TMS?
What capabilities should companies look for in a Global TMS solution?
TMS as part of a digital network: What unique benefits does it provide?
How do you successfully implement a multi-modal TMS? Important factors for success?
How do you continue to get value from a TMS after year 1?
After watching, post a comment and share your perspective on this topic!