How crazy would it be to launch an online video talk show focused on supply chain and logistics?
I asked myself that question while cross country skiing many years ago. There's something about being outside in the cold, surrounded by snow and woods, that brings out all sorts of ideas in me.
That crazy idea turned into Talking Logistics eight years ago today.
We were among the first in the industry, if not the first, to venture into the online video world. There are many others now, adding their voices and perspectives to the conversation. But we still remain true to our mission of helping supply chain and logistics executives "cut through the noise and learn something new."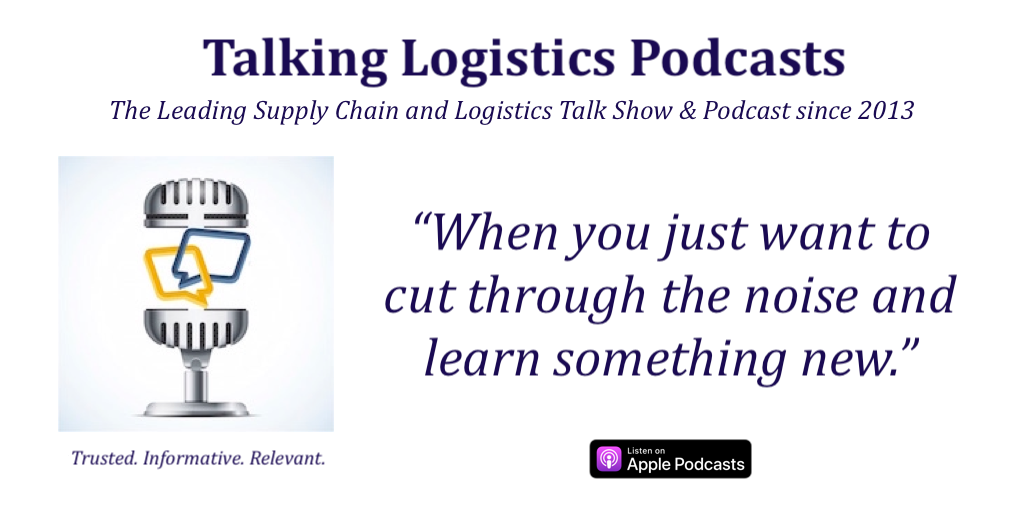 Our very first episode, which we recorded before we officially launched, was just me sharing my supply chain and logistics predictions for 2013. This "pre-season" episode was my way of testing out the video platform (which was Spreecast at the time, a startup that eventually went under) and testing myself out as a talk show host and commentator. Check it out:
Of course, without sponsors taking a leap of faith and trusting me, Talking Logistics would not exist, so I am very grateful for their support. I am also grateful to all of you, our listeners and followers, for watching our episodes, listening to our podcasts, and spreading the word.
It's time to go cross country skiing again.
—
Moving on, here's the supply chain and logistics news that caught my attention this week:
The Ongoing Transformation of Warehouses and Trucks
Look through many of the stories above and it's clear that innovations in technology and business models are transforming warehouses and trucks.
"Walmart Inc. announced plans early Wednesday to expand its local fulfillment centers to dozens of new stores," reports Tonya Garcia in MarketWatch. "The local fulfillment centers will operate in stores or in additional spaces built onto stores. The automated facilities will feature robots that help Walmart associates pick and pack orders for delivery or in-store pickup."
Speaking of robots, Fetch Robotics announced its new PalletTransport1500, "an autonomous mobile robot (AMR) that supports cross-docking, returns and case picking workflows for contactless pallet transport in distribution centers." Here are some details from the press release:
The PalletTransport1500 will utilize Honeywell Intelligrated's Momentum warehouse execution system software, known as Momentum WES, to safely move pallets and other large payloads up to 1136kg (2504 lbs.). Honeywell's Intelligrated's turnkey Pallet Conveyance solution, powered by Momentum WES and the PalletTransport1500, is designed to support workflows for e-commerce fulfillment, store replenishment and wholesale distribution center operations. 
Also this week, ShipMonk, "a leading provider of e-commerce fulfillment and technology solutions, announced a $65 million infusion of growth equity from Periphas Capital." According to the press release, "The latest financing comes as the company further accelerates its growth and international expansion to support more customers with new locations, expanded carrier partnerships and technology enhancements to its platform."
In the trucking realm, last week I highlighted several news items related to autonomous trucking. This week the focus is on what fuels them.
"When you think of electric vehicles, you might think first of a Tesla. But a more financially rewarding use of the technology that is upending the automotive industry could be the vans that deliver your online shopping," writes Stephen Wilmot in the Wall Street Journal. He highlights Rivian Automotive which recently raised $2.65 billion to fund its rollout of electric vehicles, including a model for Amazon which has ordered 100,000 vans. He also highlights General Motors' new venture, BrightDrop, which will produce EVs for the delivery market with FedEx already ordering 500 vans.
According to Wilmot, "Electric vans are at the confluence of two big trends. One is the rise of e-commerce at the expense of bricks-and-mortar retail, to which the Covid-19 pandemic has given a boost…The other trend is vehicle electrification. The likes of UPS, DHL and FedEx have all committed to reducing their carbon emissions and need electric delivery trucks to do it."
In other alternative-fuel news, "General Motors Co. is partnering with Navistar Inc. to provide hydrogen fuel cells for a fleet of Navistar's semi trucks, a move to further strengthen GM's position in fuel cell development," reports Kalea Hall in The Detroit News. Here are more details from the article:
A fleet of Navistar fuel-cell powered vehicles will have two GM Hydrotec fuel cell power cubes that each contain 300-plus hydrogen fuel cells as well as thermal and power management systems. J.B. Hunt Transport Inc. will pilot the trucks on dedicated routes in 2022. They are expected to be commercially available in 2024. To supply the hydrogen powering the fuel cells, Navistar is partnering with supplier One H2 Inc. 

Navistar claims the truck will get a target range of at least 500 miles and has a hydrogen fueling time of less than 15 minutes. The company collaboration is seen as a way to help make fuel-cell semis a reality faster.
Put it all together and it's clear that this isn't your grandfather's warehouses and trucks anymore.
And with that, have a happy weekend!
Song of the Week: "In My Room" by Yaz