Last year, we asked our Indago members about their supply chain mapping experience and capabilities. As expected, our members have the most visibility to the physical locations of their Tier 1 supplier facilities, with 91% saying they know where ALL or MOST of them are located. In contrast, only 17% said they know where ALL or MOST of their Tier 3 supplier facilities are located.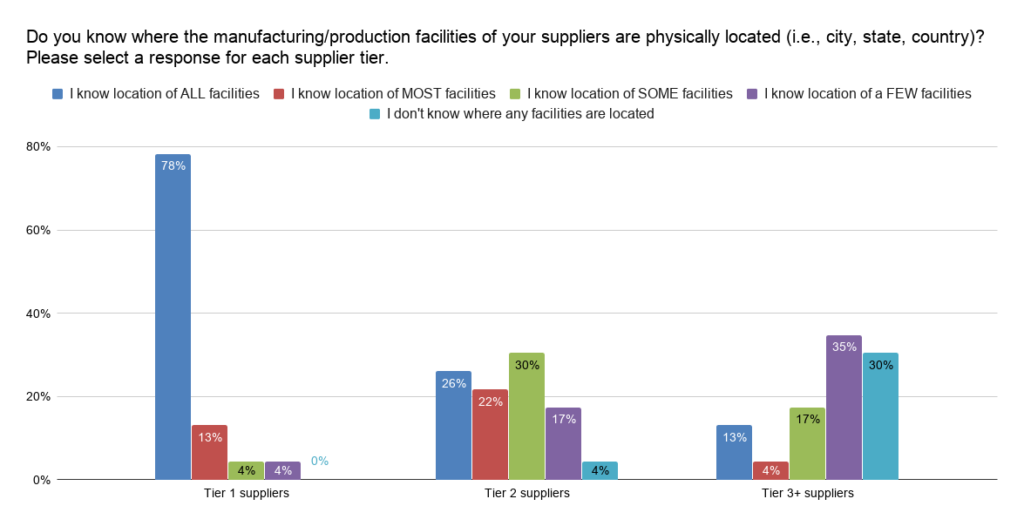 Similarly, when it comes to knowing which parts or materials are produced at each supplier facility, the best visibility is with Tier 1 suppliers (61% know what is produced at ALL Tier 1 facilities compared to just 9% that know what is produced at ALL Tier 3 facilities).

For additional insights from the survey, see "Supply Chain Mapping (Insights From Indago)."
The results were not surprising. Supply chain mapping takes time, money, and resources to do it right, and at most companies, there isn't the leadership and support from upper management to do it. This lack of visibility beyond Tier 1 suppliers not only exposes companies to greater supply chain risks, it also contributes to ongoing issues related to forced labor and poor compliance with environmental laws.
Some companies, however, are making the investment to map their supply chains. For example, VF Corporation, one of the world's largest apparel, footwear and accessories companies, announced last month that it had "enhanced its traceability mapping program by disclosing Tier 1 through Tier 4 supplier information in a consolidated, downloadable file, providing an unprecedented level of industry transparency." Here are some excerpts from the press release:
Offering supply chain visibility through Tier 4 suppliers further demonstrates the company's commitment to continuous improvement and increasing transparency as outlined in its corporate sustainability and responsibility strategy, Made for Change.

VF has prioritized traceability and invested in an initiative to map 100 of its brands' most iconic products by December 2021. The company currently has 46 product maps published online.

The improved data collection allows VF to trace the full end-to-end supply chain, from raw materials conversion to product distribution. The company's teams are able to use the data to identify opportunities for sustainability or worker well-being improvements deep within its global supply chain.
And here is the screenshot of the supply chain map for VF Corporation's Jansport Big Student Backpack: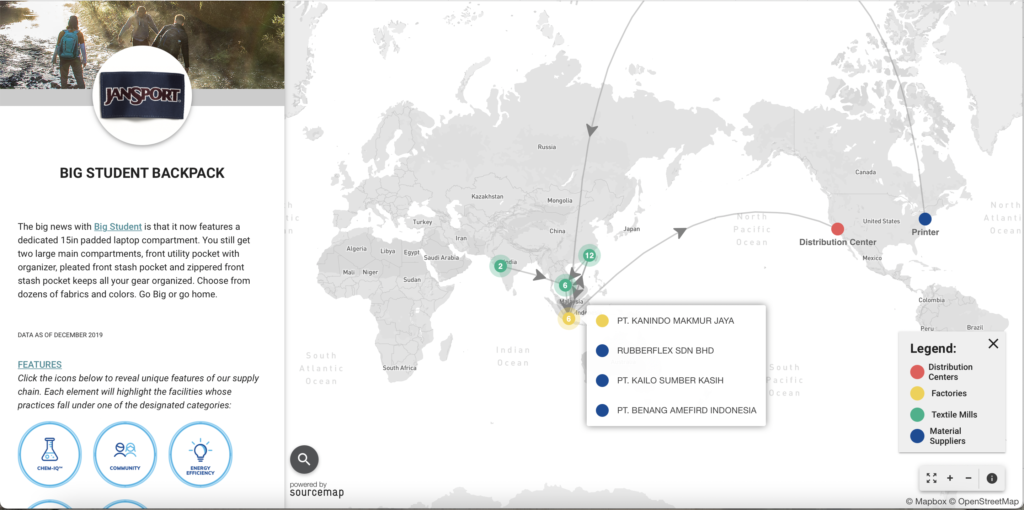 The maps are created using Sourcemap, one of the first technology solutions focused on supply chain mapping. Other leading providers include Resilinc and Resilience360.
What is your experience or perspective with regards to supply chain mapping? How far along is your company in mapping its supply chain? Will the Covid pandemic serve as a catalyst for more companies to map their supply chains? Post a comment and share your perspective.
I'll end by repeating what I've said in the past:
Ask yourself these questions: Do you know where the manufacturing facilities of your suppliers (and their suppliers) are physically located? Which parts are manufactured at each location? Do you track the history and frequency of disruptions that occur at each facility and geographic region, due to either natural forces (hurricanes, floods, earthquakes, etc.) or other factors (labor strikes, power outages, quality issues, etc.)?
If your answer is "no" to most of these questions, then it's only a question of time before you get blindsided by a supply chain issue or disruption. Start mapping your supply chain today or be prepared to pay a big price down the road.
Join Indago
If you're a supply chain or logistics practitioner from a manufacturing, retail, or distribution company, I encourage you to learn more about Indago and join our research community. It is confidential, there is no cost to join and the time commitment is minimal (2-5 minutes per week) — plus your participation will help support charitable causes like JDRF, American Logistics Aid Network, American Cancer Society, Feeding America, and Make-A-Wish.
You can also follow us on LinkedIn to stay informed of our latest research results and news.