Ship happens.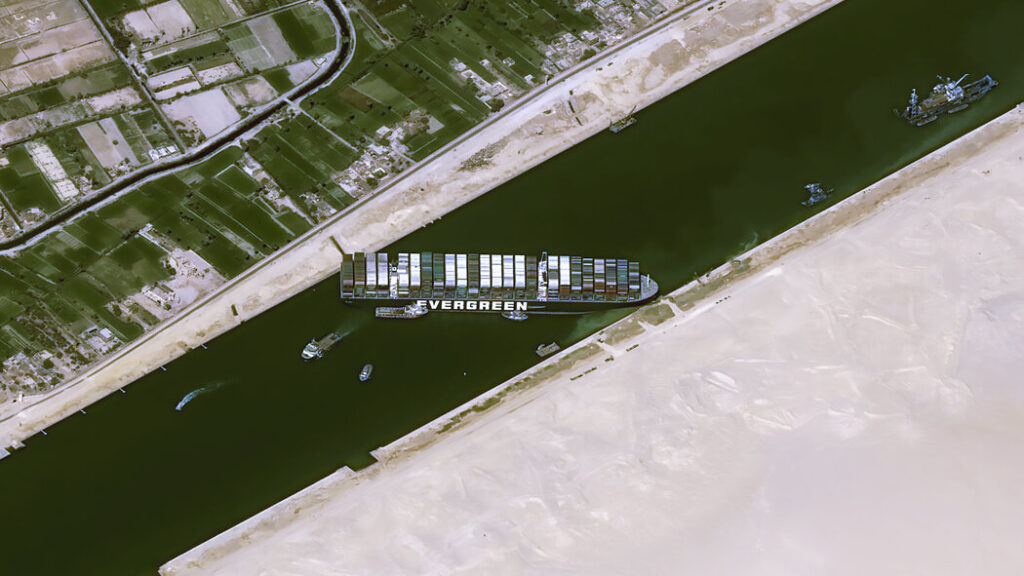 And there's nothing AI, ML, or blockchain can do about it. You either wait in traffic or take the long way around if you're on that watery road.
Maybe there'll be a McDonald's or Starbucks at the next exit.
—
In other supply chain and logistics news this week…
The Entropy of Supply Chains
Getting the Ever Given container ship unstuck from the Suez Canal may take days (maybe even weeks), but it's impact on global supply chains will last significantly longer.
All of those ships that are idling waiting for passage, or now taking an extra two weeks to sail around Africa, represent capacity that won't be available as planned. Same for the containers on them. This just adds to the problems I highlighted last week related to port delays and container shortages.
Supply chains are like a mechanical watch and some of the gears and timing elements were already starting to grind prior to this Suez Canal incident. Now, the Ever Given is jamming up the gears even further, with all time and synchronization thrown off.
To make another analogy, going back to my engineering days and the second law of thermodynamics, supply chains are a system and its entropy (level of disorder) continues to increase.
Dollar General: Tapping Into More Private Fleet Capacity
Way back in 2013, in a Talking Logistics guest commentary, Scott Nemeth (from Ryder at the time, now at BluJay solutions) wrote the following:
Say you've always used a for-hire common carrier to deliver goods and materials. Or, maybe you prefer to use your own private fleet. Or you only use a dedicated fleet from a trusted partner. In today's complex and volatile business environment, that strategy may no longer work.

Today, keeping the wheels of business turning may call for an "all-of-the-above" strategy that taps into every available resource.
In Dollar General's case, this means tapping into more private fleet capacity. As Matt Grossman reports in the Wall Street Journal, "Facing higher logistics expenses from distribution operations roiled by the Covid-19 pandemic and severe winter weather, Dollar General Corp. plans to expand its private trucking fleet to bring more of its transportation in-house, the company's chief operating officer said." Here's some excerpts from the article:
Jeff Owen, COO at the discount retail chain, says the move will help reduce shipping costs at a time when tight capacity in U.S. domestic supply chains is sending prices for trucking services soaring.

Since its inception in 2016, Dollar General's private fleet has grown to more than 700 tractors and more than 550 drivers, a spokeswoman for the company said. It handles about 13% of the company's outbound dry transportation and 48% of its outbound transportation of fresh products. In the spring of 2018, the fleet had just 80 tractors, the spokeswoman said.
I'll repeat what I wrote a few years ago in "Dedicated Fleet: A Growing Piece Of The Transportation Puzzle":
Shippers need to have a diversified mode strategy, taking into account not only cost and service requirements, but also risks (e.g., the potential for tighter truckload capacity and higher fuel costs in the future) and market trends (e.g., growing demand for more precise pickup and delivery time windows and for smaller, more frequent deliveries).

Is it time to redesign your transportation network? Put differently, do you have the most efficient and effective transportation network design, not only relative to your current operating realities, but also relative to where your business and the transportation market is heading in the coming years?

Modeling and simulating various transportation network designs is a good starting point. 
And with that, have a happy weekend!
Song of the Week: "Boy" by Ra Ra Riot