As reported by CNBC recently, starting on May 24, "Amazon will stop requiring face masks for fully vaccinated workers inside warehouses, except where required by law…Amazon said in the notice to workers that it considers them to be fully vaccinated once it has been 14 or more days since their final vaccine dose. Workers must also have a copy of their vaccine card, the company said."
Is your company changing its masking requirements in response to updated CDC guidelines, increased vaccination rates, and/or changes in local laws?
We asked our Indago members a couple of weeks ago and 38% of the respondents are following a similar path as Amazon, while 24% are requiring employees to wear masks at work regardless of vaccination status.

"This situation is very fluid and dynamic," said one respondent. "Some travel restrictions have been lifted and more are expected to be lifted [soon]. Returning to [the office] is also expected to be encouraged in the near future."
Here are some other value-added comments from our Indago members, who are all supply chain and logistics professionals from manufacturing, retail, and distribution companies:
"We are 'no masks for fully vaccinated employees' unless there are more restrictive mask requirements in place with the local or state government, in which case we will follow those more restrictive rules for that location."

"Store employees must all carry masks and put them on if a customer specifically asks them to."

"We are encouraging our team members to start returning to the office at least once a week, expanding to 3 times a week in September 2021."

"We are asking that those who have worked remotely over the past year return to [the office] on June 1. We surveyed issues and concerns and have addressed those as much as possible. With the available mitigation available in the market (vaccines, therapeutics, masks), we are encouraging folks to come up with a plan for [coming to the office] at least 3 days a week before we go to 5 days. The biggest issue so far has been the reliability of childcare. We understand and will be as flexible as possible."
Back in April, we also asked our Indago members, "Regardless of whether your employer currently allows travel or not, when do you foresee attending your first in-person industry conference again?"
More than a quarter of the respondents (26%) said that they would attend an in-person conference again today or this quarter if they could; another 10% said they would wait until Q3 2021 and 16% said they would wait until Q4 2021. The remaining respondents would either wait until sometime in 2022 (42%) or they don't plan to attend in-person conferences again (6%).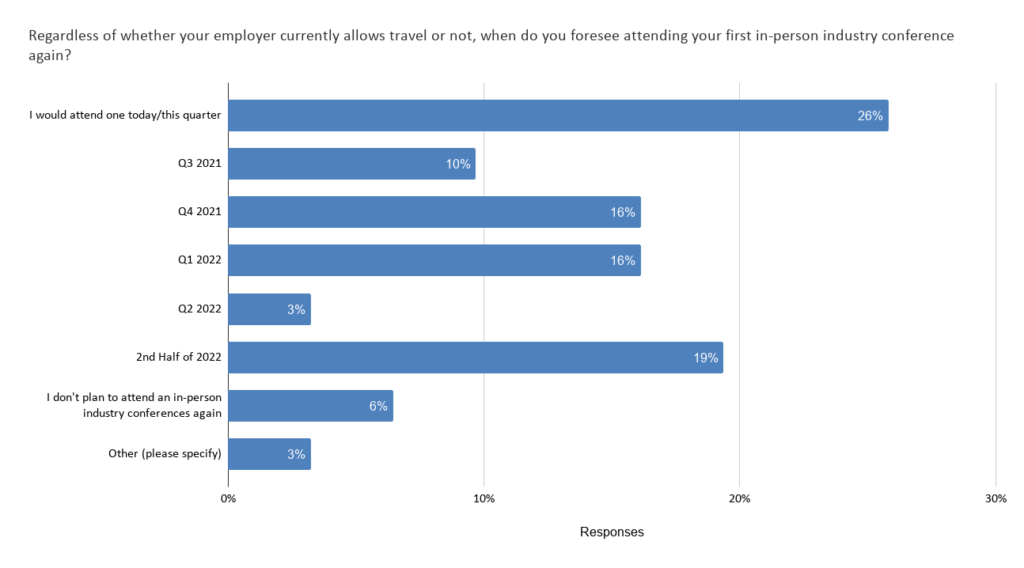 "While I am now vaccinated, I am still hesitant to attend any in-person events that are not critical to the business, and that includes industry conferences," said one respondent. "My company is not prohibiting individuals from attending events, but neither are they encouraging it. My company is taking that stance with all in-person events. Some are still being scheduled, but all are considered optional to attend in person."
Another member put it more simply: "When I feel safe being in large groups, I will again attend conferences."
Here are some other comments from Indago members:
"This will be driven primarily by company policy. I will attend if allowed and once vaccinated. I am a strong supporter of in-person vs. virtual events, due to the ability to focus and network."

"I have no issues attending an in-person event. The virtual conferences I attended last year lacked from a networking perspective; might as well just do webinars."

"I'd love to attend in person, but I doubt my company will let that happen until there's been more vaccinations."
Again, this survey was conducted back in April and a lot has changed since then with regards to vaccinations, CDC guidelines, and state/local regulations. So, maybe the responses would be different today.
What about you? Is your company changing its masking requirements in response to updated CDC guidelines, increased vaccination rates, and/or changes in local laws? When do you foresee attending your first in-person conference again? What factors are most important in your decision? Post a comment and share your perspective!
Join Indago
If you're a supply chain or logistics practitioner from a manufacturing, retail, or distribution company, I encourage you to learn more about Indago and join our research community. It is confidential, there is no cost to join and the time commitment is minimal (2-5 minutes per week) — plus your participation will help support charitable causes like JDRF, American Logistics Aid Network, American Cancer Society, Feeding America, and Make-A-Wish.
You can also follow us on LinkedIn to stay informed of our latest research results and news.