The details are different every time shippers face capacity constraints in trucking, but the headlines are always the same: We have a truck driver shortage problem.
Here is the most recent headline I came across from CNN: "Truckers are getting big pay hikes, but there's still a shortage of drivers." According to the article by Chris Isidore:
America's truck driver shortage is driving pay higher. But it's not solving the scarcity of truckers.

Massive increases in online ordering during the pandemic have sent demand for delivery truck drivers through the roof. That's increased competition for those willing to be long-haul truckers, forcing those trucking companies to hike pay. But that hasn't persuaded enough people to take the long-distance driving jobs that the industry needs to fill.
The last time I wrote about this issue was in December 2017, just as capacity was tightening up again, leading to a very difficult and costly year for shippers in 2018 (see "Truck Driver Shortage: Getting Better, Worse, Or No Problem At All?"). I encourage you to read the post for some of the data and ideas I presented at the time.
In July 2019, we asked our Indago members, who are all supply chain and logistics executives from manufacturing, retail, and distribution companies, the following question: "Do you agree or disagree with the following statement: Over the next decade it will become increasingly difficult for trucking companies to find and retain qualified drivers?"
The vast majority of the member respondents agreed that it will become increasingly difficult for trucking companies to find and retain qualified drivers over the next decade, with 36% strongly agreeing.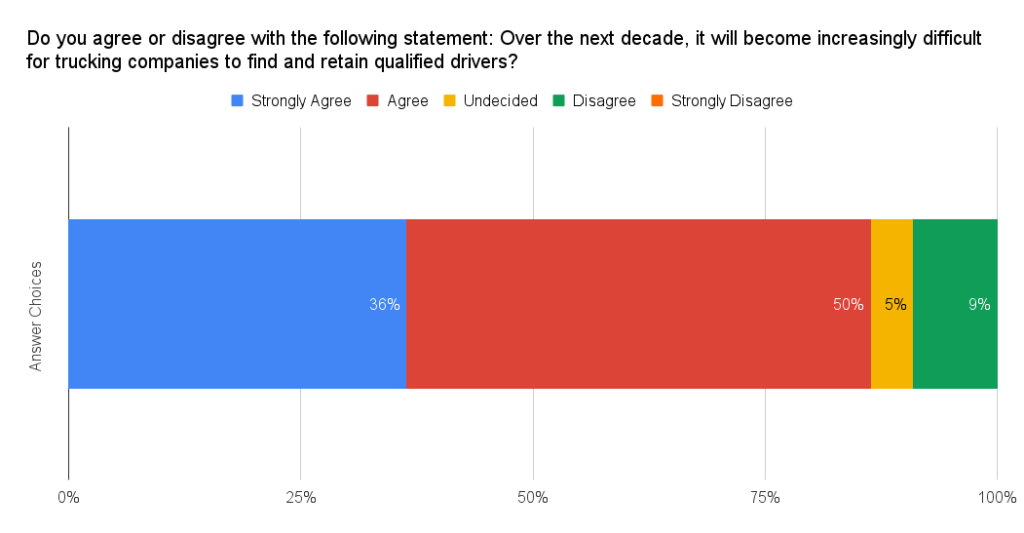 As a result, more than a third of the Indago respondents (36%) believe that it will become much more difficult to find capacity at a reasonable rate in the future, with another 55% saying it will become moderately more difficult.
"We have seen driver shortage affect our carriers and private fleet," said an Indago member at the time. "I believe that the younger generation will not be willing to drive over the road, and that shippers will be forced to distribute their products at a regional/local level to get customers their product. I believe that driver wages and benefits will escalate over the next few years. To mitigate this challenge, shippers will have to have good relationships with carriers, increase private fleets, and be creative on how their distribution networks execute delivery to achieve customer service levels."
Another Indago member added, "I believe that it is a real issue, however, I have been hearing about the shortage for over 10 years. There are a number of ways to address the challenges by deploying technology (driverless trucks) or reducing the driving age provided the driver passed the required test, and/or having a mentorship program to develop their skills."
So, what do you think? Is the truck driver shortage problem getting better, worse, or it's not a problem at all? What can the trucking industry do to attract, hire, and retain more drivers? Do you agree with our Indago members? Post a comment and share your perspective!
Also, check out these related posts for additional ideas and perspectives:
Join Indago
If you're a supply chain or logistics practitioner from a manufacturing, retail, or distribution company, I encourage you to learn more about Indago and join our research community. It is confidential, there is no cost to join and the time commitment is minimal (2-5 minutes per week) — plus your participation will help support charitable causes like JDRF, American Logistics Aid Network, American Cancer Society, Feeding America, and Make-A-Wish.
You can also follow us on LinkedIn to stay informed of our latest research results and news.