Last year, as the pandemic started to take hold around the world, one of the candidates for "Word of the Year" for 2020 was "cancelled" – as industry conferences, sporting events, concerts, schools, and so many other things were either cancelled or postponed.
Although Covid is still with us, we are certainly in a better place today than a year ago. But challenges, albeit different ones, remain, especially when it comes to global supply chain management.
If I had to pick a "Word of the Year" so far for 2021 it would be "delayed" — as in orders for everything from sofas to semiconductors getting delayed due to port closures, capacity constraints, labor shortages, and other issues.
I'm sure many of you have experienced an order delay of some sort. In my case, it's a sofa.
Nothing says "I love you" like a new sofa.
At least that's what my wife and I told each other when we bought ourselves a new sofa for Valentine's Day this past February. You can see the order date below of February 13th.

It's a very comfortable sofa. At least that's what we remember from the showroom; ours hasn't arrived yet. The original delivery date of late May was first pushed out to July 11, then to August 1 as shown above, and just a few days ago I received a call that it has been pushed out yet again to mid September.
At this rate, we might not get our new sofa until Hanukkah or Christmas!
Our only comfort is knowing that we are certainly not alone in experiencing this type of order delay. In fact, every week, you can find various news articles talking about this problem. Here are three recent examples from Bloomberg, The Wall Street Journal, and Reuters.
A Great Imbalance Between Supply and Demand
So, what is happening here? Well, there are various factors at play, but let's just say that there is a great imbalance between supply and demand right now. On the demand side, the recovery from the pandemic has been faster and greater than was expected, but the supply side hasn't been able to recover or expand as quickly.
Whether it's transportation capacity across all modes, the availability of assets like containers and chassis, and labor constraints. Of course, we had the Suez Canal incident and a Covid outbreak at one of the biggest ports in China that compounded what was already a difficult situation.
In essence, what we're experiencing right now is something that has always been true: it is always faster and easier to shut something down than to restart and grow them again. Many supply chains were shut down or scaled down relatively quickly when the pandemic hit; getting them started again is proving to be a much longer and more painful process.
And a key symptom of this great demand-supply imbalance is order delays. Consider this data from Sea-Intelligence ApS.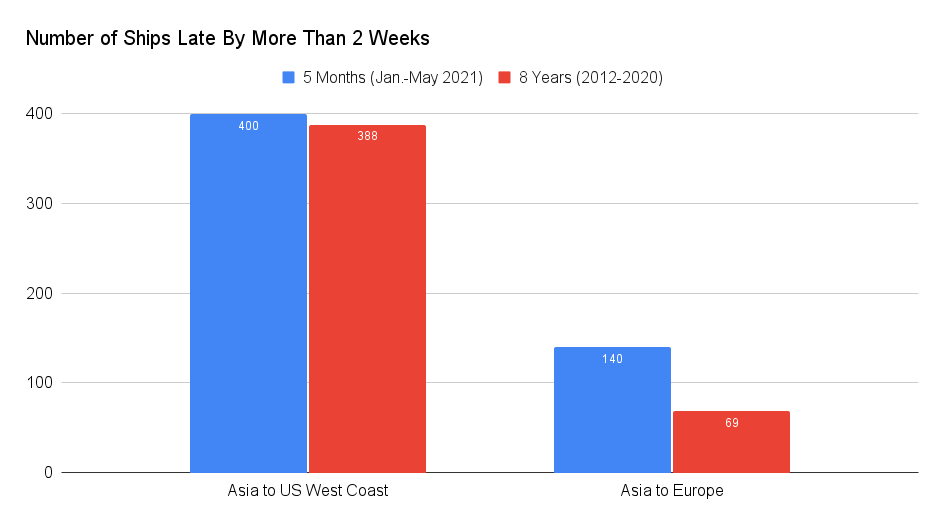 In the first five months of 2021, there were more than 400 ships on the trans-Pacific trade lanes that were delayed by more than 2 weeks compared to 388 ships that were delayed by that amount from 2012 through 2020.
Similarly, there were 140 ships from Asia to Europe that were late by more than two weeks in the first five months of this year compared to 69 ships from 2012 to 2020.
Simply put, in terms of ship delays, the first 5 months of 2021 were worse than the 8 years combined between 2012 and 2020!
Wow.
And this is having a ripple effect that is significantly impacting shipping rates too. Consider this data from the Freightos Baltic Index.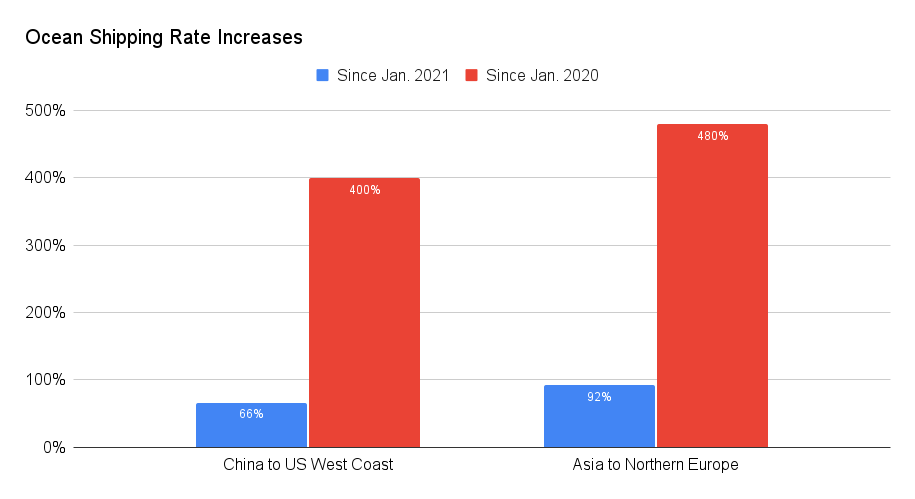 Since January 2020, China to US West Coast ocean shipping rates have increased 400% — and 66% since the beginning of this year.
Things are even worse in Europe. Since January 2020, Asia to Northern Europe ocean shipping rates have increased 480% — and 92% since the beginning of this year.
Between the capacity constraints, delays, and surging ocean shipping rates, it's not surprising that Home Depot, for example, secured its own dedicated ship!
Don't Let Customs Delays Compound Logistics Delays
So, most of this relates to logistics challenges, and a lot of it is beyond the direct control of most companies. There is nothing you can do about a ship getting stuck in the Suez Canal, for example. There is another dimension to global supply chain management, however, that is also critically important — and which companies have more direct control over. And that is customs management and trade compliance.
In a recent E2open webcast titled "Border Crossing Ahead: How to Avoid Customs Delays & Keep Your Cargo Moving," I had a fireside chat with Roy van Montfort, Sr. Director of Customer Solutions at E2open, where we discussed the following questions:
When it comes to cross-border trade and customs compliance, what's different today compared with 10 years ago?
What are the most common reasons why cargo gets held up in customs?
How can technology help? Which capabilities are most important?
What questions should companies ask themselves to assess if they're a leader or a laggard when it comes to customs compliance?
I don't want to steal Roy's thunder, so I encourage you to watch the webcast for all of his insights and advice on this topic.
I'll end with this: The last thing you want to do is compound the problems on the logistics side with delays caused by customs compliance issues — especially if those issues could be avoided by having the right people, processes, and technologies in place.