I went for a 42-mile bike ride yesterday morning, part of my Logistics Leaders for T1D Cure cycling team training. At mile 16, I learned that Uber Freight is acquiring Transplace (a Talking Logistics sponsor). It gave me something to think about the rest of the way.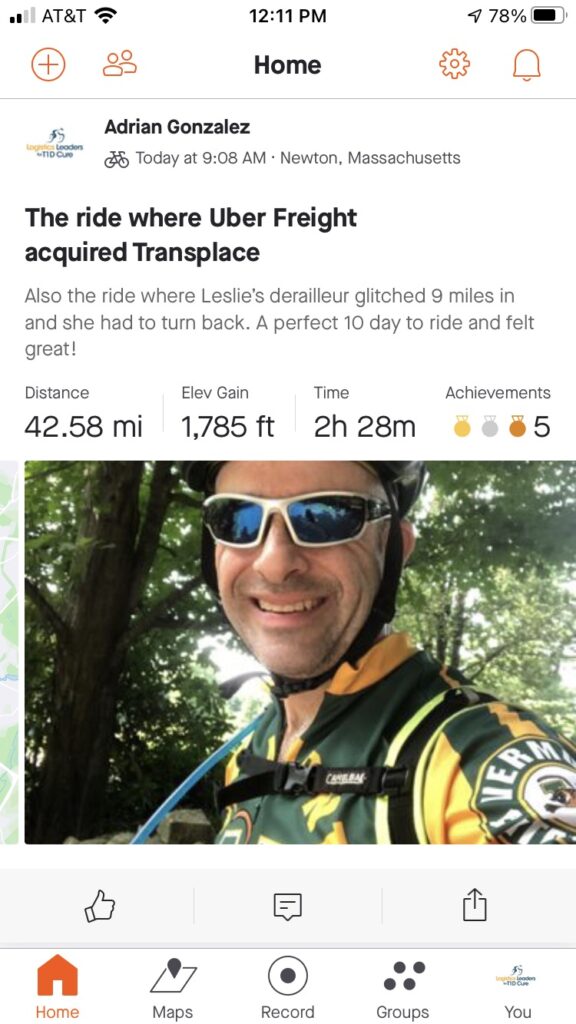 Before sharing my initial thoughts, here's the other news that caught my attention this week:
Uber Freight Acquires Transplace: The Rise of Network Effects Providers
What is a 3PL? What business are they in today?
For years, I've written about the convergence of business models between logistics service providers, technology companies, and consultants. As a result, I have argued that the traditional definition of "Third-party Logistics Provider (3PL)" is outdated.
In many ways, today's most innovative 3PLs (especially those that are more transportation centric) have evolved to become Supply Chain Operating Networks, which bring together a network of trading partners with cloud-based software applications. Instead of companies creating hundreds or thousands of one-to-one connections with their trading partners (suppliers, carriers, customers, customs agencies, etc.), they make a single connection to the network platform, where their trading partners and thousands of other companies are also connected — and they use the cloud applications that reside on the network to communicate, collaborate, and execute business processes in more efficient, scalable, and innovative ways.
On the surface, Uber Freight acquiring Transplace seems like a "digital freight broker" acquiring a "managed transportation services" provider. But for me, that is an outdated and myopic view. What I see is two logistics networks and technology platforms coming together to enable broader and more powerful network effects (see my January 2016 post, "Here Comes the Chief Network Effects Officer").
This trend, which has been more than two decades in the making, has been accelerating. Just a few weeks ago, for example, E2open announced that it is acquiring BluJay Solutions (both are Talking Logistics sponsors, and BluJay also offers managed transportation services). Here's what I wrote at the time:
There are big changes happening in both the supply chain software and logistics service provider industries — with the scale and scope of trading partner networks, coupled with technology platforms and the "network effects" they enable, becoming a greater differentiator.
Is a new type of supply chain and logistics solution provider emerging? I believe so. I don't know what to call them, but maybe "Network Effects Providers"?
This move of coupling networks of connected trading partners with technology platforms is happening on multiple fronts. Even the likes of SAP, which many people still view as an "inside the four walls" ERP provider, is talking about networks. Last month, the company announced that it is taking "the first step toward creating the world's largest business network with SAP Business Network, which will bring together Ariba Network, SAP Logistics Business Network and SAP Asset Intelligence Network. Over 5.5 million organizations will benefit from being members of this connected community."
C.H. Robinson doesn't refer to itself as a 3PL. On its website, in big bold letters, the company says "We are one of the world's largest logistics platforms" — with $21 billion in freight under management, 19 million shipments annually, and a network composed of 105,000 customers and 73,000 contract carriers. Back in September 2019, C.H. Robinson also announced that it was investing "$1 billion in technology over the next five years, doubling its previous $1 billion investment in technology over the last 10 years."
I have to admit, I was surprised by yesterday's Uber-Transplace announcement. There are many other angles to this acquisition (and many questions too). Check out the investor presentation for more information.
However, I was mainly surprised by who was acquiring whom, not by the driving forces behind it. I suspect there will be more acquisitions in the weeks and months ahead as the coupling of networks and technology platforms continues to accelerate.
In 2011, Marc Andreessen famously stated that "Software is eating the world." A decade later, I think it is more accurate to say that "Software and networks are eating the world" — at least in the supply chain and logistics world.
And with that, have a happy weekend!
Song of the Week: "How Bizarre" by OMC