Ocean carriers, freight forwarders and shippers are all trying to figure out when the current ocean shipping congestion will ease. Will it be easier to find containers for shipments after the Chinese New Year in February? Or will it continue through 2022? 
That may be up for debate, but it's becoming increasingly apparent that driving efficiencies moving cargo in and out of ports, both on railroads and by truck, takes an integrated supply chain technology solution. While previously there had been a focus in the industry on the adoption and use of transportation management systems in order to optimize freight shipping, now a simple TMS that stands as part of a company's ERP system is not enough. To create pliant processes that are both reactive and can help anticipate supply chain issues, agile technology solutions that integrate processes across the entire supply chain are needed. A true digital operating platform for supply chain is the way forward. 
These multifunctional digital operating platforms can be seen as breaking the TMS status quo, adding agility to react in real-time to supply chain issues and opportunities; allowing parties to seamlessly access cost-effective carrier capacity and measure the greenhouse gas output of transportation decisions.  
But why, in 2021, are we still talking about the need for supply chain technology adoption? Why haven't supply chain users seen the benefit in embracing collaborative technology that imposes standards on processes but also allows for greater-good scenarios that benefit the global industry even as they create efficiencies for individual companies? Historically, there has been reluctance to embrace technology, and the industry is not exactly full of early adopters. That may be slowly changing. 
In the past year, nearly half of supply chain leaders in a recent study had accelerated spending in digital technologies to make their operations more responsive, and the role of COVID-19 likely cannot be understated here. The pandemic exposed deep vulnerabilities in the global supply chain, pushing industries and businesses to lean into the benefits of AI, machine learning and other digital technologies — benefits that are continuing to reshape their operations even as recovery efforts pick up steam.  
Without the logistics execution and visibility that new technologies provide, businesses are essentially resigning themselves to operating reactively. Put another way, it's difficult to manage risk, operational vulnerabilities and regulatory compliance issues without the ability to monitor for and identify those risks and issues in the first place. Once identified, the best supply chain technology gives stakeholders the flexibility to take advantage of opportunities and avoid shipping disruptions. Likewise, it's a challenge for logistics partners to establish control and governance protocols for managing their partner networks without a technology platform that allows them to do so effectively within a deliberate, customizable and supportive framework.
Adopting new supply chain technologies isn't as simple as ordering a new solution and waiting for it to arrive. In fact, adopting new technologies can be an incredibly disruptive process without deliberate preparation. This can be seen by looking at new customer adoptions, where integrations to new systems can take months or years, and on the M&A side of the business; it takes supply chain technology providers that don't grow organically and instead focus on buying news systems by acquiring companies quite a while to integrate new processes into existing systems.    
The advantages of new technology typically justify their adoption — so long as it's clear how the new technology will help the company overcome operational challenges. However, rolling out any new technological initiative can prove incredibly disruptive without proper change management processes in place. Any new supply chain technology typically requires training to maximize effectiveness and improve how companies leverage their data collection efforts. Proper training programs also help to ensure employee buy-in and prevent confusion. 
Technology may, in some parts of the industry, still be a point of contention. But taking ocean congestion as an example, there are simple technology solutions that optimize workflows and can provide terminal efficiencies. These services can help customers expedite containers from the terminals, saving time and money but, more importantly, keeping shipments on time. So, whether making use of a relatively small solution to ease ocean congestion or creating a "beyond TMS" framework for an organization, the time to embrace technology is now. The pandemic has created new awareness among the general public of the benefits of the supply chain. It's imperative to inject agility into global supply chains now so that, among other things, the general opinion of supply chains is of a well-functioning, efficient and flexible machine of global commerce.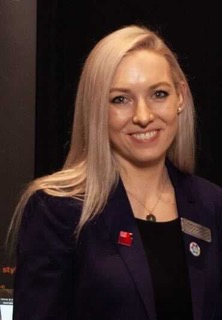 Kaitlin Peterson is vice president of marketing for Blume Global.  In the supply chain technology industry for a decade, Kaitlin has led global teams in bringing solutions to the market and evangelizing what digitization can do for businesses. Kaitlin holds an International MBA and is an advocate for diversity, equity, and inclusion. Previously, she was vice president of field marketing for Koerber Supply Chain and held several leadership positions in marketing, program management and post-merger integration.