Editor's Note: The following is an excerpt of a research report published recently titled "Last-Mile Delivery: Finding the Right Balance." The research, based on a survey of supply chain and logistics professionals conducted by Adelante SCM and commissioned by Locus, explores how technology can help companies achieve the right balance in last-mile delivery — that is, meet customer expectations while controlling costs. Please visit the report page for more information about the research and to download the full report.
In the not too distant past, say 25 years ago before the rise of e-commerce, "Please allow 4-6 weeks for delivery" was the standard lead time for just about anything you ordered via mail or telephone. Even a book or clothing item took that long to deliver.
A lot has changed since then.
The customer is now at the center of the supply chain. The only distinguishing factor between similar brands is the customer experience.
Take e-commerce, for example (and Amazon, in particular). They have radically changed customer expectations with regards to delivery. Two-day, free delivery is now the standard for many items, with next-day and even same-day delivery becoming more common.
According to a 2018 survey conducted by Metapack with more than 3,500 consumer respondents from around the world, "62% of shoppers said free delivery is the top consideration for the majority of purchases they make and 49% don't expect to pay for standard delivery any longer." In Metapack's 2017 survey, "more than half of the respondents ranked fast delivery as their top or second most important priority."
Last-mile delivery, however, is the biggest cost driver in the supply chain, representing 41% of supply chain costs according to a Capgemini study. Therefore, the winners in last-mile delivery will be those that not only find a way to deliver an enhanced customer experience but do so profitably.
Finding the right balance between delivering an enhanced customer experience and controlling costs, however, is not easy. In fact, members of our Indago supply chain research community ranked (by a wide margin) "Controlling costs of last-mile delivery as customer expectations become more stringent" as the top challenge associated with last-mile delivery today.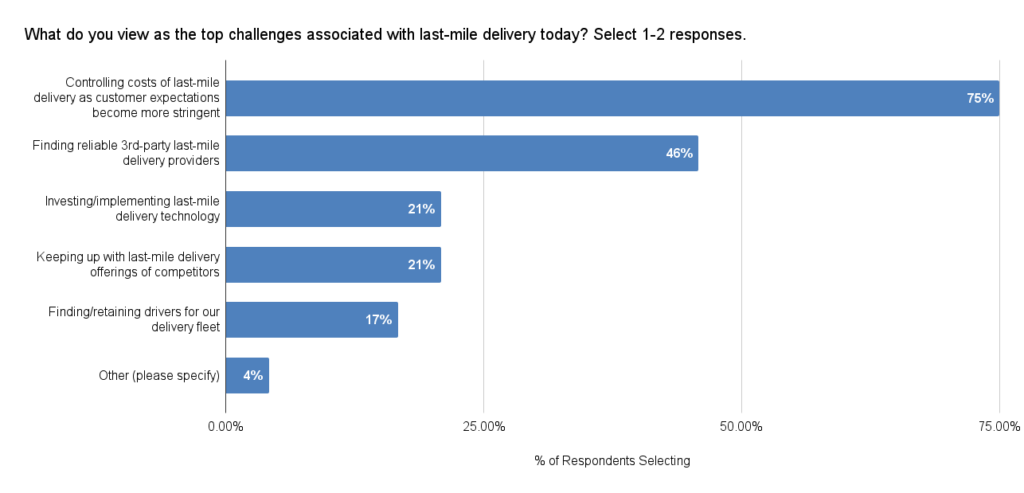 "Real-time coordination across multiple selling, fulfillment, delivery planning, and delivery execution systems is a huge challenge for us," said one Indago member. "For us, it is about improving the customer experience at the expense of higher cost because our customer experience is poor compared to our competitors. Our ability to do more is dependent on the availability of technical resources to improve our existing systems or implement new ones."
Helping companies achieve the right balance between cost and customer experience, of course, is where technology comes in.
For more of the survey results, including insights on how technology can help companies deliver an enhanced last-mile delivery experience for customers while controlling costs, please download the research report.