Tomorrow is the 20th anniversary of the 9/11 terrorist attacks. Never forget.
—
In this week's supply chain and logistics news…
The Old Ways of Learning Supply Chain Management
Back in 2014, about a year after launching Talking Logistics, a supply chain executive said to me, "Talking Logistics is like an online Executive MBA course, with live lectures and guest speakers every week discussing timely and important topics."
Inspired by that feedback, we decided to try something new in February 2015 and introduced Talking Logistics YOUniversity and our first course: Fundamentals of Selecting and Working with 3PL Partners.
The idea was well received and we launched a couple of other courses that year, but due to resource constraints and other priorities, we didn't pursue it further.
However, I'm still a firm believer that we need new models of supply chain learning; we need to think beyond traditional paths to learning and embrace (among other things) new peer-to-peer learning models enabled by social networking technologies and communities.
"The old ways of learning are unable to keep up with our rapidly changing world," state Douglas Thomas and John Seely Brown in their book "A New Culture of Learning."
This is particularly true in supply chain management, where new technologies, business models, competitors, legislation, economic issues, and so on are constantly emerging, which requires companies to continuously evolve their supply chain processes, thinking and networks.
The best source of practical knowledge and advice are your peers, other supply chain and logistics practitioners just like you who have already met and overcome the same challenges and opportunities you face today.
It is this belief in new models of learning, in peer-to-peer learning, that led us to launch Indago, our supply chain research community in March 2019.
Which brings me to this week's article in Bloomberg about MBA programs refreshing their supply chain curricula. Here's a quote from the article:
"For years, we had sort of taken logistics for granted," says Skrikant Datar, the dean of Harvard Business School. "The pandemic caused us to rethink it."

The problem, says Hitendra Chaturvedi, a supply-chain management professor at Arizona State University's W.P. Carey School of Business, was that supply-chain education and theories had grown as rigid as some of the practices out in the real world. "After years of teaching without any tremors," he says, "our courses had become less flexible."
Again, "the old ways of learning are unable to keep up with our rapidly changing world."
In October 2019, we asked our Indago community members, "What is the minimum threshold of higher education you look for when hiring new supply chain employees?" The response that received the most votes was "Bachelor's degree in any discipline."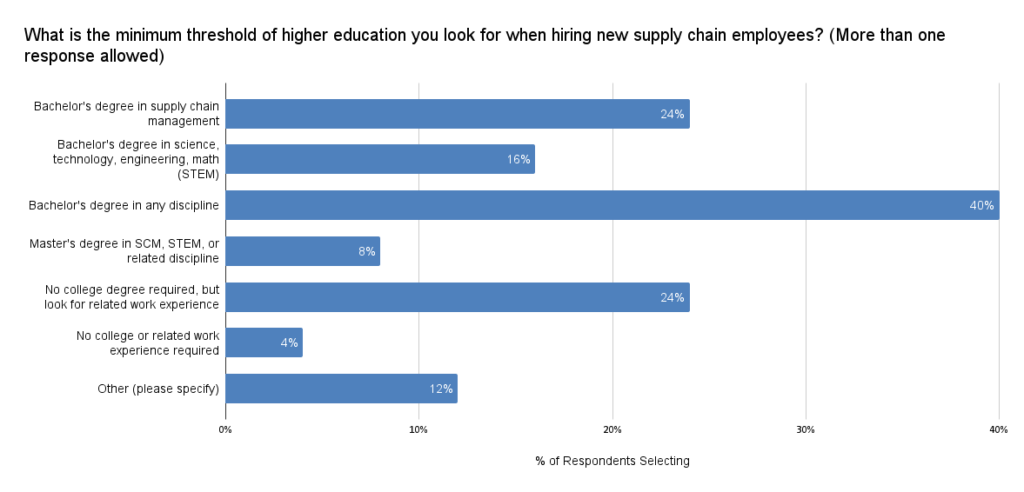 Here are some value-added comments from our Indago members, who are all supply chain and logistics executives from manufacturing, retail, and distribution companies:
"This depends greatly on the role! I find degrees highly irrelevant for hands on, physical roles and someone's personality and experience on the floor of far greater importance. Even for highly analytical roles, certificates can be a far better proxy than a 4-year degree for aptitude and interest. And for many roles, years of experience are crucial. Managers and leaders need to think about a balanced organization where all types of skills and backgrounds are represented."

"We prioritize experience, but we don't accept applicants without any college degree. Any business related or STEM course is acceptable but industrial engineers are more preferred."

"After going through significant and lengthy growth cycles, we were looking for the 'magic bullet' type individuals to lead us not just in SCM but also other prominent departments. It was startling to learn (repeatedly) that higher education does not necessarily mean higher wisdom. We have been through the cycle of MA, MSc leadership only to find it short lived and not really beneficial. Those with common sense, a drive to be the best in their fields and commitment to do the best job possible have far outpaced those with higher educational training. Please do not misunderstand the above statement — there are benefits to higher education in many sectors/industries. Our success is based on those with proven experience."
What do you think? Do you agree with our Indago members? Is the traditional MBA route outdated for a fast-changing discipline like supply chain? Are new models of learning needed? Post a comment and share your perspective.
Also, here are some other Talking Logistics posts related to the topic:
And with that, have a happy weekend!
Song of the Week: "I Won't Back Down" by Tom Petty And The Heartbreakers