"Walk a mile in my shoes," sang Joe South in a hit song from 1970. However, I don't think he was wearing cycling shoes at the time.
I walked 3 miles in my cycling shoes this past Tuesday. It wasn't something I had planned to do, but when I got a flat tire on my bike three miles away from home and my spare tube failed to inflate, I had no choice but to walk 3 miles back home.
When I got home, I completed an unorthodox triathlon by cycling 21 miles on my indoor trainer.
I'm not sure how, but I'm hoping this strange combination of exercises will pay dividends during the Gran Fondo Hincapie ride next Saturday.
(It's not too late to support our Logistics Leaders for T1D Cure Team and help us reach our fundraising goal in support of JDRF. Donate today!)
Shifting gears, here's the supply chain and logistics news that caught my attention this week:
Broken Supply Chains: Not Just a Ports Issue
I commented recently on how everybody is talking about supply chains these days. Is this a good thing overall? We asked our Indago supply chain research community last week and almost three quarters of our member respondents believe that it is "Very Important" (40%) or "Important" (32%) for the public to become more knowledgeable about supply chain management. As one supply chain executive commented:
"I believe there is a more positive focus on supply chain management now than ever before. Politicians and senior business leaders are realizing how strategically important supply chain management is to defense, security, safety, profitability, and a whole host of other business and social good. It's also clearly highlighting weaknesses in global trade, infrastructure, and industry that can be tackled to create a better world." 
Who needs to learn the most about supply chain management to drive positive change moving forward? "Politicians" received the highest percentage of votes (32%) followed closely by "Our senior leadership" (28%).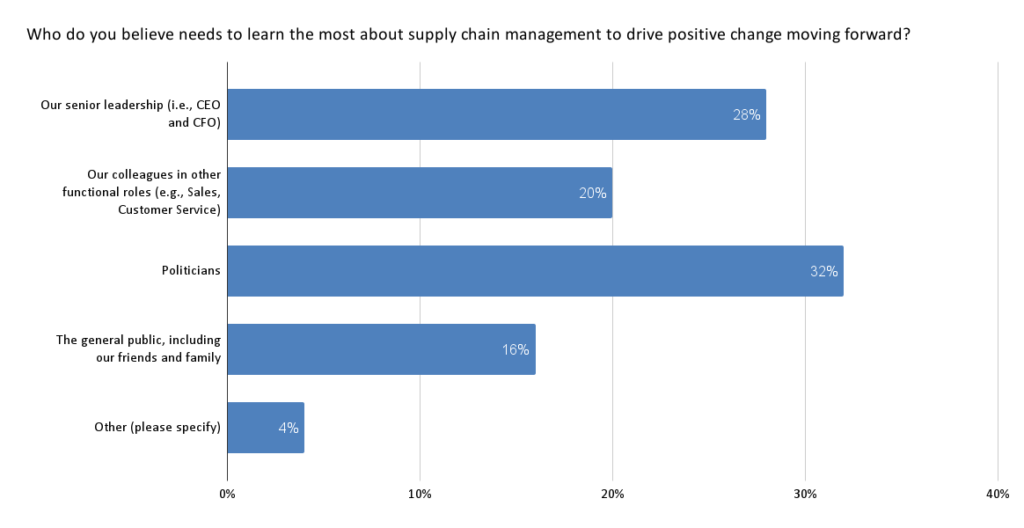 Speaking of politicians, the Biden administration announced this week that it has convened "business leaders, port leaders, and union leaders to discuss the challenges at ports across the country and actions each partner can take to address the delays and congestion across the transportation supply chain." Among the actions and commitments announced:
The Port of Los Angeles is expanding to 24/7 operation.
The International Longshore and Warehouse Union (ILWU) has announced its members are willing to work those extra shifts.
Large companies [Walmart, Target, Home Depot, Samsung, FedEx, UPS] are announcing they will use expanded hours to move more cargo off the docks, so ships can come to shore faster. Across these six companies over 3,500 additional containers per week will move at night through the end of the year.
There's been a lot of chatter on social media about this announcement, whether it will make much of a difference or not. As many point out, the US ports are not the only problem; in fact, as Jason Miller from Michigan State University highlights in a LinkedIn post, more containers/goods have been imported in 2021 year-to-date compared to 2019.  
But this is a classic example of how the different nodes in a supply chain are like rowers.
The New York Times best-selling book The Boys in the Boat by Daniel James Brown tells the story of how the University of Washington's eight-oar crew team overcame great odds and adversity to win the gold medal at the 1936 Olympics in Berlin. If you're familiar with the sport, you know that the secret to success is getting all eight rowers in the boat perfectly synchronized. If any rower is stroking faster, harder, with less force, or slower than the rest, the boat experiences drag, slows down, and veers off course. But when all eight are in perfect rhythm, the result is almost magical.
The fact that ports have brought in more containers than ever before is like a rower stroking faster and harder than the other rowers (such as trucking and warehousing) in the supply chain boat. And that's part of the reason why so many "supply chain boats" are experiencing drag, slowing down, and veering off course.
I'll say it again: there is no 'silver bullet' solution to what is happening across supply chains today; the problems go beyond the ports and have been decades in the making.
And while some politicians step in to help (arguably, doing too little, too late), others like Rep. Michelle Steel from CA have much more to learn.
NEWS: Today I introduced legislation to ban cargo ships off the Orange County coast.

Ships anchored for weeks and months off our coast likely caused last week's oil spill. Reports show that the pipe "may have been struck several other times" by ship anchors off the coast.

— Rep. Michelle Steel (@RepSteel) October 12, 2021
And with that, have a happy weekend!
Song of the Week: "Walking In My Shoes" by Depeche Mode