Author's note: Last month, I participated in a webinar hosted by Kuebix titled, "Beyond The Routing Guide: Innovating Transportation Procurement for the Digital Age." The following is a brief excerpt of my presentation. 
When I was thinking about what to title this presentation, "Beyond the Routing Guide" popped into my head.
And it really has two meanings: First, it's where many shippers are operating today. Their primary carrier in their routing guide rejects a load. So does the second, third, fourth, and fifth carrier –- and then they find themselves in the spot market — that is, beyond the routing guide.
The second meaning is that we have to think beyond the routing guide – that is, beyond the traditional way we procure transportation and match freight capacity with demand. 
A Very Challenging Transportation Market
Back in April 2021, we asked members of our Indago supply chain research community, "How would you characterize the current transportation market in the U.S. in terms of meeting your cost and capacity expectations?"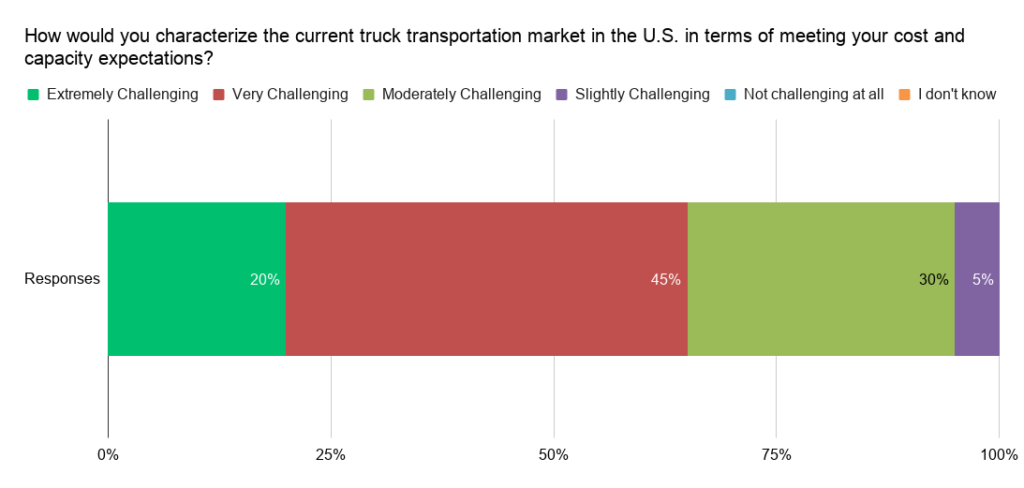 Almost two thirds of the respondents characterized the truck transportation market at the time as "Very" or "Extremely" challenging. Another 30% characterized it as "Moderately" challenging. Simply put, shippers back in April were finding it difficult to manage rates and capacity in the truck transportation market. As one Indago member commented:
"The transportation market remains challenging for shippers as capacity has not caught up with freight volumes. Q1 did not have the typical seasonal slack and while I'm expecting a return to 'normal' post-pandemic, I don't think it is out of the question that market conditions stay the same through the end of the year."
Another member added, "I am orbiting [our C-level executives] with weekly updates in terms of timing and price increases."
Again, that was back in April. Fast forward five months to today and the market environment is even more challenging.
Here is a comment from one of our Indago members from a survey we conducted in September 2021:
"We struggle mightily to secure capacity for anywhere near our contract rates. Earlier this year (Q1, first part of Q2) it was a manageable issue. Today, we are almost entirely reliant on spot rates – and as you might imagine, the cost is killing us."
In other words, this shipper, like many others, is operating beyond the routing guide.
Looking Ahead
What will happen with contract rates over the next six months? About two-thirds of our member respondents expect contract rates to increase at least 5% over the next six months, with 43% expecting contract rates to increase between 5-9%.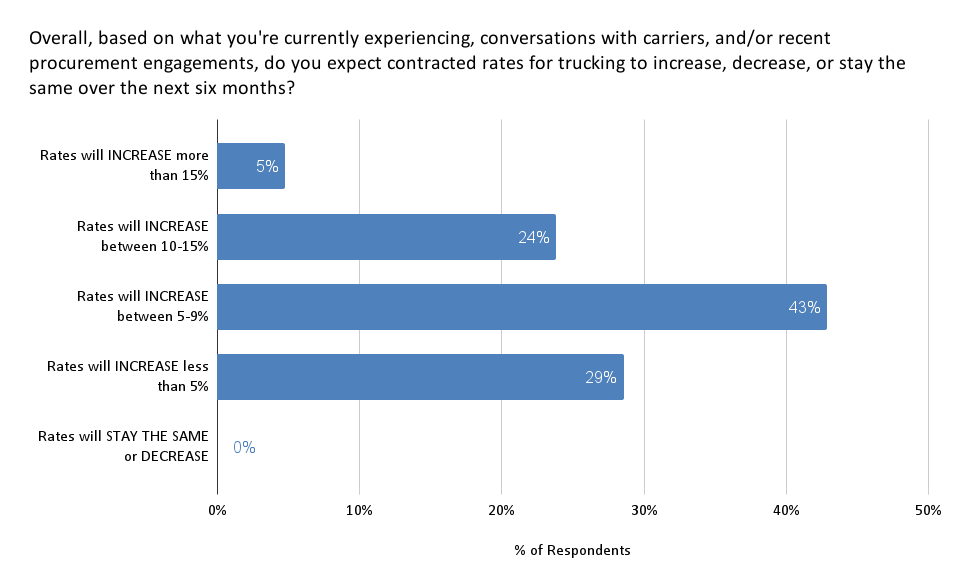 Here are a couple of value-added comments from our Indago members, who are all supply chain and logistics professionals from manufacturing, retail, and distribution companies:
"Contracted rates are rising between 10-15% for all of our carriers. Given that we're generally their highest volume customer we'd expect spot rates to be more than double that increase. We're also seeing contracted carriers opt to stop servicing our account because they're unable to meet the demands with their current labor and capacity."

"2020 was the weirdest freight market I had seen in 25 years; 2021 said 'hold my beer.' All joking aside, it has been a challenge to figure out how to price and procure freight this year…We have not been able to get a pattern to [capacity availability] because it is constantly changing. So far, our peak rates were Q4 of 2020. Rates have been about 3 to 4% lower than the peak, but 35% higher than 2019 and the first half of 2020. We are looking at 3-to-4-month windows for mini bids and trying to monitor and mitigate cost as much as possible."
I encourage you to watch the full webinar where I present additional Indago data related to this topic and I address the following questions in a "fireside chat" session with Mary Anne Hensley from FreightWaves:
What are the biggest hurdles to transforming transportation procurement?
Will annual freight procurement bids go away?
What is the biggest mistake companies can make?
How can network-based transportation management systems (TMS) bring innovation to transportation procurement?
After watching the webinar, post a comment and share your perspective!
---
Join Indago
If you're a supply chain or logistics practitioner from a manufacturing, retail, or distribution company, I encourage you to learn more about Indago and join our research community. It is confidential, there is no cost to join and the time commitment is minimal (2-5 minutes per week) — plus your participation will help support charitable causes like JDRF, American Logistics Aid Network, American Cancer Society, Feeding America, and Make-A-Wish.
You can also follow us on LinkedIn to stay informed of our latest research results and news.