In February 2021, US President Biden announced via an executive order that "it is the policy of my Administration to strengthen the resilience of America's supply chains."
What does supply chain resilience mean?
"For companies, resilience measures their ability to, and the speed at which they can, return to their normal performance level following a high-impact/low-probability disruption," explains Dr. Yossi Sheffi from MIT in his 2005 book, The Resilient Enterprise.
At the end of the year, in a December 2021 Wall Street Journal article ("Everybody Now Wants Supply Chains to Be 'Resilient.' It Won't Be Easy—or Likely"), Dr. Willy Shih, the Robert and Jane Cizik professor of management practice at Harvard Business School, writes that:
As a result [of the supply chain disruptions caused by the pandemic], "resilience" has become the new watchword…Resilience sounds great, of course. Who doesn't want a resilient supply chain and a resilient economy? But while there are some things that companies and governments can — and likely will — do to increase their ability to respond to future shocks, these will all come with costs. 
How resilient is your supply chain?
We asked members of our Indago supply chain research community that question in March 2021. More than half of our member respondents (55%) said that their supply chains were "Moderately Resilient" and another 14% said that they were "Slightly Resilient." Almost a third, however, said that their supply chains were either "Very Resilient" (28%) or "Extremely Resilient" (3%).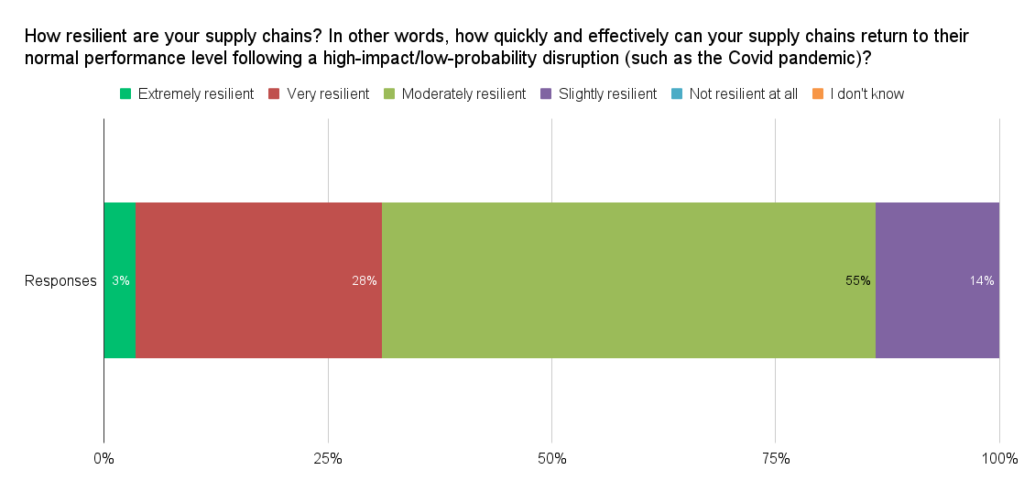 Simply put, the results suggest that many companies have room for improvement to make their supply chains more resilient.
Here are a couple of comments from our Indago members, who are all supply chain and logistics professionals from manufacturing, retail, and distribution companies:
"The pandemic has woken up many supply chains, including ours…We are looking at the entire value chain to pinpoint the weakest links and analyze how to improve those weaknesses."

"This is a great opportunity. Unfortunately, supply chain resilience isn't a concern until it is an issue, and then it is usually a big issue. Our greatest opportunity in this area is related to adding redundant manufacturing and logistics capacity."
We also asked our Indago members, "What are the main constraints in making your supply chains more resilient?" The results are available to Indago members only.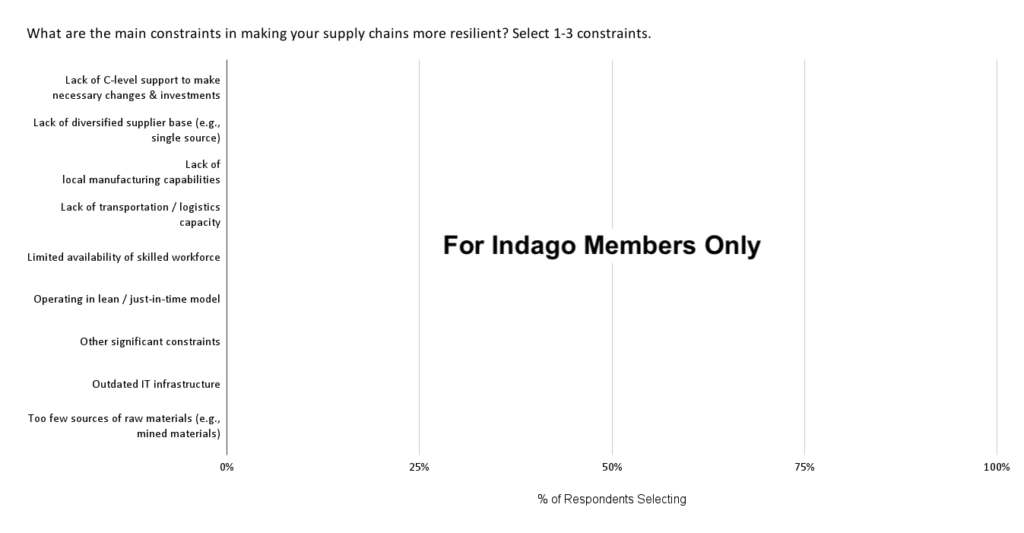 How resilient is your supply chain? Is your company taking steps to make its supply chain more resilient? In what ways? Post a comment and share your experience and perspective on this topic!
Join Indago
If you're a supply chain or logistics practitioner from a manufacturing, retail, or distribution company, I encourage you to learn more about Indago and join our research community. It is confidential, there is no cost to join and the time commitment is minimal (2-5 minutes per week) — plus your participation will help support charitable causes like JDRF, American Logistics Aid Network, American Cancer Society, Feeding America, and Make-A-Wish.
You can also follow us on LinkedIn to stay informed of our latest research results and news.