The logistics industry is facing another challenging year. The ongoing COVID-19 pandemic, rising gas prices and other disruptions continue to impact supply chains on a global scale. The pandemic alone has affected 94% of Fortune 1000 companies due to supply chain disruptions, according to Frontiers.
Tight capacity, increased rates, material and labor shortages and other disruptions are driving the industry's "new normal" and are top-of-mind for supply chain executives. All of these factors pose significant risks to business operations, including service, budgets and costs, and production.
Transportation capacity challenges will likely remain prominent in the future. About 70% of logistics and supply chain professionals stated that capacity constraints will remain a big concern leading up to 2030, according to a recent report from the Council of Supply Chain Management Professionals (CSCMP). As capacity remains tight, costs are continuing to increase throughout the supply chain. For example, in the chemical manufacturing industry, two-thirds of executives reported lost production within the last year and nearly all executives reported shipping delays and increased transportation costs across their business operations, according to findings from a recent American Chemistry Council (ACC) report. With increased shipping costs, businesses are overspending to meet growing demands.
Industry demands won't be slowing down anytime soon. Some experts are anticipating logistics market demand will continue to rise at a 7.6% compound annual growth rate over the next decade. With these factors in mind, executives must be more thoughtful about the trade-offs between ensuring goods are delivered on time and operating within a budget.
Now more than ever, shippers must be nimble with their risk mitigation strategies to future-proof their businesses. This requires a change in mindset when managing typical business constraints. Here are a few must-haves to mitigate risk and disruption:
Promote Flexibility
Diversifying shippers and establishing an alternative supply base is key, especially when product availability can change at the drop of a hat. Flexibility throughout the supply chain can help save money and decrease transportation costs by optimizing shipments. As an example, periodically revising the thresholds for using intermodal shipping can help mitigate rising freight costs.
Collaborate Across Functional Departments
Functional department leaders need to be aligned on common goals to balance customer demand with supply chain outcomes. For example, a Chief Commercial Officer (CCO) and a Chief Operating Officer (COO) should align on how customer terms and inventory strategies can be adjusted to mitigate downstream operating cost increases. Fill rate decisions, order timeliness, network design and capital deployment should also be considered.
Collaborate With Other Shippers
Joining forces with other shippers can be a great way to optimize network efficiencies. Setting up a network for collaborative shipping, which boosts efficiency among different shippers is becoming more common to alleviate rising costs. Transportation management solutions support advanced multi-shipper collaborations by identifying opportunities that optimize shipments, improve capacity and reduce transportation costs.
Understand True Cost
Executives should also keep a close eye on the true cost and loss in their supply chain. Unconstrained loss analysis is one approach that can identify loss and risk in supply chain operations and can help point to areas needing improvement. Leaders must challenge existing ways of working, from setting budgets to identifying true costs and trade-offs.
Fully Leverage Logistics Technology and Services
Having a robust Transportation Management System (TMS) in place enables shippers to coordinate their supply chain activities seamlessly, including order management, shipment optimization, tracking and overall performance. Additionally, utilizing broader shipper and carrier networks to enhance collaboration and tapping into data insights allows for informed decision making and stronger customer relationships.
Challenges and disruptions within the supply chain are a reality for shippers. Businesses must anticipate supply chain issues to stay ahead of the curve. Once an effective, flexible and strategic action plan is in place, leaders can maintain balance and efficiency across their businesses this year and beyond.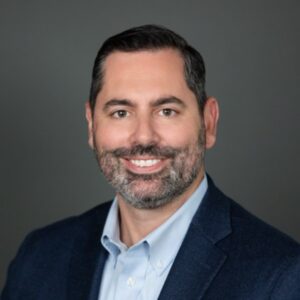 Russell Zuppo is Vice President, Strategic Account Management at Transplace.