I almost made it.
While my son was taking his machine learning final exam at Cornell, I decided to cycle around Cayuga Lake. It was an 87-mile loop and the day was just perfect for cycling. I made it up the east side of the lake, had lunch, and was making good time heading back on the other side of the lake until…
Flat tire.
Then, the spare tube didn't inflate. I was stranded with 20 miles to go at a Stop sign, at the intersection of NY County Rd 138 and NY 89.
I won't bore you with the details of what happened for the next hour, but eventually a woman driving a Subaru stopped at the sign, saw me standing dejected by my bike, and asked if everything was okay. She offered me a ride back to Ithaca.
In a world filled with a lot of bad news, the ride back to Ithaca with this Good Samaritan named Laura reminded me that the overwhelming majority of people in this world are good and honest people.
I didn't make it all the way around the lake, but I made it back to the hotel safely, which is what always defines a good ride. And I met a stranger named Laura who restored my faith in humanity. It was a good day.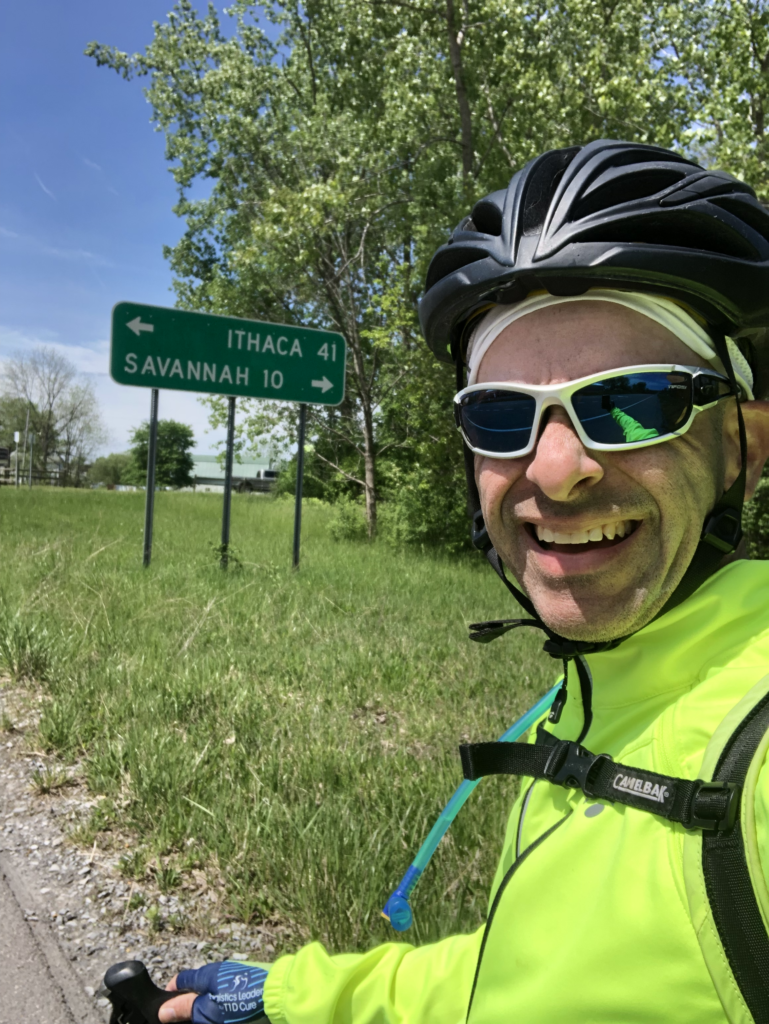 —
In this week's supply chain and logistics news…
A Realignment of Global Supply Chains?
Offshoring is so yesterday. "Friend-shoring" is the new trend — or that is what some are proposing.
As Yuka Hayashi reported in the Wall Street Journal this week:
As war and the pandemic expose the fragility of supply chains, the U.S. and its allies are pursuing a new kind of global trade, one that confines commerce to a circle of trusted nations. Fans call the shift "friend-shoring."

Promoters of friend-shoring see it as a chance to revamp global supply chains to reduce their reliance on countries with autocratic governments and nonmarket economies, namely China and Russia. They say it is a compromise between full-fledged globalization and isolationism, and between offshoring and domestic production.
In related news, the U.S.-EU Trade and Technology Council (TTC) held its second ministerial meeting in Saclay – Paris, France on May 15-16, 2022. Per the statement issued by The White House:
The United States and European Union, home to 780 million people who share democratic values and the largest economic relationship in the world, will advance the TTC agenda on a number of critical economic and technology policies and initiatives designed to strengthen our bilateral economies, meet current geopolitical challenges and update the rules of the global economy.
So, are we witnessing a realignment of global supply chains?
Maybe, but if so, it won't be quick or easy — and there will be tradeoffs, as well as unintended consequences.
Back in November 2019, we asked our Indago members — who are all supply chain and logistics professionals from manufacturing, retail, and distribution companies — "Over the next five years, do you plan to manufacture more or less of your products in the United States? If you're a retailer or distributor, do you plan to source more or less of your products from the US?"
This survey was taken before the coronavirus pandemic hit (and, of course, before the current Russia-Ukraine war), but at the time half of our member respondents planned to manufacture (or source) the same quantity of products from the United States over the next five years as they do today.
The biggest roadblock cited by the respondents in bringing manufacturing operations back to the United States is "high labor costs" (50%), followed by the "large capital investments required" (19%).
As several respondents commented, whether or not to manufacture in the United States depends on your industry and other factors. "Ultimately, it comes down to net landed cost," said one executive. "Important factors to consider include material costs, labor costs, freight costs, tariffs/taxes, reliability/consistency of supply, etc."
(For more on the survey results, see "Will COVID-19 Lead To More U.S. Manufacturing?")
We plan to revisit this topic with our Indago members next week (join our supply chain research community to participate in the survey and receive the results). But what do you think? Will more companies adopt a "friend-shoring" strategy moving forward? What are the risks and rewards? Post a comment and share your perspective.
And with that, have a happy weekend!
Song of the Week: "Dakota" by Stereophonics