"It's choppy waters ahead for delivery startups."
That is the subtitle of a recent TechCrunch article by Kyle Wiggers. Here's an excerpt:
The boom [in delivery companies] continued into early 2022, with startups like Getir, Zapp and Zepto raising mammoth rounds. But there are signs of a correction. Instacart, citing "market turbulence," last month slashed its valuation by 40% and slowed hiring. Publicly traded DoorDash and Deliveroo have seen their stock prices fluctuate wildly over the past year. (DoorDash executed a $400 million stock buyback program in May.) Gorillas, Getir, Zapp and Gopuff are among other delivery startups that have let go staff in recent months, despite fundraising. Some have been forced to shut down entirely, like Fridge No More, 1520 and Buyk.
As I've written many times before, the main challenge with delivery is the same today as it was when Webvan crashed and burned more than two decades ago: getting enough delivery density to minimize transportation costs, which makes a big difference in a low-margin business like grocery, and providing customers with delivery options at the point of sale that are reasonable, affordable, and reliable.
This brings me to a post I wrote back in October 2013 on the logistics of elevator rides, which in many ways is similar to the logistics of same-day delivery, especially in e-commerce applications. Here's how the post begins:
I presented at the LeanLogistics ClientConnect 2013 conference yesterday, which took place at the Swissotel in Chicago. It's a lovely hotel, with comfortable rooms and a great view of the lake, and something I had never encountered before: elevators with no floor buttons inside. Instead, you enter your floor number on a keypad in the waiting area where you would normally find the up and down arrow buttons, and a display on the keypad tells you which elevator to take (A, B, C, D, etc).
According to Otis's product brochure, "Compass 360 moves people more efficiently, cutting waiting and journey times by up to 50% in comparison with conventional dispatching systems. The system directs elevators where they're needed and eliminates duplicate stops."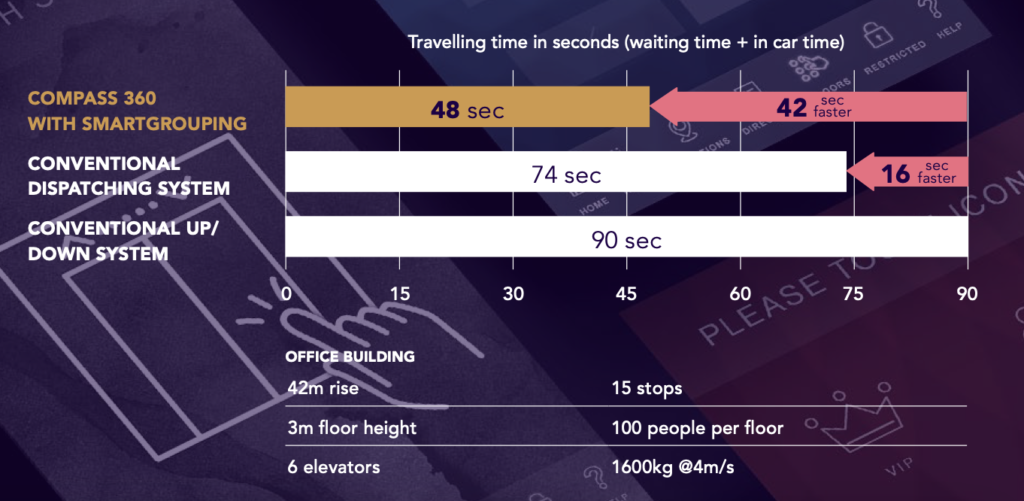 What can delivery companies learn from this type of elevator management system? How can delivery companies achieve profitable growth?
Read my blog post from 2013, then post a comment and share your perspective.