The Infrastructure Investment and Jobs Act that was signed into law in the US last year includes funding for setting up an apprenticeship pilot program for commercial driver's license holders under the age of 21 to operate in interstate commerce.
Last December, we asked members of our Indago supply chain research community — who are all supply chain and logistics executives from manufacturing, retail, and distribution companies — "Do you support lowering the minimum age of interstate truck drivers to 18?"
Almost two-thirds of our member respondents either "Strongly Support" (44%) or "Support" (19%) lowering the minimum age of interstate truck drivers to 18; only 15% either "Do Not Support" or "Strongly Do Not Support" it.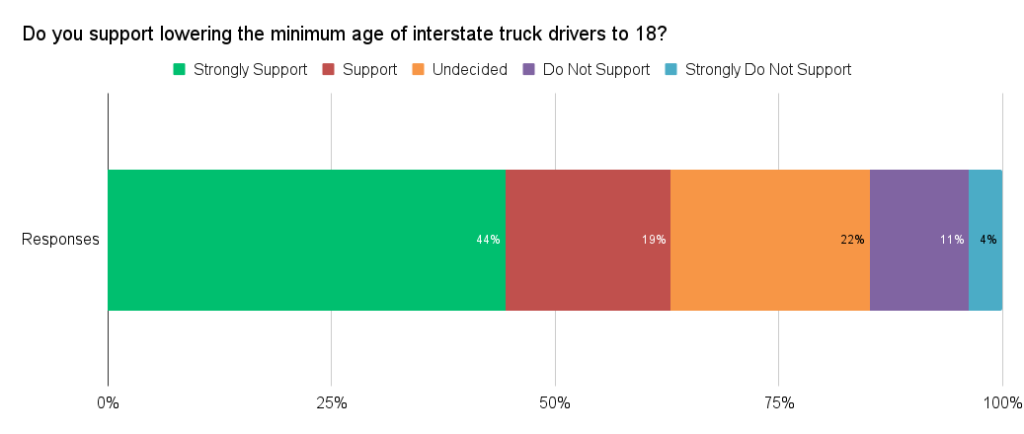 However, when it comes to having 18-year-old drivers transporting their loads across state lines, less than half (46%) would feel "Very Comfortable" (26%) or "Comfortable" (19%), while 30% would feel "Slightly Comfortable" (15%) or "Not Comfortable At All" (15%).
"To my knowledge, commercial trucking is one of the few trades (perhaps the only one) that doesn't allow a young person to start some sort of apprenticeship before the age of 21," said one Indago supply chain executive member. "The candidate population for this career are the same young men and women who might also be looking to become an electrician, a plumber, or some other skill-based trade. By the time the brightest candidates are 21, they have already commenced on another path, and we've lost the opportunity to get them. Also, my response about comfort level is predicated on the assumption that the 18 yr. old is in a structured apprenticeship program and has a qualified 'master' driver sitting next to him."
Another member had a different viewpoint: "This is a terrible idea. Commercial driving is a difficult job and shouldn't be handed to someone fresh out of high school. It's not a job that should be taken lightly and it's a difficult life for anyone who does take it up. Instead of lowering the age limit we should be looking for ways to make the career path easier and attractive for new talent."
For additional comments, Indago members can download the report at our website.
What do you think? Do you support lowering the minimum age of interstate truck drivers to 18? How comfortable would you be having an 18-year-old truck driver transporting one of your loads across state lines? Post a comment and share your perspective!
Join Indago
If you're a supply chain or logistics practitioner from a manufacturing, retail, or distribution company — and you're interested in peer-to-peer learning — I encourage you to learn more about Indago and join our research community. It is confidential, there is no cost to join and the time commitment is minimal (2-4 minutes per week) — plus your participation will help support charitable causes like JDRF, American Logistics Aid Network, American Cancer Society, Feeding America, and Make-A-Wish.
You can also follow us on LinkedIn to stay informed of our latest research results and news.