Earlier this week, Convoy, J.B. Hunt, and Uber Freight announced the formation of the Scheduling Standards Consortium (SSC), "which aims to solve transportation scheduling challenges by establishing the freight industry's first formal set of appointment scheduling application programming interface (API) standards.​​" Here's more from the press release:
The SSC's objectives are to define an API standard for sharing scheduling information, implement those standardized interfaces to enable integrations in existing systems, and advocate for the standard across the industry. The standard will bring more cohesion and resiliency to the movement of goods, making it easier to book and manage appointments, optimize processes for drivers, shippers and receivers, and drive operational efficiencies for the industry at large. 

Adoption is critical for the effort to succeed. The SSC aims to sign on other brokers or third-party logistics providers, transportation management system and warehouse management system vendors, and others to help shape the future of supply chain efficiency. Initial SSC standards and documentation, starting with full truckload freight, will be available as early as Q1 2023. 
Driver detention is among the issues stemming from poor appointment scheduling processes. According to the "2021 Detention Time Survey" by the Owner-Operator Independent Drivers Association Foundation, "[OOIDA member drivers] who are complying with the 60-hour rule spend an equivalent of 20 to 33 percent of their possible compensated drive time in detention, while those under the 70-hour rule spend approximately 17 to 29 percent of their possible drive time in detention."
In a January 2018 report, the U.S. Department of Transportation Office of Inspector General (OIG) estimated that "a 15-minute increase in average dwell time — the total time spent by a truck at a facility — increases the average expected crash rate by 6.2 percent. In addition, we estimated that detention is associated with reductions in annual earnings of $1.1 billion to $1.3 billion for for-hire commercial motor vehicle drivers in the truckload sector. For motor carriers in that sector, we estimated that detention reduces net income by $250.6 million to $302.9 million annually."
In a July 2020 LinkedIn article titled "Detention in Trucking Why Carriers Care (And Shippers Aren't Doing Enough) – Part Two," Mike Mulqueen from JBF Consulting writes:
The explicit cost that a shipper sees for poor loading / unloading operations is in their detention accessorial fees. A shipper can easily sum up these costs as they are line items on their freight invoices. However, those fees do not represent the totality of the cost that the shipper is incurring [emphasis mine].

When pricing out a long-term contract or a spot quote, carriers consider the total cost of servicing a shipper and will apply premiums for those customers that negatively impact their bottom line. While detention fees may be a rounding error for many large shippers, I would urge them to consider the premiums they may be paying through higher contract rates, higher tender rejection percentages, and an increased reliance on the spot market [emphasis mine].
So, yes, appointment scheduling is a big problem that needs to be addressed.
The funny thing is that an appointment scheduling standard already exists: EDI 163 – Transportation Appointment Schedule Information, "used by transportation carriers and their trading partners to request and accept freight pickup and delivery appointments."
There are many issues associated with EDI standards, including that many small and mid-sized companies never implemented EDI systems, and that they're not really standards because many companies, once the "standard" was set, proceeded to add and rearrange fields, thus contributing to the integration and data quality challenges that plague supply chains today.
Will something similar happen with API standards or is the technology fundamentally different that "customizing the standard" can't happen? I don't know, but maybe my tech friends in the industry can shed some insight on this question.
Nonetheless, assuming an appointment scheduling API standard is defined and broadly adopted and complied with, it's not enough.
In an April 2020 survey we conducted with members of our Indago supply chain research community — who are all supply chain and logistics executives from manufacturing, retail, and distribution companies — only 4% of our member respondents characterized their dock appointment scheduling process as "Excellent," while 38% said it was "Below Average" or "Very Poor." Part of the problem may be that relatively few of our members (21%) are using dock appointment scheduling software from a TMS, WMS, or YMS vendor. An equal percentage (21%) are using spreadsheets, with others using paper calendars (8%) and commonly available online calendars like Google Calendar (17%).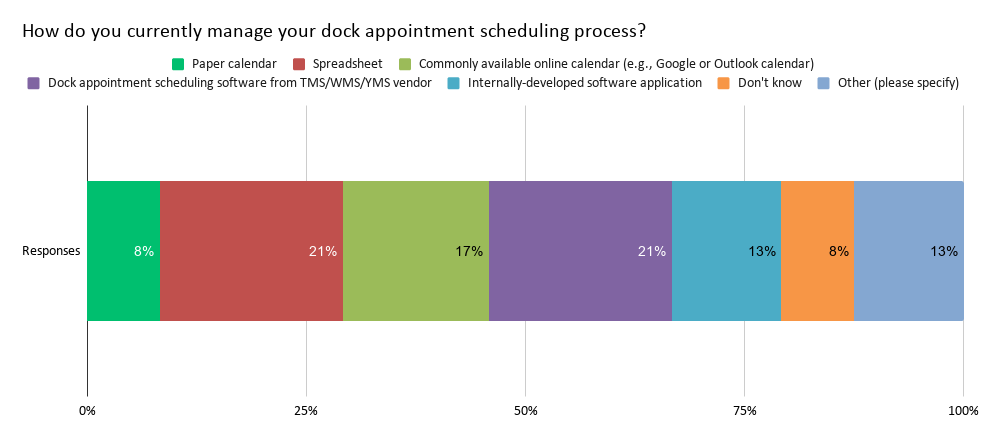 As one supply chain executive member commented, "This is an often overlooked, yet critical piece within the supply chain. The best TMS and/or WMS system falls down when there isn't a good yard management or dock scheduling tool/module. This pinch point often results in significant costs related to detention and, ultimately, higher freight rates."
(For additional insights from the research, please read the summary post.)
Simply put, an API standard is worthless if you're still using spreadsheets and paper calendars to manage your appointment scheduling process.
Finally, when it comes to developing industry standards and driving mass adoption, I believe that utilizing a network-based technology platform — that connects thousands of shippers, carriers, logistics service providers, and other stakeholders with each other, enabling them to communicate, collaborate, and execute business processes in more efficient, scalable, and innovative ways via shared apps on the network — is the best approach.
What are your thoughts on this initiative to develop an appointment scheduling API standard? Post a comment and share your perspective.