Last month, Kelly McCauslin from e2open (a Talking Logistics sponsor) and a member of our Logistics Leaders for T1D Cure cycling team, participated in the JDRF Ride in Tucson, AZ. Below she shares some highlights about her experience on the team and at the Tucson ride, along with some great photos she took.
(For highlights from the Saratoga Springs, NY and Death Valley, CA rides from earlier this year, see HERE and HERE).
As we wrap up 2022, a big thank you once again to our team members, team sponsors e2open and TranzAct Technologies (and C.H. Robinson for its support of the JDRF Ride program), and our many friends and family members who donated to help find a cure for Type 1 Diabetes, a disease that is affecting a rapidly growing number of children and adults around the world.
Thanks to your support, we raised $47,986 for JDRF this year, bringing our total to $332,000 since 2016!
Do you enjoy cycling? Are you looking to explore new roads? Want to have fun with friends while supporting a great cause? Then join our LL4T1DCure team in 2023! Cyclists of all abilities are welcomed.
Here are the JDRF Rides locations and dates for 2023:
Burlington, VT: July 27-30.
La Crosse, WI: August 10-13.
Grand Rapids, MI: September 7-10.
Death Valley, CA: October 12-15.
Amelia Island, FL: November 30-December 3.
If you're interested in participating in a ride or sponsoring the team, please contact me for details. I will share additional information before registration begins next month.
—
Kelly's Comments
I've been involved with the Logistics Leaders for T1D Cure Team since 2018 when I was recruited by my co-worker at the time James Coon [now retired], who was one of the original members of the team. Prior to the pandemic there were many team events and I really enjoyed meeting all kinds of different people that rode in support of JDRF. It seems that things are finally picking up again and I'm looking forward to getting more involved in 2023.
Tour de Tucson was my fourth JDRF Ride and probably the largest event I've ever been a part of! There were over 9,000 riders at the event and everyone riding for JDRF raised $815,216, surpassing the event's goal of $750,000. I'm so grateful to be part of a team and group of people who are helping to do good in this area and I encourage other supply chain and logistics professionals to get involved. It's a great way to meet new people, raise money for an important cause, and improve your mental and physical health in the process.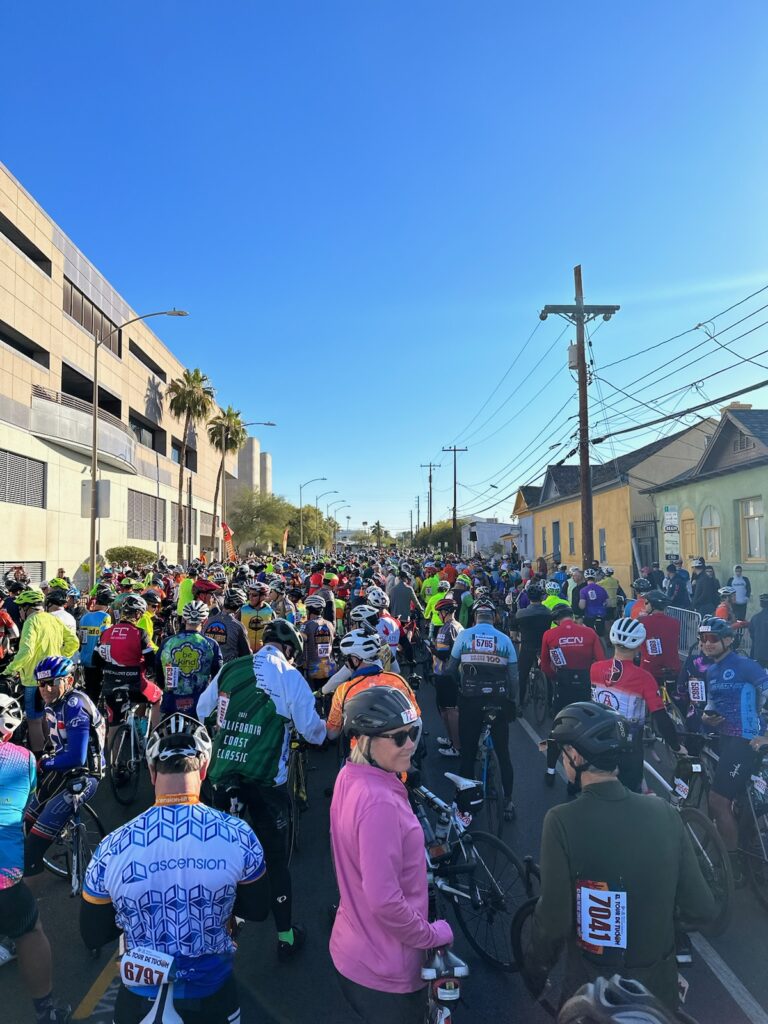 The ride this year was particularly difficult for me, as I was experiencing the worst allergies I've ever dealt with. I trained all year to do the 102 mile course, but decided to drop down to the 62 mile course because I felt awful the entire time while in Tucson. There was a lot of climbing, very dry climate, and the temperature was only about 35F at the start, rising to about 70F at the finish. It was hard to pack correct gear for riding in such drastic temperature changes in a matter of hours. The people involved made the ride enjoyable for me and I tagged along with many different groups throughout the 62 miles. There was also a great celebration event at the end with lots of spectators.
Thank you so much to everyone who donated to my page in support of JDRF. Big shout out to e2open and all my colleagues for supporting me as well!