What do you do when you're cycling at 20 mph and a bee flies into your helmet?
I never considered that question before, but at mile 38 at last Saturday's JDRF Saratoga Springs Ride, that's exactly what happened to me.
The answer is that there is very little you can do but curse, panic, fumble with your helmet straps to take it off, slow down, pull over…
But by then, it's too late. The bee had already stung me in the temple.
Luckily, there was a rest stop a couple of miles away, where I applied some ice to numb the sting. The remaining 60 miles were free of bees and other hazards.
Other than that little incident, the JDRF Saratoga Springs Ride was fun and inspirational. All of our Logistics Leaders for T1D Cure team members who participated — Janet Bucciero (Pitney Bowes), Steve Wallace (Elemica), Leslie Gonzalez (Adelante SCM), and me — finished safely and with smiles on our faces — the definition of a great ride!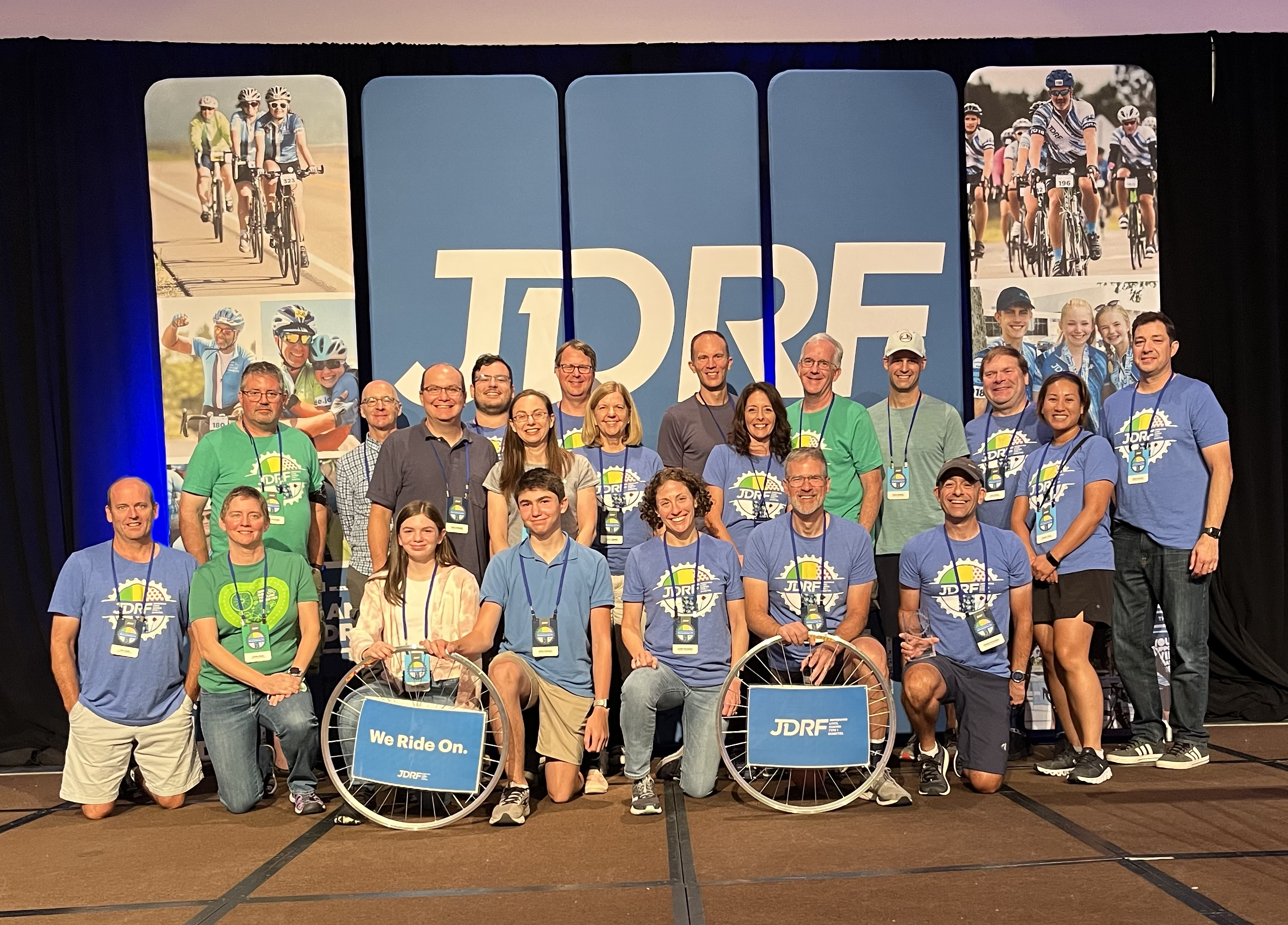 A nice surprise: Our Logistics Leaders for T1D Cure team received the Top Corporate Team Award for raising the most money for this ride ($13,691). A big thanks to everyone who donated to our team members, and a big thanks to our team sponsors, e2open and TranzAct Technologies, for making this possible.
The riding and fundraising are not over yet. Next month I'll be cycling in Death Valley with Ralph Cisneros (Intel) and Joe Tillman (SMC3). In November, Kelly McCauslin (e2open) will be cycling in Tucson and Kathy Fulton (ALAN) will be cycling in Amelia Island in December.
We're still short of our team fundraising goal. If you'd like to make a donation to help us reach our goal, you can donate via my page or visit our team page to donate to our other riders — any amount is greatly appreciated. Thank you in advance for your support!
Moving on now to this week's supply chain and logistics news…
Threat of Rail Strike: A Few Days of Panic
If it bleeds, it leads.
That's an old saying from the television news industry, but I couldn't help but think of it this week as the looming blood bath (figuratively speaking, of course) of a rail strike and its impact on supply chains and the trucking industry dominated the news.
A few days of panic, then a big sigh of relief (at least temporarily).
As reported by Reuters, "President Joe Biden's administration secured a tentative deal on Thursday to avert a railway strike that could have wreaked havoc on the U.S. economy, but union members angered by tough work conditions have yet to ratify the agreement…A rail shutdown could have frozen almost 30% of U.S. cargo shipments by weight, stoked inflation, cost the American economy as much as $2 billion per day and unleashed a cascade of transport woes affecting U.S. energy, agriculture, manufacturing, healthcare and retail sectors."
It's not a done deal until the ink dries on the agreement, but a big disruption was avoided for now.
Next up: The West Coast Ports.
The Warehouse Robots Keep Coming
"Every day, every month, every year, there are more robots in the warehouse."
I wrote that this past January in "Robots In The Warehouse: A Question Of When." And the robots keep coming.
Locus Robotics announced this week that it has surpassed the One Billion units picked milestone. Here are some excerpts from the press release:
It took Locus 1,542 days to pick its first 100 million units and just 59 days for the last 100 million picks. LocusBots have traveled more than 17 million miles in customers' warehouses, the equivalent of more than 670 times around the Earth or 35 round trips to the Moon.

"The need for cost-efficient robotics automation is a must-have as e-commerce volumes continue to increase and the labor shortages persist," said Rick Faulk, CEO, Locus Robotics.
Meanwhile, Isabelle Bousquette at the Wall Street Journal reports that "the coming holiday season and an ongoing labor shortage are further accelerating adoption of the technology, which gained steam during the pandemic, as growing numbers of self-driving machines began shuttling clothing and sports equipment down warehouse aisles, pulling bins of groceries, cosmetics and industrial parts from high stacks and handing off goods to human workers to help deliver orders faster."
Bousquette adds, however, that "amid the robotics ramp-up, CIOs admit that the technology is not always more efficient than human workers or more cost effective. While warehouse robotic technology is mature in some areas, such as transporting goods from point A to point B, it is less mature in terms of picking up and placing down goods, tech leaders say."
Like all technologies, robots are not a 'silver bullet' solution in all warehouse environments/applications. But the technology continues to improve quickly and the labor issue is not going away (in fact, it will get worse), so the robots will keep coming.
Kaleris Launches Execution & Visibility Platform
Kaleris (a Talking Logistics sponsor) announced this week "the launch of its Execution & Visibility Platform, a cloud-based logistics solution that empowers organizations to control and optimize the movement of goods across the supply chain by connecting operational insights and workflows across major nodes in the supply chain and modes of transportation."
The company also announced "the merger of Navis, a leading provider of port, terminal and vessel technology solutions, into its existing portfolio of supply chain execution solutions for yard management, transportation management, and maintenance and repair operations. With more than 490 implementations in 80 countries, Navis joins Kaleris as its premier brand for optimizing container and general cargo terminals worldwide."
Through various acquisitions/mergers, Kaleris now has a solution footprint that includes Yard Management, Transportation Management, Maintenance & Repair Operations, and Terminal Operations and Vessel Solutions.
As I wrote this past April in "Supply Chain Visibility: A Product Or Feature?":
To derive business value from visibility, you have to do something with the data and insights collected. It's the doing, the actions taken to improve your transportation and logistics operations, for example, that ultimately delivers value. This is where enterprise software applications like transportation management (TMS), warehouse management (WMS), and yard management (YMS) come in.
Kaleris branding its platform "Execution & Visibility" echoes that important link between the two. Also, the addition of Navis — specifically, the granular data it now has related to terminal operations around the world — is a differentiator. While Navis apps are primarily used by terminals, its data is gold for shippers who are looking to eliminate one of the biggest blind spots in their supply chains: understanding what's happening to their containers (shipments, orders) once they arrive at port.
The supply chain software/platform market remains highly competitive, especially in the execution and visibility realm, so Kaleris needs to clearly define its value proposition and differentiators to prospective customers, especially shippers. These recent moves are a big step in that effort.
And with that, have a happy weekend!
Song of the Week: "Feels Like Heaven" by Fiction Factory