Today, I am revisiting a topic I have written about in the past, but I believe it remains as important as ever.
If operational excellence is not enough for third-party logistics providers (3PLs) to differentiate themselves in the market, then what else matters?
The answer is in this chart from an April 2019 survey with members of our Indago supply chain research community, who are all supply chain and logistics executives from manufacturing, retail, and distribution companies.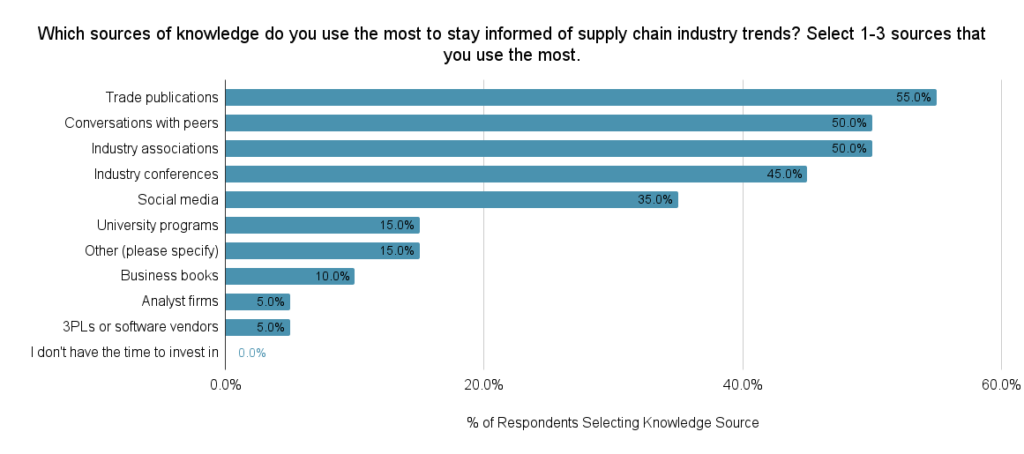 Do you see the missed opportunity?
Shippers often tell me that they want their 3PL partners to provide them with insights about leading industry practices and trends. "Tell me something I don't already know," is what they want.
Yet, when it comes to sources of knowledge they use the most to stay informed of industry trends, 3PLs are at the bottom of the list while "Conversations with peers" is near the top.
Simply put, I firmly believe that "Customer Engagement Management" is arguably the biggest missed opportunity for 3PLs to enhance their value proposition for clients.
That is, 3PLs should set themselves apart from the competition by fully harnessing the power and value of their customer and employee communities. As I wrote years ago:
By investing in customer engagement management, 3PLs can also create a community (a knowledge network) that their customers would highly value and greatly miss if they were to move elsewhere — a community that provides customers with valuable insights about industry trends and leading practices, a community that facilitates peer-to-peer learning and knowledge exchange, a community with motivated and engaged members, a community that is diverse, vibrant, and yes, fun.

Unfortunately, most 3PLs, despite having large and diverse sets of clients and employees, do a poor job of bringing these communities together to facilitate knowledge exchange and networking. The irony is that many 3PLs are working so hard these days to grow their social media communities (an effort I completely support and encourage), yet they continue to drop the ball when it comes to engaging their existing "real world" communities.
There are other things that matter beyond operational excellence, things that complement and enable Customer Engagement Management, such as:
Don't just sell your services, but also the knowledge, skills, and experience of your people. There is an ongoing "war for talent" in the supply chain industry. 3PL should focus on hiring and retaining people with proven experience and success in the vertical industries they're serving, and who also have the right mix of technical, analytical, and interpersonal skills.
Continuously invest in customer-facing technologies. There are two types of technology investments a 3PL can make: those that help them streamline and automate their internal operations, saving them time and money, and those that provide their customers with the tools and information — such as business intelligence dashboards — to help them save time and money. Don't shortchange investments in the latter.
Do you agree that Customer Engagement Management is a missed opportunity for third-party logistics providers? Post a comment and share your perspective.
Sidenote: Fewer and fewer companies call themselves 3PLs today, opting instead for "Logistics Service Provider," "Logistics Solution Provider," or the term du jour, "Logistics Platform." But since "3PL" remains well entrenched in people's minds and in the press, I used it in this post to keep things simple. That said, I do believe the term 3PL and its traditional definitions are outdated, as I discussed in "3PLs, What Business Are You In?"