This past March, in the aftermath of the Silicon Valley Bank collapse, the Wall Street Journal reported that "Corporate information technology leaders say they are reassessing vendor relationships and putting greater emphasis on risk management."
How receptive is your company to working with supply chain and logistics software startups?
We asked members of our Indago supply chain research community — who are all supply chain and logistics professionals from manufacturing, retail, and distribution companies — that question in March 2023.
More than half of our member respondents (59%) said that their companies are either only "Slightly Receptive" (36%) or "Not Receptive" (23%) to working with supply chain and logistics software startups; 27% said their companies are "Receptive."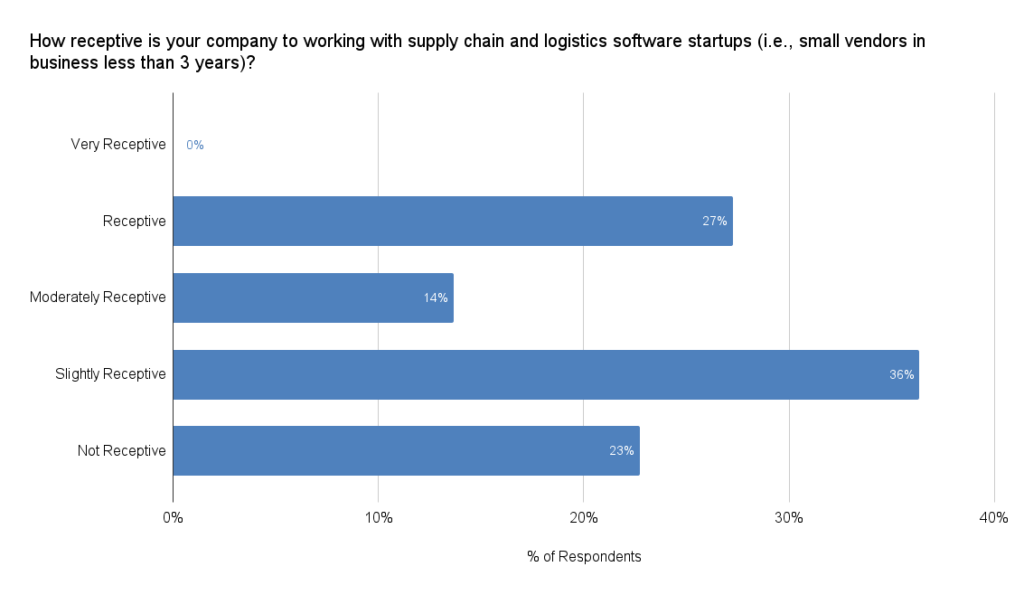 "A lot of these startup companies promise the moon but don't deliver," said one Indago supply chain executive. "You also see a lot of them come and go over the years. So, it is better to work with companies that are stable and have been around long enough to have a solid foundation and market reputation."
Another executive commented, "We use start-up providers conservatively. We are more likely to hear what they are offering and see if similar offerings are available from long-standing partners."
On the flip side, startups provide certain benefits, as this executive highlights:
"Working with software startups can offer many benefits, such as access to cutting-edge technology, innovation, flexibility, and agility. Startups can often move quickly and pivot their business strategy if needed, which can be beneficial in a rapidly changing business environment. Startups can also offer unique solutions to complex problems, and the excitement and passion of their teams can be infectious."
We also asked our Indago members, "How knowledgeable are you about the financial health of your software vendors?"
More than a third of the respondents (36%) said that they are "Not Knowledgeable" about the financial health of their supply chain and logistics software vendors; another 32% said that they are only "Slightly Knowledgeable" and only 9% said that they are "Knowledgeable."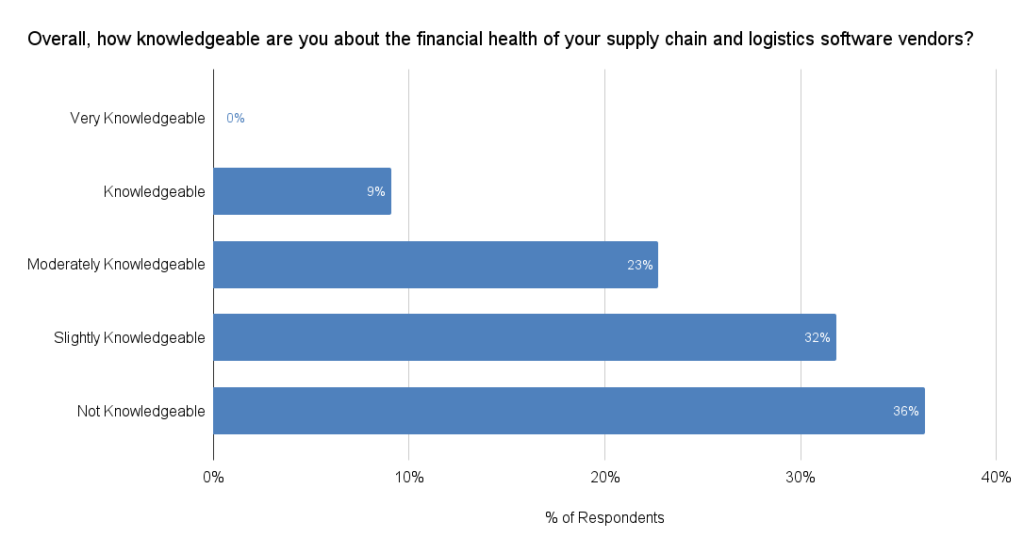 "Regarding the Silicon Valley Bank incident, it may serve as a reminder to conduct proper due diligence on the financial health of software vendors, especially startups," said one Indago supply chain executive. "It's crucial to understand the financial viability of a vendor and its ability to support its product or service long-term. This includes examining the vendor's funding sources, business model, cash flow, and financial stability. While due diligence can be time-consuming and require additional resources, it can help mitigate potential risks and ensure a successful partnership with the vendor."
"The need to focus on the financial health of software vendors is too strenuous," said another executive. "Vetting the products they're selling us is a big enough task. Therefore, we only consider working with reputable established vendors."
For the rest of the survey results, Indago members can download the report from our website.
What is your perspective on this topic? Has the SVB incident led you to conduct more due diligence on the financial health of your software vendors? Post a comment and share your perspective!
Be Uncommon. Research with Purpose.
If you're a supply chain or logistics practitioner from a manufacturing, retail, or distribution company — and you're interested in learning from your peers — I encourage you to learn more about Indago and join our research community. It is confidential, there is no cost to join and the time commitment is minimal (2-4 minutes per week) — plus your participation will help support charitable causes like JDRF, American Logistics Aid Network, American Cancer Society, Feeding America, and Make-A-Wish.