Next week at this time I will be in Burlington, VT with some of my Logistics Leaders for T1D Cure teammates. The next day we will cycle 100 miles in support of JDRF and its vision of creating a world without type 1 diabetes (T1D).
If you're a longtime follower of Talking Logistics, you already know why I ride: In support of my daughter Hannah, who was diagnosed with T1D at age 11 almost 12 years ago.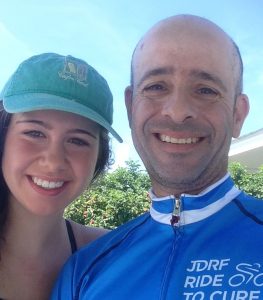 This year's ride is extra special for two reasons: First, because Hannah graduated from the University of Vermont last year with a degree in Electrical Engineering (UVM is in Burlington) — proof that despite the daily challenges of this chronic disease, T1D can't stop you from achieving your goals and dreams. And second, because Hannah will be volunteering at the ride for the first time ever cheering us on.
JDRF likes to say that the goal of the ride is getting to the starting line — that is, reaching our fundraising goal by the day of the ride. But raising $20,000, which is my goal this year, is even more difficult than cycling 100 miles, at least for me. Why set such a high goal? Because funding medical research to find a cure — and to develop new therapies and technologies to help ease the burden of living with T1D — is very expensive. Every dollar matters.
Thanks to the generous support of family and friends, and our team sponsor TranzAct Technologies, I'm at $13,257 today.
Raise $6,743 before I reach the starting line in 8 days. That is the challenge.
How can you help? If you enjoy and get value from our content on Talking Logistics, please consider making a tax-deductible donation in support of our LL4T1DCure team and JDRF via my donation page. Any amount is greatly appreciated because every dollar gets us closer to a cure.
(It's also not too late to sponsor our team, so if you're a supply chain technology company or logistics service provider and want to learn more, please contact me.)
Thank you for listening and your support!
—
Moving on, here's the supply chain and logistics news that caught my attention this week:
At the 11th Hour for Yellow and UPS
Will Yellow stay in business? Will UPS workers go on strike?
Those questions have dominated the headlines this month, and we'll know the answers by the end of next week (or by August 1).
The situation at Yellow seems more dire.
"Debt-laden trucking company Yellow, one of the nation's largest freight carriers, is trying to stave off a labor action that is sending shipping customers rushing to rival operators, adding to financial woes that are threatening the company's survival," reports Paul Berger in the Wall Street Journal. He adds, "Some of the U.S.'s largest freight brokers are diverting business from Yellow to other carriers amid fears that goods could get stuck as Yellow unionized workers prepare to strike next week in actions that could push the company toward bankruptcy."
UPS and the Teamsters are at least planning to start negotiations again next week after the two sides stopped talking a couple of weeks ago. As reported by AP:
Before contract talks broke down, both sides had reached tentative agreements on several issues, including installing air conditioning in more trucks and getting rid of a two-tier wage system for drivers who work weekends and earn less money. A sticking point in negotiations has been wage increases for part-time workers, who make a minimum of $16.20 an hour.

"We are prepared to increase our industry-leading pay and benefits, but need to work quickly to finalize a fair deal that provides certainty for our customers, our employees and businesses across the country," UPS said.
The worst case scenario is for Yellow to cease operations and UPS workers to strike around the same time, which will significantly reduce LTL and parcel capacity in the short term.
Shippers with a diversified carrier base will be able to weather the disruption better than those who are more heavily dependent on Yellow and/or UPS — but it will still be a challenging environment nonetheless.
Supply chain and logistics executives often have to deal with "Act of God" disruptions caused by earthquakes, volcano eruptions, hurricanes, and the like. There is very little, if anything, they can do about those types of unexpected disruptions. However, in the case of man-made disruptions, which is what the industry potentially faces with UPS and Yellow, there is always hope an agreement will be reached in time to avoid a mess from happening.
Unfortunately, that hope diminishes by the hour.
And with that, have a happy weekend!
Song of the Week: "Body" by Briston Maroney